When the renovations are going at lightning speed you often have to make really quick decisions. Luckily sometimes those decisions can be the best.
The house didn't have a space for an office for me, so I had been playing around with the idea of getting an office out of the house. But I was also eyeing the large three car garage…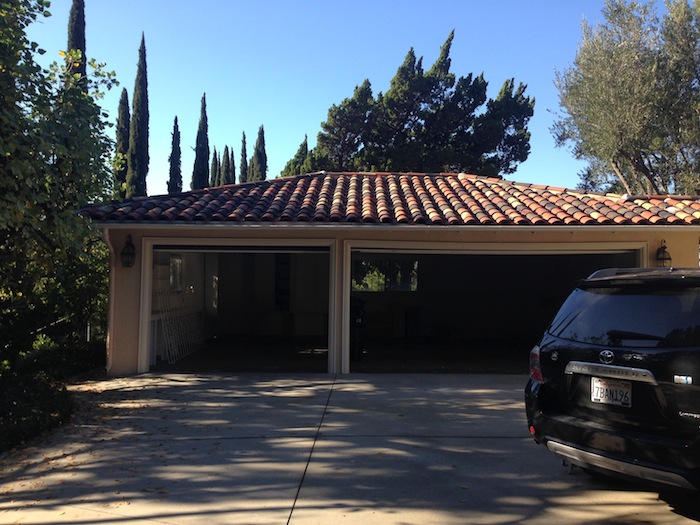 We really don't need a three car garage.
It rarely rains in LA and we'll never need all that space for storage.
Although since the renovations began the garage looks more like a storage unit for doors and old toilets.
But surely this can fit in a one car garage?
Decision made.
Two thirds of this messy garage would be turned in to a studio/office instead of a two story guesthouse.
The space would large enough to store a lot of inventory as well as be a "hangout" office.
image via Rosa Beltran design
A happy creative space after working in temporary quarters way too long.
image via Summer Thornton
With lots of room for everything.
But I was still not feeling inspired.
The walls started going up to divide the space but it was still a garage.
I wanted windows to see the fantastic view behind the garage. But I worried about the cost.
Then I remembered the double screen door we had removed from the former master bathroom and replaced with a picture window. It would surely give us needed natural light and the view.
Before we decided to install it Javier and I had one of our discussions. "I love the idea of a door there, but there is nothing there behind the garage to walk out to."
"How about a wood deck?" Javier said.
In two seconds the decisions was made.
The six foot wide door fit perfectly.
It gave the space more light.
And as soon as the door went in…
…this started happening.
This is the only spot on the property that gets to enjoy the sunset.
Image via Rosa Beltran
I can't wait to create a fun office space where I we can have a glass of wine in the sunset after work…
…and enjoy this magical view.
NOW I'M EXCITED!!
can't wait to have a creative space with a deck