There's a place I love to go more than anywhere in this world.  And  it's home to my old house in Sweden. It's one of those places that you arrive to and never want to leave.  You get caught up in the peacefulness and can just sit there and stare at the beautiful views.  This summer I'll go for a month and I've promised myself to blog every day while there. There's just too many amazing things I want to share!  Not just about  Swedish design and interiors which I love, but also renovations and stories about this old house.   It's situated on Lake Torp in the village of Torp that consists of only 7 houses from the 1800's.  This is what the house looks like today—-
This is what it looked like in the 1870's—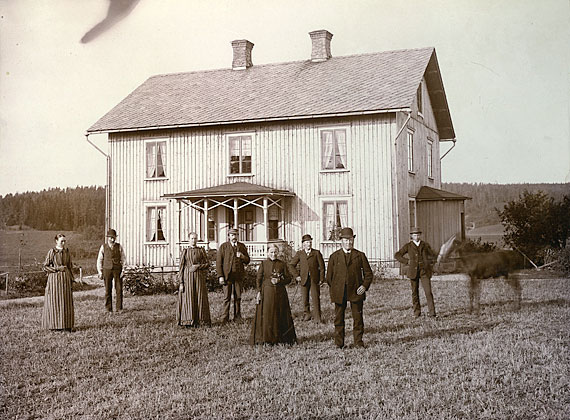 Everyone who lived in the village of Torp for generations back have been related.  I'm the only one who is not.  Two summers ago a woman came to the house whose family had lived  here for generations. She kindly sent me all these great, old photos.  I love history, so to find out who lived in my house was beyond fascinating.  She said that when she was a kid she found a prosthetic arm up in the attic that belonged to one of the people in this image. I wonder which one of them…?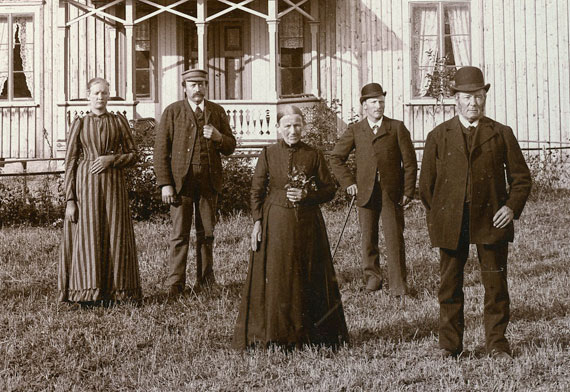 (I think the guy on the right…).   It's hard to believe these people used to live in our house such a LONG, LONG time ago.  Before electric power!  They dressed very formal and strict in this photograph… check out the striped dress!
140 years later this is us today.   My brother Joacim, my dad and me on the front steps last summer.  These days the dress is way more relaxed.  Hey, I'm wearing jeans- must have been a dressy day I'm out of my sweats!  The beautiful terrace you saw in the old photo someone unfortunately tore down and built this instead.  One of my projects will be to build a replica of the old entrance and add back a beautiful old double entrance door. Joacim owns a building company called  Tva Vanner and they are currently renovating the guest cottage on the property.
This is another family who lived here in what looks to be maybe around 1910.  They painted the windows and trim in a dark color, and put awnings on the windows. Very elegant.
This family looks dressed in their Sunday best standing in front of the beautiful front porch. ..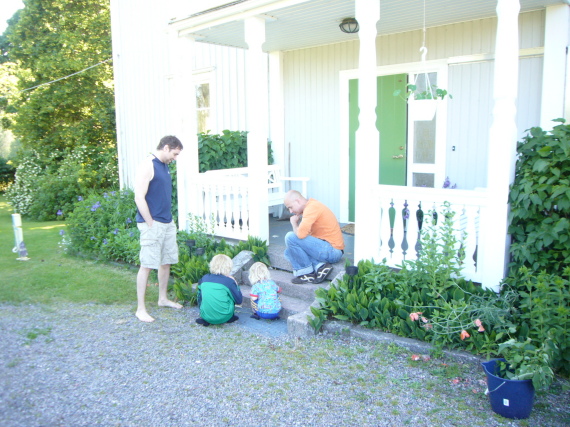 In the same spot 100 years later is my boyfriend Daniel, Joacim, Luke and my nephew Viggo studying some insects and looking far less formal!!  Can't wait to get rid of the 80's door and build a beautiful front porch!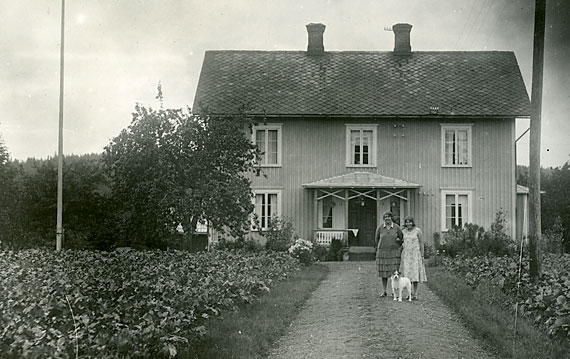 This looks to be the 1940's.  They farmed the land on the front lawn. I love this sweet photo. It reminds me of my grandmother in Denmark. Back when the ladies did everything having to do with the house. They cooked, they cleaned, they farmed the land.  So glad I was born when I was born…
Today it's all a lawn, and we have village soccer games on it and endless croquet games in the summer. That couldn't happen if my dad didn't spend hours cutting the grass on this yellow tractor which Luke loves to ride.  This is from last summer when I painted the lawn furniture white.  (in back of photo)
Two ladies from…I don't know what year? Looking at the clothes…any guesses?  They are in front of the pear tree in back left of photo.
You can see the branch of the same pear tree in the left of the photo. This is my other brother Peter. They built wood figures last summer.  He founded and runs Operation Karlstad that fights to rescue old cultural houses and towns so we can live and enjoy history among us.  If you read Swedish check out his blog. We need someone like him in every town!! If we did, maybe I'd be looking at the beautiful old Salona estate where James Madison hid out in the war of 1812, instead of Safeway in an ugly strip mall in Mc Lean. Why do we tear these old houses down?
I love this festive group in their best winter getup standing by the front steps looking to be on their way somewhere fun.  In the back I can see my barn. It housed farm animals back then.  Is it the 1940's?  I need to learn more.  Behind them are the stone front steps to the house…
…where my dear friend Monica is sitting in the exact same spot 70 years later. (photograph: Jennifer Jaunsch)
One of these kids is the mother of the woman who came to my house. They're standing in the drive way in to the house…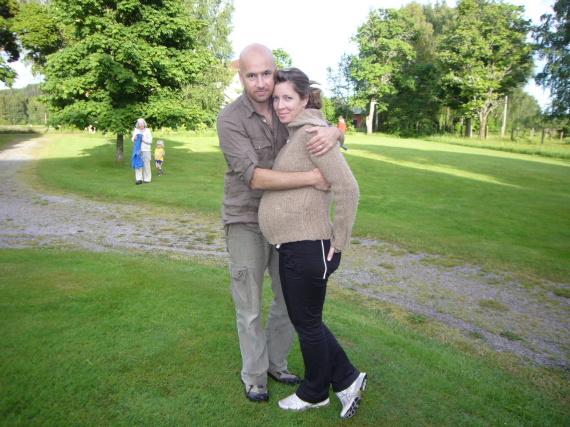 …where many years later Joacim and his wife Lisa rested before heading to the hospital to give birth to baby Zoe.  (My mom and Viggo are in the background.)  Maybe the yet unborn Zoe will be living in this house with her family one day….
Looking at these photos and seeing all these people who lived here, makes me feel such awe and respect for old houses.  Imagine what they've seen! It makes me feel responsible for what we leave behind for the next generation. I don't think we really "own" our houses.  We're just their caretakers for a while.   This summer I'm going to do lots of things to make it as beautiful as it deserves to be.  One day I will be just a "ghost" to some people living here….
…I hope those people are someone in my family who will love and care for it the way we do.
(photograph:Jennifer Jansch)