This Think Outside the Box post I want to dedicate to fellow bloggers/designers. No matter how many shelter magazines you read you'll never find the insane creativity that you'll find in the blog world. The design blogs are full of smashing, imaginative and budget friendly makeovers and designs. It's some serious Outside the Box thinking!!  I wish these makeovers where in the shelter magazines so more people could see them and be inspired to think differently!  Sometimes all it takes is believing in the POWER IN PAINT!!!
1. WHY BUY WALLPAPER…

…when you can paint a beautiful trellis pattern on your wall?  Talented and creative blogger and designer Danika at Gorgeous Shiny Things created the most fun and chic room with  some paint.  Check out how do  the trellis hand painted wall! It looks like fancy designer wallpaper.
2. GO BIG OR GO HOME!

There's no point in being afraid of over sized patterns. How about painting just one wall in it?  Again hail to the power of paint. Kristen David as KDF designs really proves the power of paint. She painted this Moroccan pattern on her wall among hundreds of fantastic makeovers.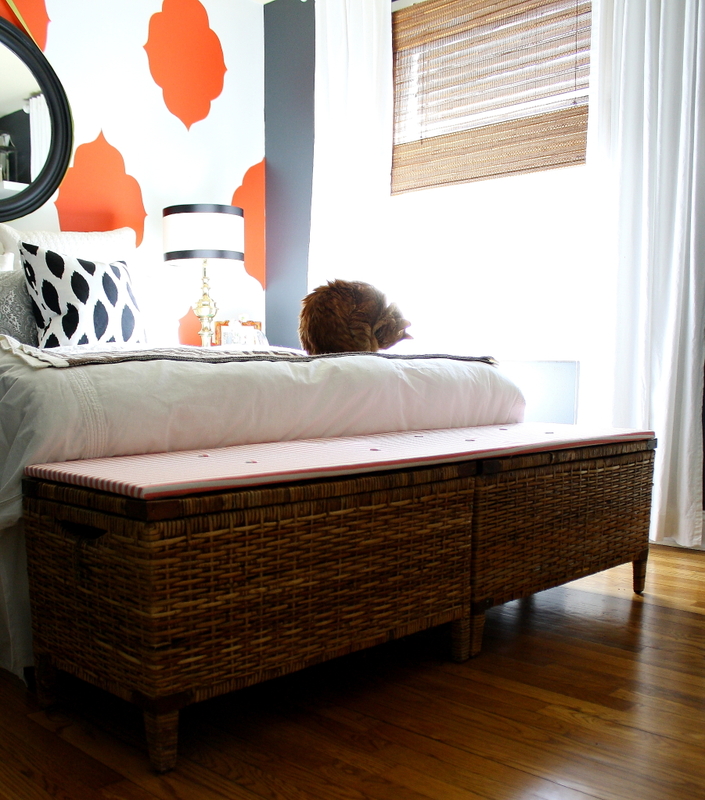 One wall with a big colorful pattern surely beats a plain beige wall any day.
It looks really fun in close up next to her chic (another great makeover) bedside table.
Talented designer  Emily Clark painted this fun and sweet/bold pattern in her daughter's bedroom.
3.WHY BUY AN EXPENSIVE CARPET…
…when you can paint one on the floor?  Danika from Gorgeous Shiny Things painted a fancy geometric carpet on her floor.
A floor that once looked like this…
…now looks like this!!
4.  USE YOUR CREATIVITY INSTEAD OF YOUR WALLET

Why not paint yourself your dream headboard?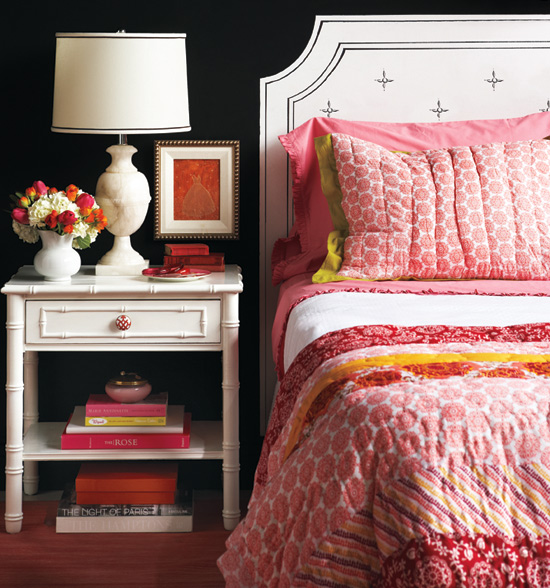 5. RECYCLE WHILE REINVENTING
Danika..again… built a striking sunburst mirror out of left over pieces from her wood fence. This budget DIY sunburst mirror looks like a million bucks!! And she recycled at the same time!!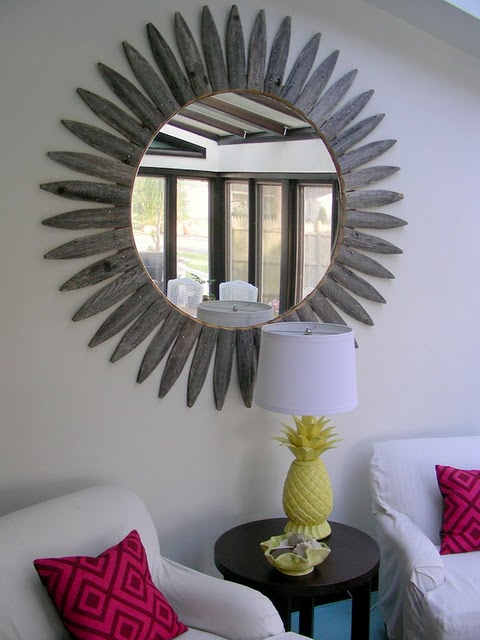 6. RECREATE THAT DREAM BUY THAT'S OUT OF YOUR BUDGET

Have a crush on an expensive items somewhere? Perhaps you can recreate a version of it at home? I love what Maria at John's Journal did when she found this expensive console at Wisteria…

The price tag was to steep so….
…she built this fantastic replica at home!! This kind if stuff leaves me so impressed!!
7.  REIMAGINE IKEA AS SUPER GLAMOROUS
Not just because I'm from Sweden and grew up with IKEA before it was cool and arrived over here, am I thrilled with these remarkable IKEA makeovers.  I love IKEA, but I LOVE these reinventions of items millions of people already have. This way you'll have something orginal!!   I think IKEA should dedicate space on their website to all these amazing redesigns.  Here's a crazy cool IKEA makeover that I first spied on Hi Sugarplum that Bri from the blog You and Me and a Weiner did.
She took this simple,boring chest of drawers and made it into…
…this insanely glamorous mid century cabinet!!!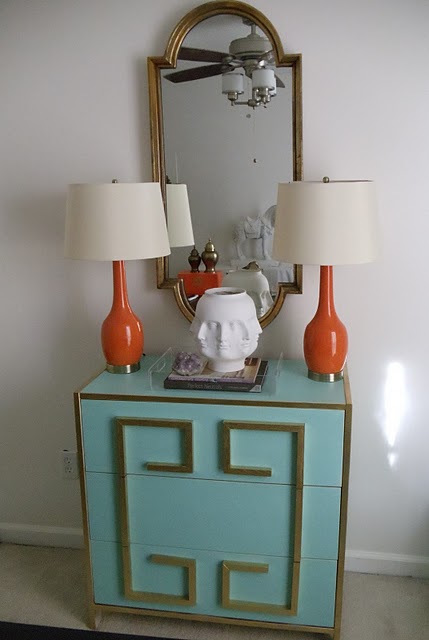 That is some serious Outside of the Box thinking!!!
OR THIS ONE…
Danika at Gorgeous Shiny Things marbelized the $ 120 Docksta table….
…and make it look like an expensive Saarinen table. You can learn how to do it here.
And Nancy Marcus Design had Dorothy Draper on her mind when she turned…
…this plain Jane vanilla dresser into…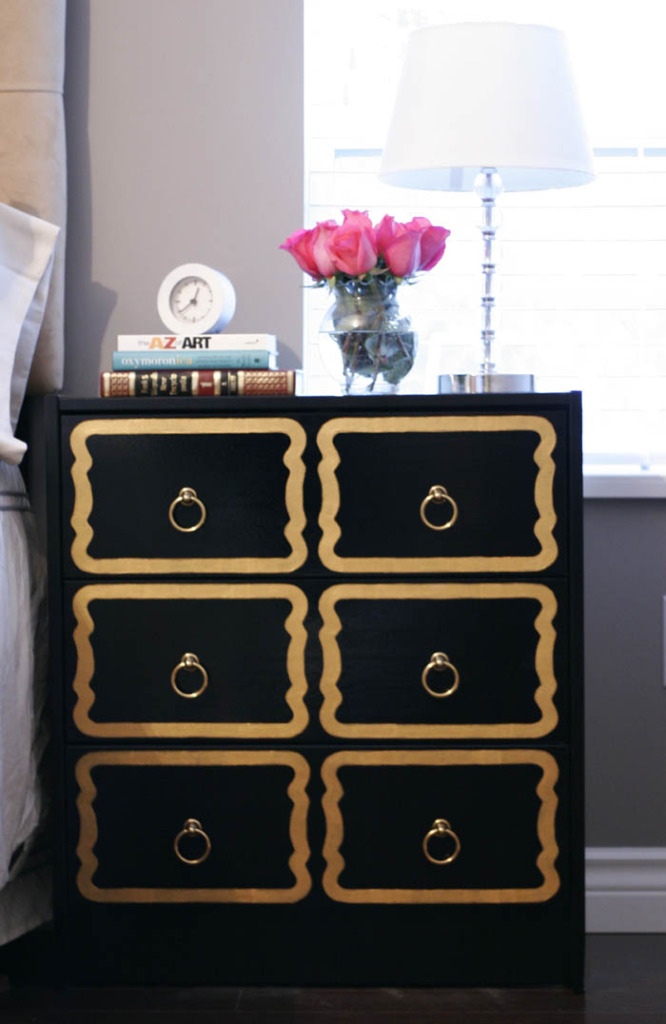 …a super elegant Dorothy Draper chest!!!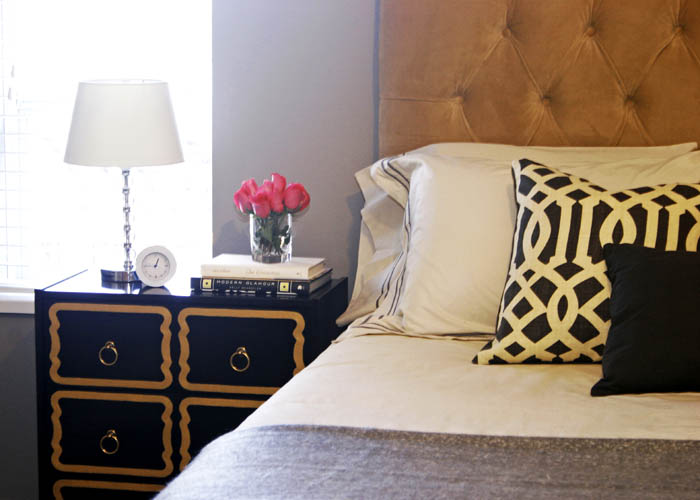 Who would ever guess IKEA??
These makeover makes me want to grab some paint, a hammer and nails and go wild!!
HAPPY MONDAY!!