Tropical leaves, old Hawaii, and mid century designs inspired this weeks bedroom design look – TROPICAL RETRO.
Leaves are on my mind, as I'm anxiously awaiting the arrival of my very first sheet samples. We created a wallpaper in a larger version of the pattern for this look in anticipation of it.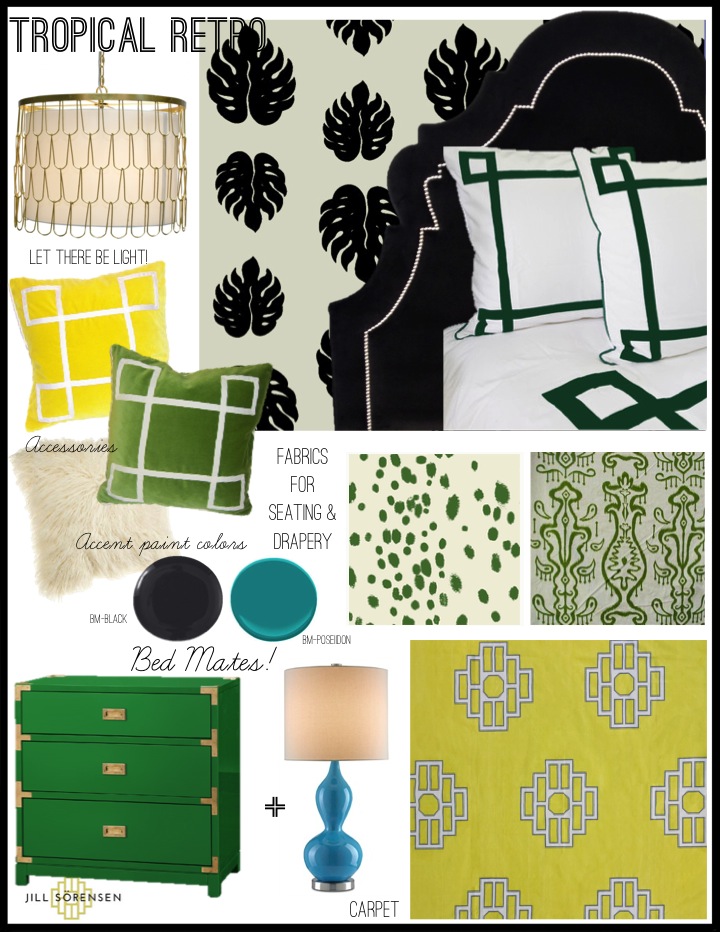 Lamp // Chandelier // Dresser // Green Pillow// Yellow Pillow // Fur Pillow //Spotted Fabric // Ikat Fabric//Headboard// Carpet // Bedding// Paint //
The most important part of a room, in my mind starts with a color scheme. This color palette can be used as an all over color scheme for the room, or these paint colors can be used as wall, trim or ceiling color and also to repaint some existing pieces in your room.
Lily Headboard in Black velvet
Anchoring the room with black is key in this look. And a tall curvy headboard adds to the stateliness.
Spunky yellow in a modern pattern underfoot.
A mixture of green and cream cool patterns. Love this fabric by Lauren Liess.
Acapulco Table Lamp
Aqua classic lamp
Dark emerald hotel bedding.
If there is a bedroom vibe/style, dorm room or a particular product you would like to see mixed in room design e-mail [email protected] and I'll create it.