After THREE days, YES THREE days of travel, we've finally arrived at our house in Sweden.
Thursday, after sitting for hours on the runway in DC due to a (light) snowstorm, we took off towards Munich. But of  course we missed our connecting flight to Stockholm. While waiting for the next flight out, a snowstorm hit Munich, and we got delayed several more hours. When we finally landed in Stockholm it was (yes you're correct) another big snowstorm.  And to top it all off, both our suitcases were lost!  My brave, amazing mother had waited for hours at the airport, to drive us the four hour drive home, since domestic flights had been canceled.
But after only one hour of driving through the dark and snowy night, we decided to find a hotel in the next little town, have a glass of wine and go to SLEEP!
The sleepy town late last night.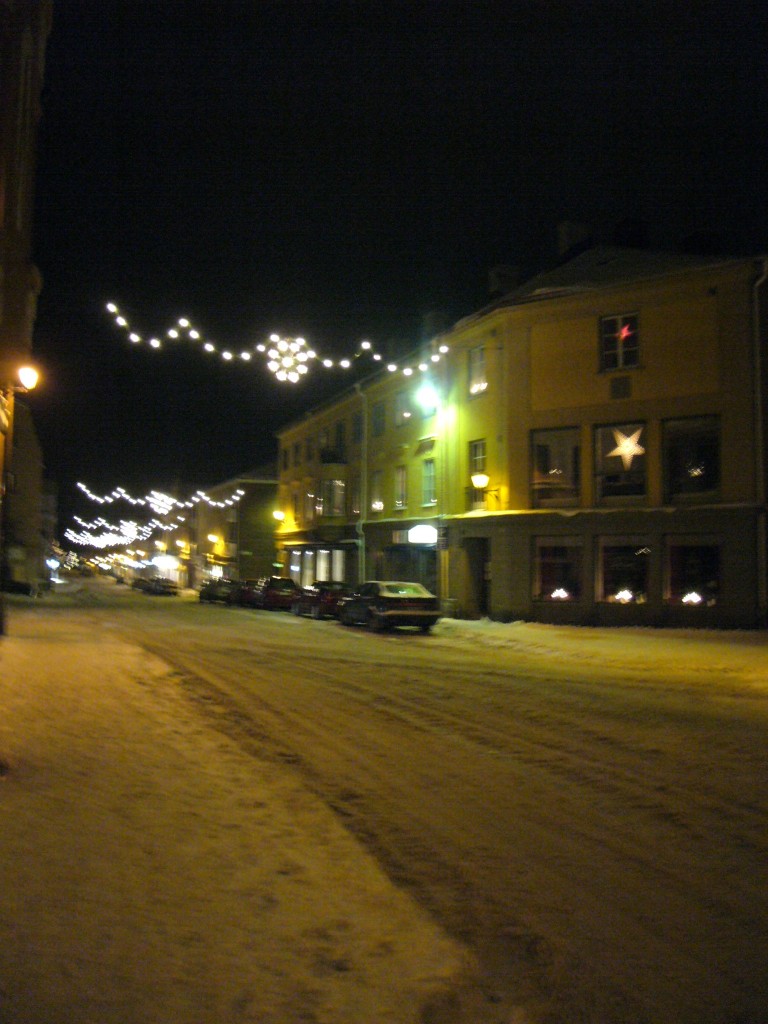 My quick (too cold to take pictures) snap shot of the street lit up with Christmas lights.  We had a surprisingly good meal, a glass of red wine and were ready for our….very sparse sleeping accommodations.
This hotel room never expected to be on a design blog in the states!
Simply two beds,a curtain and a TV on a stand. This put a whole new twist to Scandinavian simplicity!
And now the PIECE DE RESISTANCE…..
…the newest thing in Swedish design…hahaha…what we referred to as the CASKET BED!!!
My mother is demonstrating here how to sleep in it.  Exhausted from two days of travel, a glass of wine we HOWLED with laughter about this bed!  And here is the funny part, my mother said she had the best nights sleep EVER!
Basically she was "dead" asleep.
Today it's been more hours of this, until…
….at 4pm today we finally arrived at our DARK, cold house.
You might not think so, but we're having a great time!!!
We have no luggage, but we're with family, the fire is on, the house is now warm, and tomorrow we're buying some skates so we can skate on the lake right outside.
Finally it feels like Christmas…