I hate being cold! Everyone is always surprised when I say that. You're cold? But you're Swedish, you're not supposed to be cold! B-I-G misunderstanding.
Because I grew up being so cold my toes and fingers often went numb from freezing temperatures, I don't ever like to be cold. As I'm gearing up for an upcoming "snowy" magazine shoot in Sweden. (we need snow, praying for snow) I'm planning to add even more furry/shaggy seats to chairs over there.  Nothing better to warm up your bum!
Design by Marmalade Interiors.
This is a chair in my bedroom in Sweden. It has a hole in the upholstery which I've covered with an IKEA fur hide. Much cheaper than reupholstering…This way I could also keep the old Swedish Tenn fabric on the antique chair. Cozy!
Swedes know a thing or two about staying warm.  Seriously if a Swede offers you advice on how to dress when it's cold…listen to them! No joke.  And there's no surprise why you see these fur throws in so many Swedish interiors.
Image via Swedish magazine
This is a f-u-u-r-r-y Stockholm apartment that has made the rounds in the blog world.
I'm seeing this becoming a trend over here, actually it has been for a while. Here is a fun PB Teen chair….
Image via Pottery Barn.
The following image is not from my house, ( I wish) but I'm using it as inspiration for our dining area in Sweden. Flowers and fur hide. The truth is in case you ever plan to visit Sweden… if you're unlucky you can freeze your butt off even in the summer time!
Image source unknown. (if you know it please post)
If you live in the states my friend and clever Swede is selling Swedish sheep hides on her online store Splendid Willow Avenue.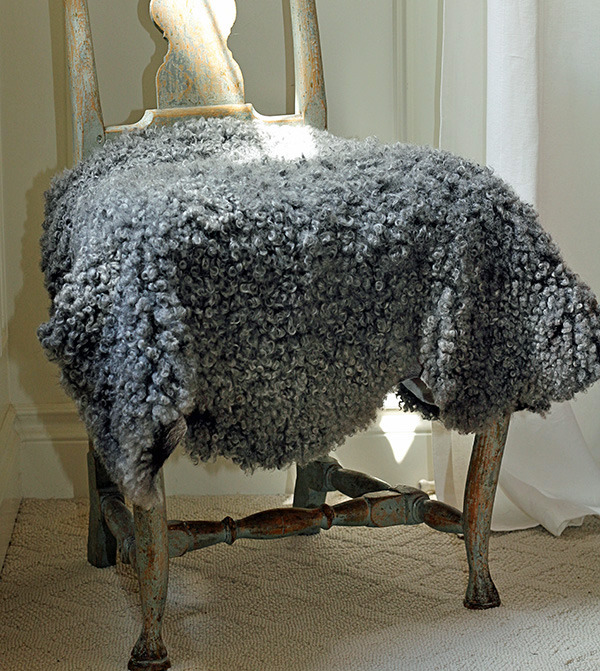 Image Monika Claesson Splendid Willow Avenue.
And last but not least, sharing an image of a foyer I designed in Colorado.  I basically took an old shag carpet and had it upholstered on the antique settee.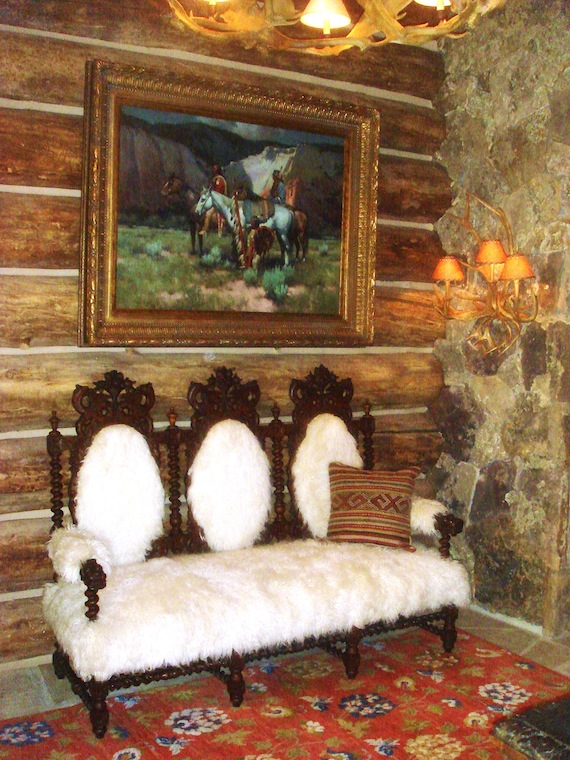 Design by Marmalade Interiors.
Certainly a warm seat after a day of skiing. Seemed crazy when I did this a while back, but fits right with the times now.
Here's to staying warm over the weekend!! And to all of you living in warm climates, go out and enjoy yourself in the sun while the rest of us are freezing our bums off!