Moving and decorating a new place can be a very stressful and expensive process.
Since the real estate market was "on fire" in LA it became impossible for us to find a house to buy, so instead we had to look for a temporary rental.  Thanks to my broker Henry Dodge and my friend Julie in LA we found an cute bungalow just a few days before the moving trucks arrived.  That gave me only a couple of hours to plan a design for a place I had never seen in person.  And this had to be done without buying anything new AND leaving our house in Virginia perfectly staged to sell.
I want to share the SIMPLE & QUICK steps I followed to decorate with nothing new!
STEP # 1

TAKE PICTURES OF THE NEW SPACE

As soon as you have secured the new place, bring paper and pen and a camera to the space. Take one picture from each corner of the room. And one picture from each side of the room.  This gives you an excellent overview when you come home and start to work on a design.  At this point also take notes as to what the landlord needs to do. Here is a picture Julie sent me of the living room.
STEP 2
MEASURE EVERYTHING
Measure everything, and I mean everything! The width and length of each room, ceiling height, window height and widths, fireplace, fireplace surround, depth of fire mantle, really everything.  (Since I was not here, Julie and Henry had to do what my E-Decor clients have to do.)
Take excellent records. Type them in your computer!
STEP # 3
CREATE A FLOOR PLAN
If no one can provide you with existing floor plans, no worries!   You can create professional looking plans in a snap.   Forget hours learning  Autocad.  Henry (my excellent broker!) found a fantastic app for your Ipad that worked like a charm. PADCAD.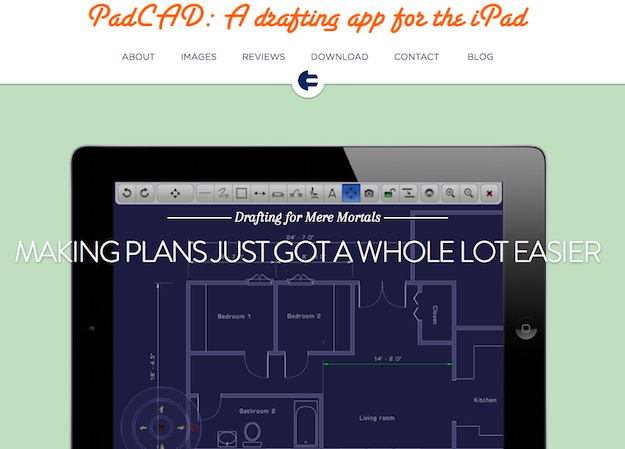 A floor plan allows you to get an overview of the space and help you see what the  basic pieces you need for each room.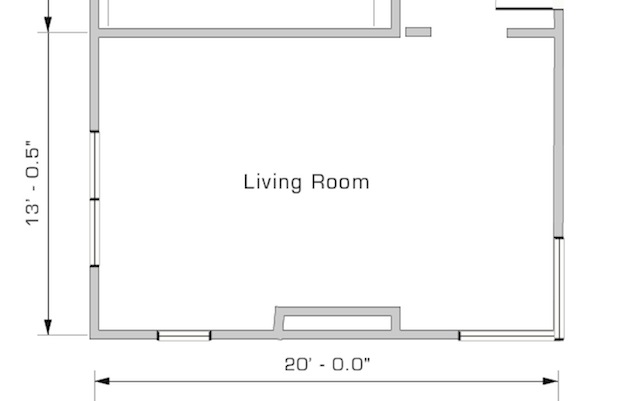 STEP # 4
MAKE A LIST OF FURNITURE YOU WANT TO KEEP & NEED FOR THE SPACE

This is the hardest, but most fun part.
Go shopping in your own home. Figure out what furniture you absolutely want to bring with you to your new home, and what pieces you need to make each room functional. In our living room I needed the room to be both living room and TV room.  So I knew I needed : a couch with pillows, a couple of chairs, a carpet, a coffee table, a mirror, two lamps, curtains, a plant or two, a cabinet for the TV with storage, a console table, extra chairs for TV viewing and some art for the walls.
Keep in mind that scale is everything!  Measure all your pieces to make sure they fit the space.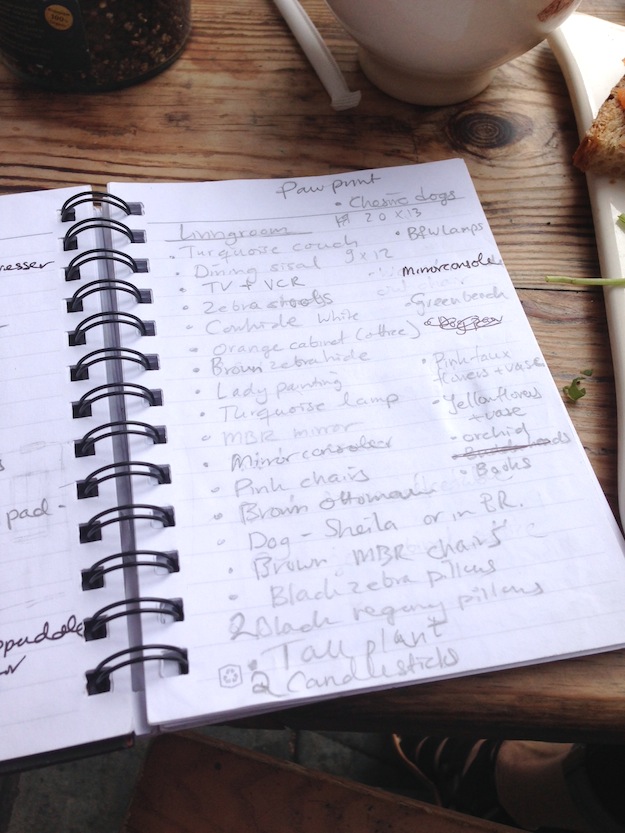 The list does not have to be perfect at first. Just a good idea what could be used for the room.
STEP # 5
PLAY AROUND WITH YOUR FLOOR PLAN

Draw each room to scale simply on lined paper. Then draw in your furniture pieces to scale with colored pens. You can do a few different ones. Do this for each room. This way you can see color scheme and scale at the same time. I do prefer drawing to any other method.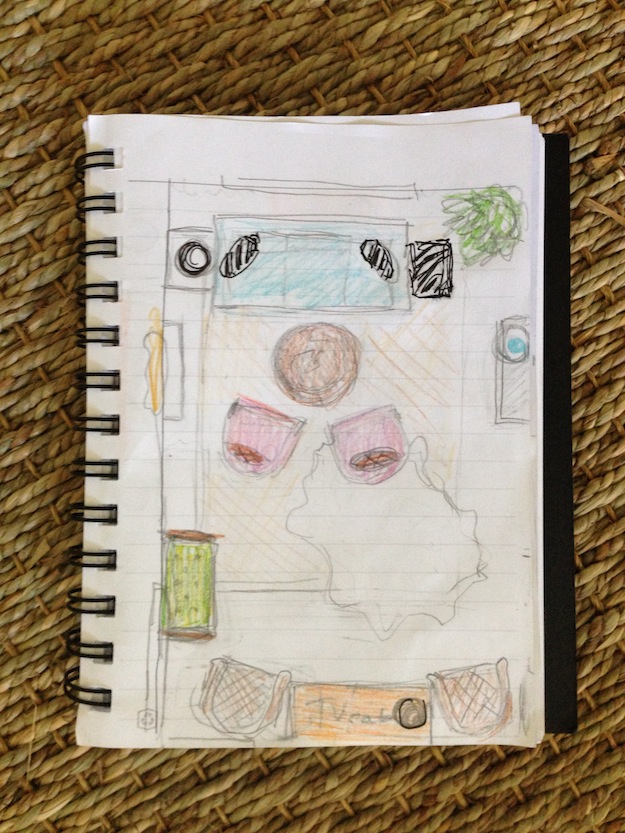 STEP 5
INSTALL THE FURNITURE ACCORDING TO YOUR SIMPLE PLAN
We arrived to a nicely fixed up place…two weeks later.
And here it is installed via Instagram (JILLHSORENSEN@INSTAGRAM)
The couch, cowhide and zebra pillows I brought from our living room.
The chairs from our guest bedroom
The coffee table from our library.
The curtains from our master bedroom.
The couch was the first thing that had to come. You can read why here.
The pillows are mix up from a few rooms. (Added our sample of the upcoming Monogram pillow collection.)
The coffee table came from the library.
The mirror came from the master bedroom.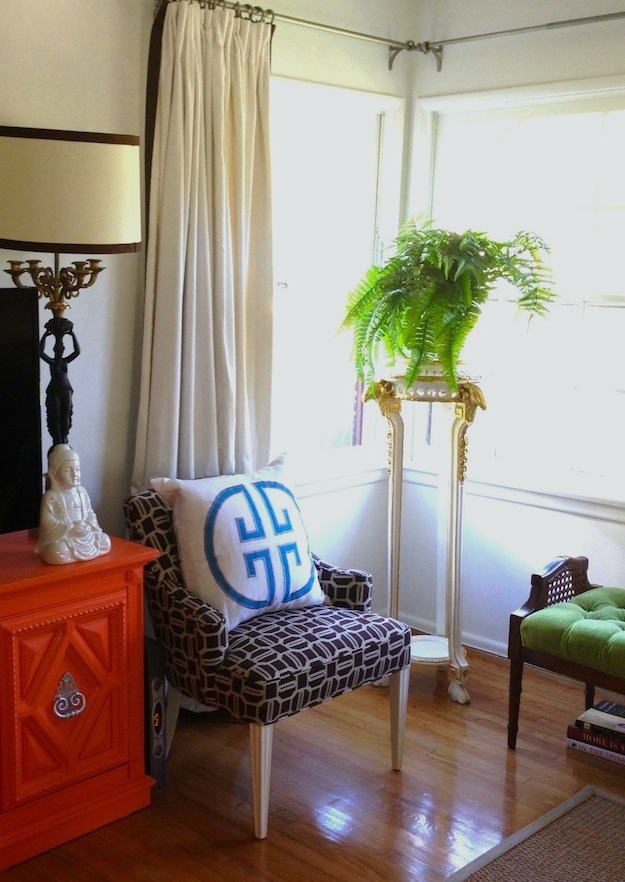 The TV cabinet was the old office cabinet.
The brown bedroom chairs came from our master bedroom.
The green bench from our livingroom.
The plant stand from our dining room.
The lamps from our library.
And yes I did buy one thing….the curtains rods. This ceiling needed lighter rods so I used this one.
I hope this can help you with your next move!