Name: Holly Hollingsworth Phillips 
Where do u live? 
Charlotte, NC
Family: (or people living in your home including pets)
Holly
Marshall
Violet – 18
Bo – 16
Gigi -12
Waffles – rescue mutt
Maple – rescue mutt
What do you do?
I am an interior designer based in Charlotte. I also have a lifestyle blog, The English Room.
Where do you drink your morning coffee?
I would love to say I am an early riser who is insanely productive yet, usually my husband brings me my coffee in bed. You basically need a cattle prod to get me moving. I am a night owl!
How does your home make you feel?
It feels like home. I am completely at ease. We purchased the home my parents built in 1963 from them in March of 2018. I grew up in this house and it has only been in our family. That luxury gives me a different perspective on the renovations and changes we make. All the bathrooms are generally original but somehow I am not in a huge rush to redo them because I know everyone who has ever used them. It is essentially our dirt.
How does your home affect you and your family on a daily basis?
It is just easy. We use the whole house and enjoy the time together. We have been making changes and updates constantly since we moved in. We are currently redoing the entire back yard, hardscape and landscaping. As grateful as we are for the help, we will be happy to not have a crew hanging around all the time.
What part of your home or space makes you the happiest, and why?
I love our new kitchen. We expended the old smaller working kitchen and separate breakfast room to make 1 larger space. I actually am not a huge cook but we all seem to congregate in that space. The kids do home work and we chat about our days in addition to eating dinner together. It's truly is the heart of the home.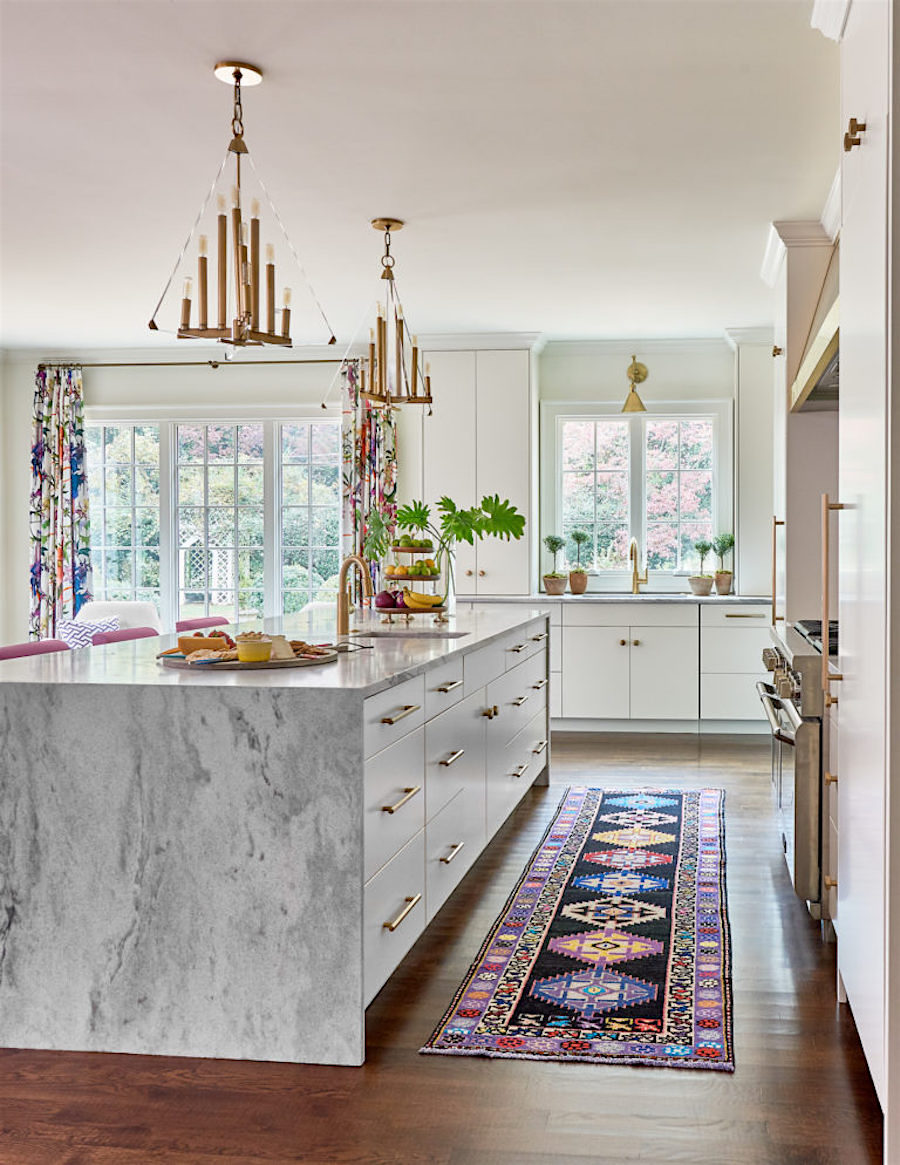 Have you designed a space just for you?
All the spaces are very different than the English Country style I grew up in. I have my own colorful and wilder style that mixes bold pattern and modern art with antiques. I do have a drop zone office just for me, which is a luxury. I also have a lovely dressing room large closet that my mother designed. I am still going to do a little fluffing in there but is pure personal indulgence that I try to keep my eldest daughter out of. I am considering a lock.

What's the first thing people say when they come to your house?
Wow! This is so different than it was. Most people knew the house when my parents lived here and entertained often too.
Can you share 3 quick Design tips how to create a space that makes you happy?
1. Buy what you love, you will always find a place for it.
2. Buy the art and buy original art! It is one of kind and you will never regret buying it but you certainly will regret the one that got away.
3. Have pops of upbeat colors even in neutral interiors. Color brightens your life.
Do you have a Design mantra for your home?
I don't necessarily have a mantra for my home but I have two mantas that guide my life.
"More is more." Iris Apfel … This speaks to me as I am a true maximalist.
"Fortune favors the bold." I am certainly always drawn to ALL the bold choices.
VISIT HOLLY HOLLINGSWORTH PHILLIPS
THE ENGLISHROOM
P.S. Have you checked out Room-Fix yet?