My son has since he was 2 years old been asking me "Mom, what's your favorite color?" Knowing I needed a concrete answer, and several colors would not be accepted – I've always answered yellow.  Growing up in Sweden my mother  insisted on painting the kitchen yellow, no matter where we lived.  Not a soft pale yellow- a BOLD, LOUD yellow matched with orange and yellow curtains. She said in a dark, often rainy country like Sweden it made her feel like the sun was shining all the time.  To my dismay the rest of the house had a endless mix of yellow,orange and brown(!) in true seventies fashion.  My bedroom had a wide yellow and white horizontal striped wallpaper.  I couldn't understand my mother's fascination with yellow, and avoided it for many years. Until- I bought my first home, when I for some unexplainable reason, immediately painted the living room yellow, with matching yellow curtains!
I've never lived in a home since that did not have yellow somewhere. There is no color that instantly cheers up it's environment like a great yellow hue.  In my home, my kitchen is golden yellow, my living room a pale Tuscan style yellow, and a few months ago, I painted one wall in my foyer a really bold yellow.
It's such a cheerful way to come home!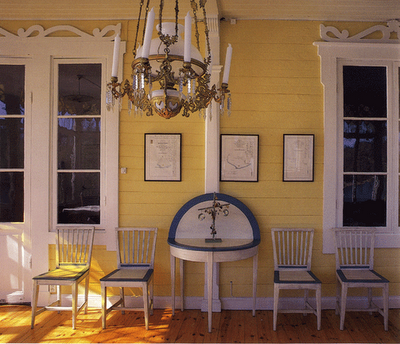 Sweden is not the only country who uses yellow in many of their interiors and exteriors, old and new. English country houses have been known for their yellow drawing rooms, anything to cheer up the dreary weather.  How many of us haven't been inspired by Nancy Lancaster's bold yellow living room?
Yellow can be used in so many ways to liven up a space. This room below had only one wall painted in this bold hue.
India  (Farrow & Ball)
Why not just paint the wall of a bookcase yellow?
The Viceroy Hotel in Santa Monica has a yellow and black library designed by Kelly Wearstler.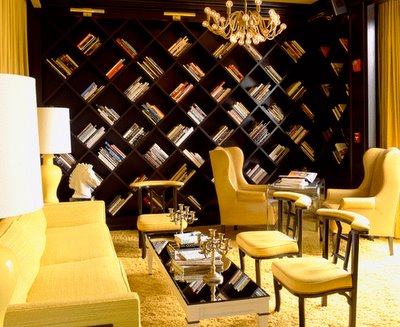 If you don't want to paint, you can add some sunshine with an amazing wool rug like this one from Madeline Weinrib.
With this yellow curtain who cares if it rains?
I love this bold yellow bathroom designed by David Jiminez.
Just a wall in this house makes it shine.
Interior designer: David Jiminez
These next two items from SHO are really fun. The lamps are my next purchase for my living room!
Yellow can have a calming feeling as well with more muted classical tones. Designer Kelly Wearstler used a tan yellow in this elegant dining room.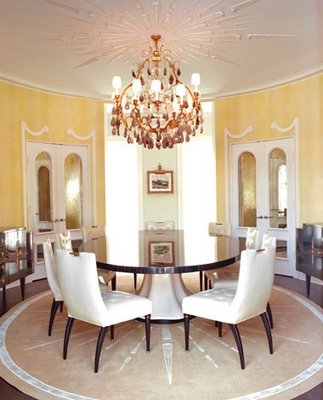 Even a slightly yellow/tan wall brings warmth to this living room designed by Amanda Nisbet.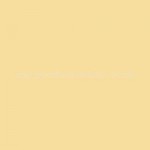 Hawthorne Yellow HC-4 Traditional yellow-170
Send me pictures of your yellow rooms! Or, do you have an interesting story about yellow? Would love to hear.