I'm so ready for our trip to LA this Sunday for spring break.  I can't wait to visit all my favorite haunts, breathe some ocean air and enjoy some glam Hollywood interiors and furniture stores.  There's a look I'm completely addicted to of late and it's this feminine 40's glam that feels like an old Hollywood movie set, yet very current.  Although a bold color addict I would love to do an entire house like this, or how about a hotel?
Via Desire to Inspire.
A perfect 40's glam look by designer Ryan Korban.
This pale tan zebra printed cowhide could also be nice in this look.
Very Hollywood chic night stand from Patagonia Trading Company. They have great retro glamorous furniture designs.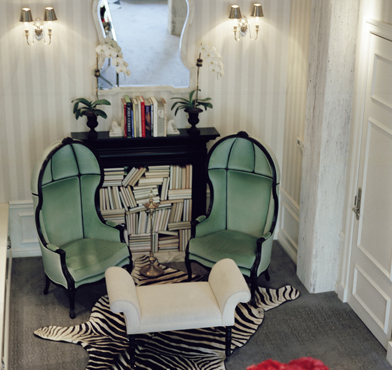 Love this pale minty green. Another genius vignette by Ryan Korban.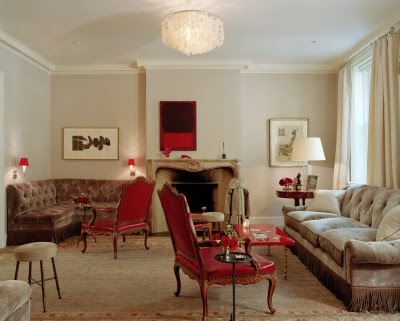 These two images via Habitually chic – feels like an old Hollywood movie set, but current. Timeless.
Red leather and light brown velvet…great mix.
Hollywood style sofa from Patagonia Trading Company. Every time I go to the Raleigh hotel in Miami I'm dying to redesign the foyer and put two of these couches in there.  ( It's one of my favorite hotels but they have yet to do something great with the foyer…)
Again, pale mint with cream fur.  Interior design Ryan Korban…perfect glam space.
Really like the curtains here. Thinking of doing that in my  dining room.
Chic Hollywood sofa from Patagonia Trading Company.
Two ultra glam coffee tables from LiveLikeYou– Greek Key coffee table.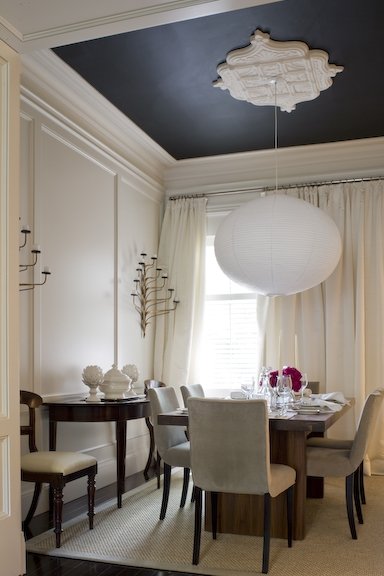 A simpler look with sisal and muted tones, but nonetheless completely glam.