Honestly I'm completely stressed out at the moment.
The bungalow is filled with packing boxes up to my ears. We move in one week from today to a house that does not even have floors yet! Let alone a finished bathroom.  I've been focusing on getting the basics in the guest bedroom done this week since Luke and I will move in there with all the pets for the first week or two. Cozy furry family living…
I sure do hope this kitchen will be pulled off in time.  Thankfully I have four more weeks!
This was the design plan for the big new open kitchen.
The cabinet guys drew by hand. So old school – love it.
Although I would love shiny Kelly green kitchen cabinets, I decided to let the kitchen in this house be fairly neutral.  Greyish/white cabinets with a black/charcoal island, brushed brass, and shaker cabinets.  Although I hate to follow trends I'm too in love with the new brushed brass look , and I think it's classic enough to stay chic forever.
Here are some of the materials I'm using. (I will add all sources in the reveal post)
I already put some beautiful slabs of macaubus quartzite on hold for the counter tops a while back, so the colorway for the kitchen was inspired by the beautiful stone.
The guys cleared out the space over the last month and new plumbing was installed.
Drywall went up.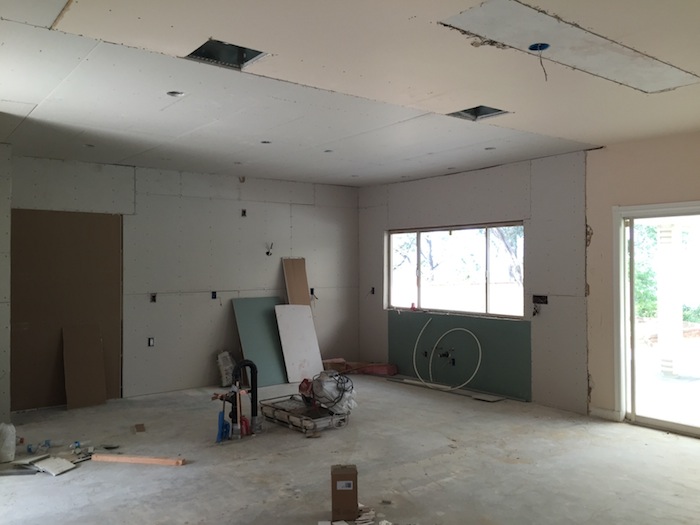 A few of the cabinets were installed last week giving us a sense of the new space.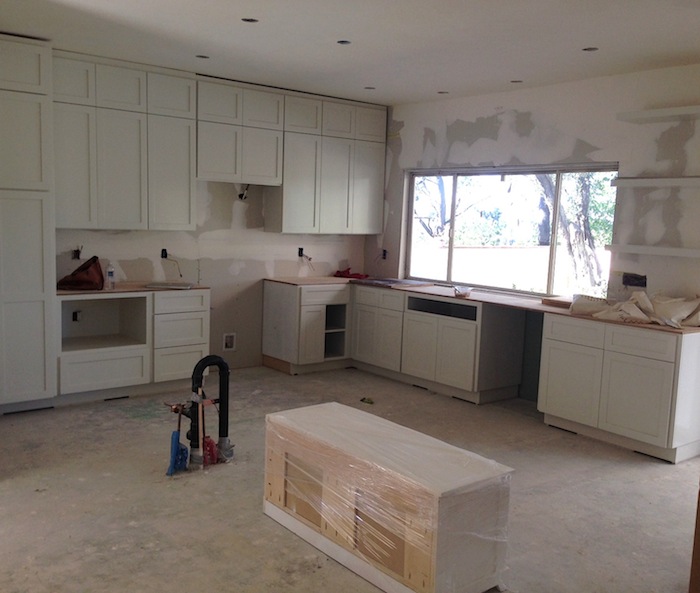 A few days ago the island was installed.
But it was placed too close to the refrigerator, so it went through some maneuvering to move it out an additional eight inches and still be able to fit the plumbing.
It's now awaiting the waterfall stone slabs.
While that took place, in the other direction it looked like this.
The ceiling was crooked and needed to be fixed.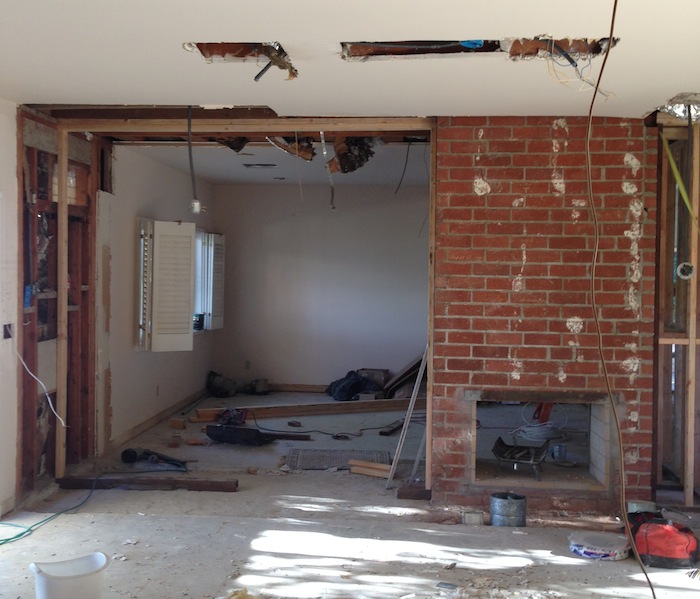 The brick fireplace became a double sided fireplace.
Yeah, a fireplace in the kitchen for some of those chilly LA nights!!
Partial wall started going up to make place for a possible barn door.
Drywall.
Last week the walls were painted.
With all the crazy amount of work going on over here its good to have a helpful appliance sales rep!
Say hello to Humberto at Pacific Sales!
He has been super helpful. Although I meant to to save on appliances, I got swayed by one superb brand and decided to splurge and instead make a deal with them.  A lot of the brands will negotiate with you of you if buy several pieces from the same brand.  You then get an excellent product at a great price.
In my case, all renovation decisions are also based on potential resale. People in LA I've learned are really in to their counter tops and the appliance brands, so I'm thinking ahead.  But more on appliances in a later post!
You can follow daily on INSTAGRAM.COM@JILLSORENSEN
Have a look at what the progress of the rest of the group.