Tony Duquette said that "the light at night should shine up on you, like the light of a bonfire glowing and throwing shadows", and  "the chandelier in a room should be the stars in the sky at night".  This enchanted language about interiors stayed with me long after reading his book. Perhaps there's nothing that makes a room more magical than a beautiful chandelier?  Lighting is to me one of the most important aspects of interiors, as it has the power not only to alter your mood, it can also completely make or break any design.
Haven't you ever been to a restaurant with a spot light right in your face when you're trying to eat your dinner? Easy way to ruin a night, and deadly on a first date!  Who ever came up with that design trend?? So adding magical lighting to a room with an over sized chandelier in any shape or form, is perhaps one of my favorite things. Nothing moves your senses more.
Interior design: Summer Thornton
Designer Summer Thornton proves the point in this beautiful room.

Interior design: Tony Duquette
The master himself designed this space and with a disco ball inside the crystal chandelier.

Let there be light!
Interior design: Summer Thornton
A large chandelier adds not only instant glamour it also sets the mood perfectly.

I bet going to sleep in here, you feel like the chandelier is the stars in the night.
Adding glimmer before dusk.
Interior design: Kelly Wearstler
This over sized chandelier over a small table is a fantastic way to create a sense of wonder.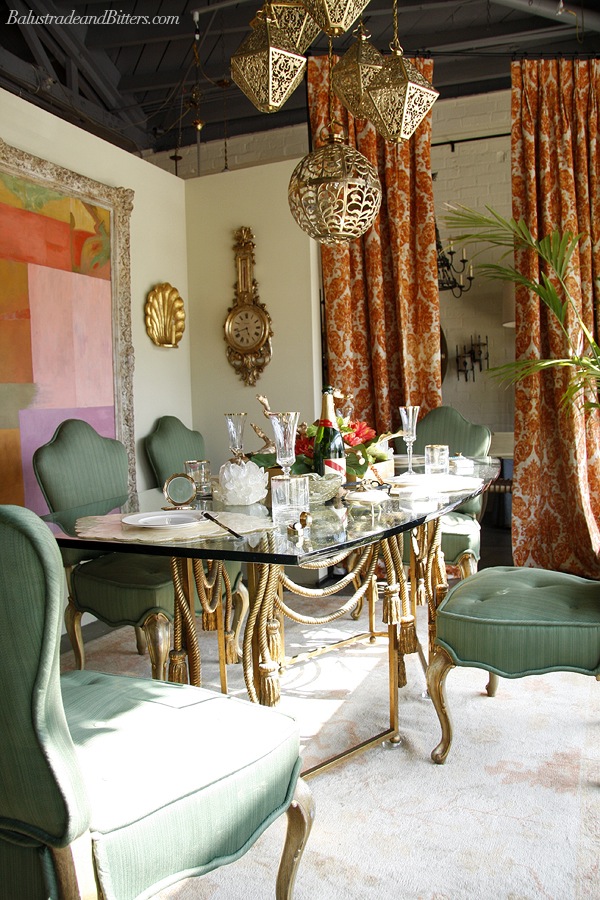 Image BalustradesandBitters.
Bet this dining area looks even more fantastic at night!
Love all the different interpretations. This one must be beautiful at night!
Interior design: Emily Henderson
Imagine the room without the chandelier...

Image via Lonny magazine.
Even a inexpensive IKEA fixture adds a great feeling with it's sheer size and whimsical design.
And as darkness starts to fall…wouldn't you rather be dining in here under a beautiful chandelier?
Image Soho House New York.
Pretending to be dining out in the open under the stars? Instead of sitting at a table being bothered by some terribly placed spot light?
I certainly would!