I find any piece of furniture in an unexpected bold yellow color completely irresistible right now.   I can't stop thinking about wanting one, or painting one.    Like this Hollywood regency style cabinet….
….from Pal + Smith's.  It would look great in a room with…
…something gray like this Hollywood sofa in charcoal velvet.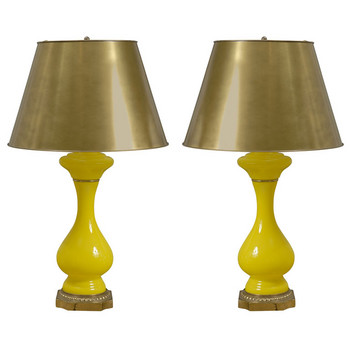 And a bold pair of yellow lamps with gray shades from Pieces.
How great…gray geometric carpet, bold gray striped wall paper, gray sofa with a daring, bold yellow desk.   It makes me want to run out and by some yellow paint and paint the first thing I see yellow. Such a cool effect in a room.
Can't get enough of this color combination yellow, gray and white.
Ann Coyle's beautiful Pagoda entertainment cabinet.  What an elegant way to hide your screen TV!  It would look great in a room with….
…two of these white Cannes chairs with gray velvet.
Two yellow chairs make this room an unusual and unforgettable room.
This Jonathan Adler bookcase I love!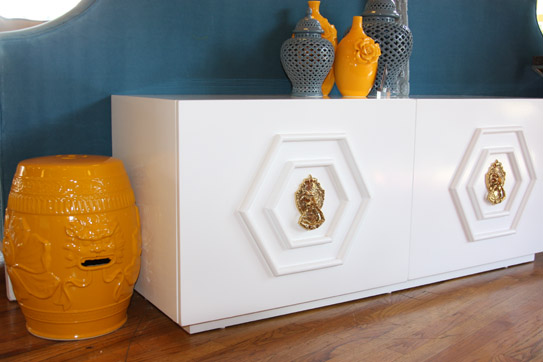 Palm Beach credenza from Room Service on a gray blue wall with yellow accents-supercool.
What think I really need to do is bring  something from my house, out into the yard….
…and do this. It's really tempting isn't it?