While it's freezing in most of the country, here in LA it's high time to get the outdoors in shape. I'm going full speed ahead with getting the backyard and pool  terrace done as fast as possible.
The scraggly trees at the end of the pool had to come down. Since we built the deck there the landscaping needed a makeover.
This week Teryl Designs gang came by and in a few hours it looked like this…
Without the trees there you can see the Sierras in the background, but we needed something green.
Enter my long time obsession…
Banana leaf plants!!
I've been obsessing over these plants for years and I'm so excited to live somewhere where I can finally have them in my yard.
Pink begonias will be planted in between them and I'm waiting for the double chaise I ordered to arrive.
Modern lanterns were hung on the now white house with black windows and eaves.
I decided to repaint the dining set I brought from Virgina.
The antiqued blue became…
…a cobalt navy blue with a mix of Benjamin Moore colors Dark Royal Blue 2065-20 and Admiral Blue 2065-10.
Although old fashioned they feel more modern and will add a little Hollywood regency flair to the heavy dining table I found form World market.
Outdoor furniture can be crazy expensive and the second you buy it and place it in your home the value goes to half.
Instead of any of the expensive outdoor options I found this indoor table from World market on sale that would be perfect underneath the pergola. For $ 349(!) how can you go wrong?
I got two carved side tables on sale as well from World Market as well to go next to the outdoor sofas.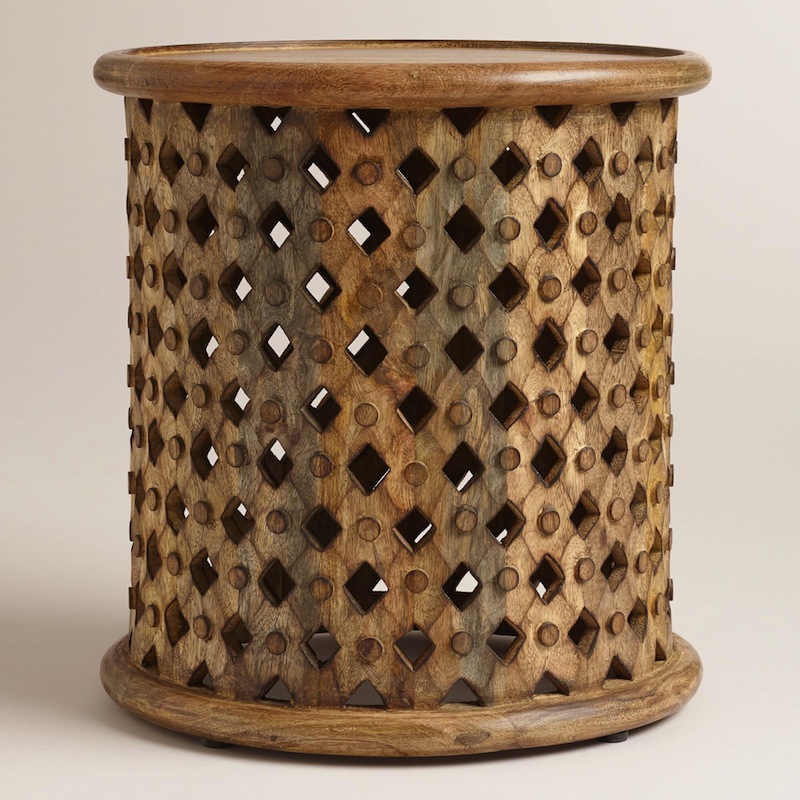 The dining table arrived a couple of days ago and it didn't disappoint.
It looked even better in person.
Today  I bought a wood carved dining bench to use on one side of it so the chairs can go on the other.
Next up a ficus hedge and bougainvillea will be planted, the cement will be stained and cleaned, the outdoor cushions will arrive and the outdoor BBQ will be installed.
If you have any great sources for chic, affordable outdoor furniture please share!