Our house is a bit of a disaster these days as several rooms are getting a makeover. The process started out somewhat small, but is becoming more drastic by the minute.  Has that ever happened to you?  I just can't stop now that I started. Goodbye French country – hello modern, colorful home! The only thing I'm sticking to is this three step process:
1. See what you have in your home, that can be redone, reinvented or moved.
2. Find very inexpensive vintage finds that can be redone and reinvented.
3. Don't limit yourself to step 1 and 2. Do what needs to be done, no more excuses allowed! "Oh, I'm so sorry it looks terrible I've been so busy" or "oops…I need a shade for that!" or "oh, that was clawed by the cat, sit in this chair instead" has become VERY old.
The living room is void any particular style and currently quite a mess…
The "countryish" look will be reinvented in to a more modern punchy, package.  I found the white coffee table (that's leaning) in a vintage shop for $ 98.  It has already been repainted black lacquer and looks pretty fancy. But I'll share that in a later post.  It will replace the gigantic Indonesian coffee table, that we love, but it cramps the room. (This might be painted white and go somewhere else..)
The new wall color will be along these lines. The Lonny magazine spread got me, and I have to do it.
Either one of these hues…hmm…
I needed two turquoise lamps for the new design scheme, so I went shopping at home…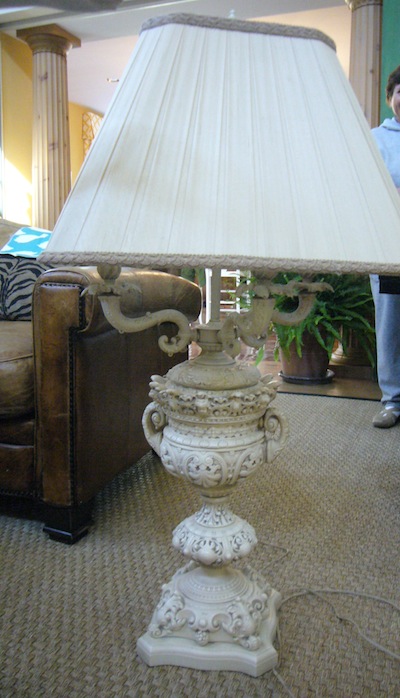 Basically nothing is safe in this house.  This old lamp I found at the flea years back got painted.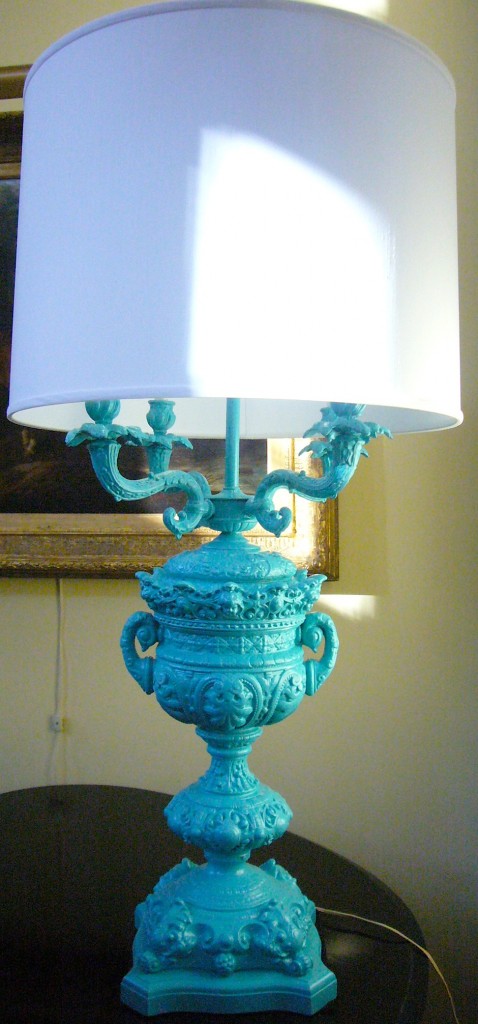 It now looks like this with a white shade to fit in with the upcoming design. Until then it sticks out like  sore thumb.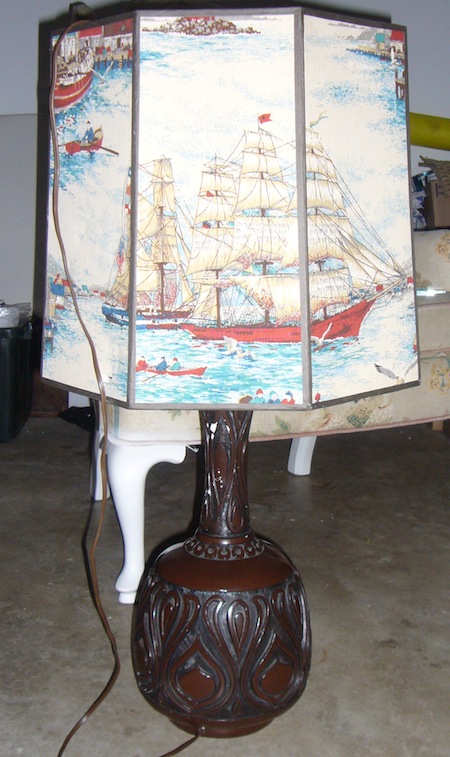 This $ 12 dollar find which I loved the pattern on….
…has been turned in to another turquoise lacquer lamp.
The foyer needs a few touches. Perhaps a more eye catching light fixture since we have double height ceiling there.
I found this super large chandelier at a vintage store and had to buy it. I immediately envisioned it painted. Thought it perhaps could look great replacing the more conservative light fixture.
I'm so inspired by Tony Duquette lately – it had to be RED.
Now it looks like this…
I like the red against the bold yellow wall, pink chair and black and white zebra. And I think it will look nice against a pale pool blue living room as you look all the way in.
This is an image of the foyer last year, looks a little different today but I think red can be interesting in here. Then have some red accents in the living room.
I even like it against the green entry door.  Lot's of colors going on, but I don't mind mixing.
I'll show pictures of it up in a later post.
The master bedroom is getting a makeover as well…
It will get one of the Marmalade Design headboards we'll carry on the site.  Cris from Already Covered will build it.  Again…that's a whole other post.
As you see stuff is going on all over the place. My motto is NO MORE EXCUSES!
I hope you don't mind coming along for the ride, as some of these spaces get reinvented!