Coffee!! School mornings are back!
Okay here are two simple no brainer makeovers that I swear by.  The most SIMPLE yet powerful transformations.
First one….  PAINT A DRESSER WITH GOOD BONES A BOLD HIGH GLOSS RED AND SPRAY PAINT THE HARDWARE CHROME. (Kelly green, black or peacock blue work great too!)

Okay not really anything new. But the fact is it works. This is a dresser I had made over for a client's boy's room in NYC.  Adding at least a few vintage pieces for each job I do is a must.
Start out with a piece with really good bones and some interest.
Sand it, prime it, then add two coats of paint. A lot of you ask….no I don't do most makeovers myself since I'm doing so many jobs I don't have time.  But this is easy to do yourself.
We used RED by Benjamin Moore and KRYLON CHROME spray paint on this dresser.
It turns it in to a chic mid century dresser.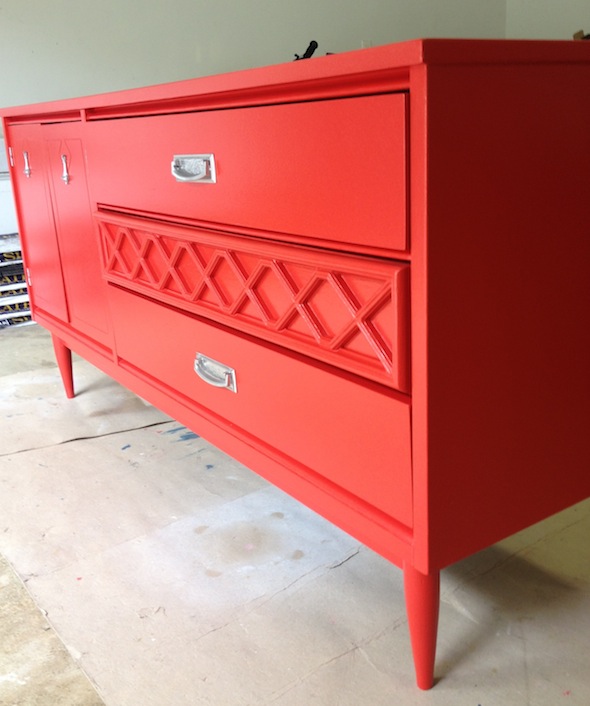 Looks brand new!
Take off the hardware and spray paint.
This is now chic for any room!
Okay second one…
IF YOU HAVE A STAIR CASE THAT'S PLAIN AND WOOD…

PAINT IT CONTRASTING WHITE AND ALMOST BLACK!
RUN!  DON'T WALK OUT TO BUY PAINT AND DO THIS. IT MAKES YOUR ENTIRE HOME LOOK MORE EXPENSIVE AND ELEGANT.
OKAY I'M TIRED TODAY so getting bit dramatic…but seriously I swear by this! I will never ever leave a stair case like this…It works for some interiors but even the most basic makeover increases the look in your entrance.
I have a clear picture for the "before" shot and only a blurry Iphone picture from job the other day for the "after". But it still looks so much better.
Handrails and buttons go black, everything else white.
Here we used WHITE DOVE and BLACK BEAUTY in semigloss from Benjamin Moore.
Railings all the way upstairs should be defined.
Another blurry Iphone image…ouch.  But as you can see a much cleaner and more elegant look.
That's my two cents for today.