I want spring to arrive, and winter to END!  I'm tired of being cold, I'm tired of everything looking gray, I'm tired of getting up at 6.30am every morning getting Luke ready for school freezing in the dark, and I'm tired of being tired of it! I'm talking so much about the weather lately, my chiropractor said I could have a job as a meteorologist, as I'm giving other patients weather updates off my new iPhone.  Scary…But I'm sure many of you feel the same way.
So I was thinking of things you can do to your home that would pick you up.   And few colors pack a punch like turquoise, and has the ability to lift your mood in an instant.  Maybe it's because it's the color of a delicious ocean, and the sky on a sunny day.  Painting the walls this vibrant hue is a sure fire way to beat the February weather blues!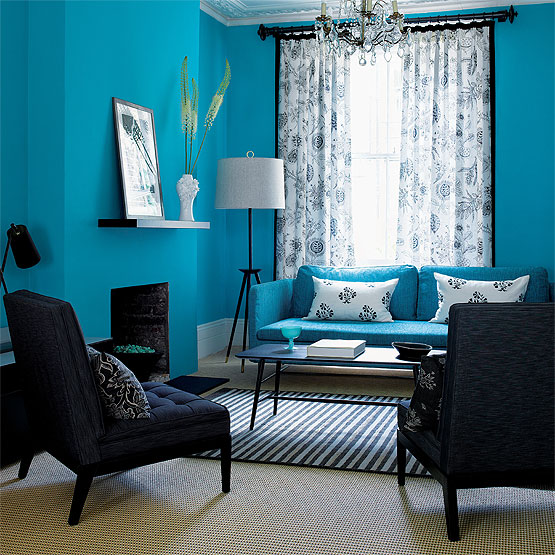 Image via House of Turquoise.
With one of Madeline Weinrib's unbelievable carpets on the floor you will be jolted.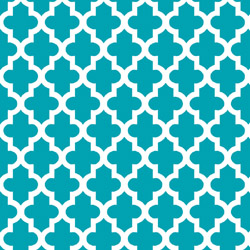 Four 60's  Marmalade Interiors custom vintage chairs  that I painted white, and finished in bold turquoise fabric, make me dream of a beach house.  Why not a cool bold wallpaper from Room Service in a powder room?
Love this Jonathan Adler designed room. A turquoise curtain and a vase cheers you up.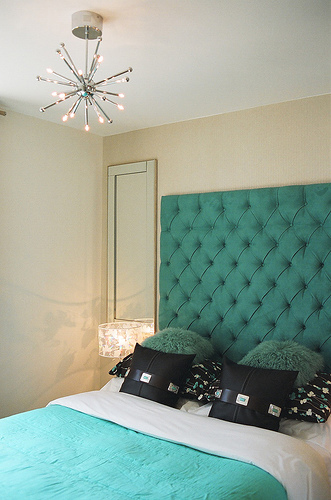 How about a headboard and a bedspread?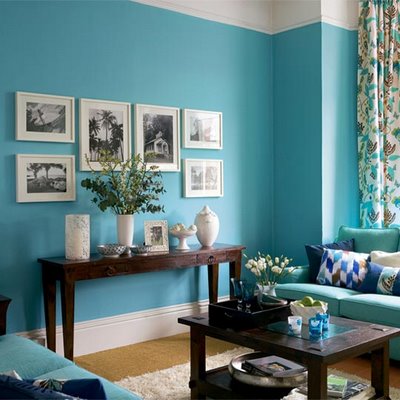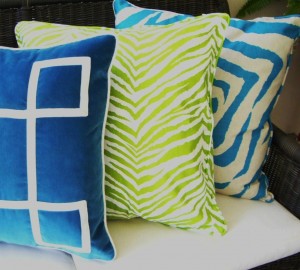 Some peppy pillows in turquoise velvet, and turquoise and lime zebra print I designed (Marmalade Interiors).  And one of my favorite lamps you'll be able to find soon on LiveLikeYou.  Quick easy ways to liven up any room.
Interior design: Robin Karp Interiors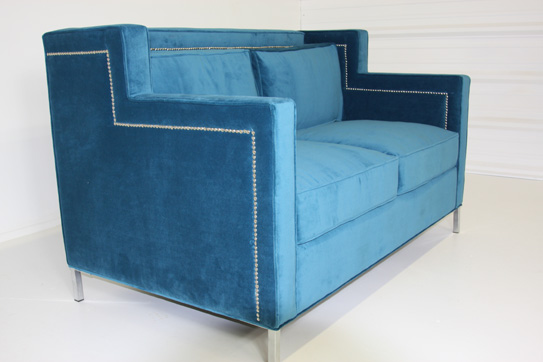 Turquoise velvet and chrome nail head angular sofa from Room Service. Funky and cool.
Love the different color turquoise on the wood chairs.
You'll never feel bored cooking in this kitchen.  Do you have a small kitchen? A bold color can be just what it needs. Love the turquoise knobs.  Sometimes it's the smallest detail that makes a room.
Turquoise, gray and black…awesome
Here's an inexpensive way to fix up your room – great velvet headboard from JC Penny. How cheerful!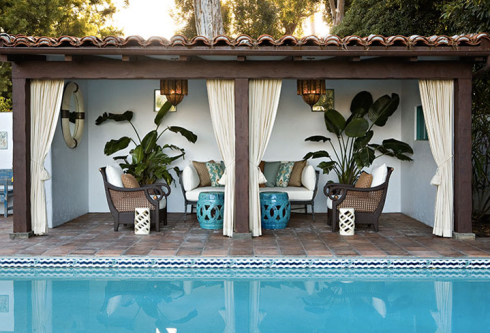 Ahhh…to lounge by a pool in a pretty pool cabana….LOVE the garden stools.  Another product we'll carry on LiveLikeYou.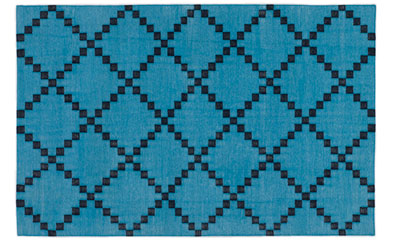 Another smashing carpet from Madeline Weinrib. It's like a geometric ocean!
This is a chest of drawer I picked up at the flea market, and painted it a fun turquoise.
It makes me happy when I see it!