I'm in the midst of renovating our guest cottage in Sweden — and doing it via e-mail!! My brother is working away back home turning the little cottage, that in the 1800's was servants quarters, in to a guest cottage where you can actually sleep.
The owner in the 80's turned it in to a sauna, and a dark cedar bedroom with only one tiny window allowing only a peak of the beautiful lake view. All the other windows were sealed up to make room for the sauna.  It was pretty from the outside, but needed the windows put back, so we could enjoy the view.
So three summers ago we installed a row of old windows in the front of the house.   My brother has a company that buys and sells old windows and doors from houses that are about to be torn down. The guest cottage bedroom is now bright and sunny and has a view like this–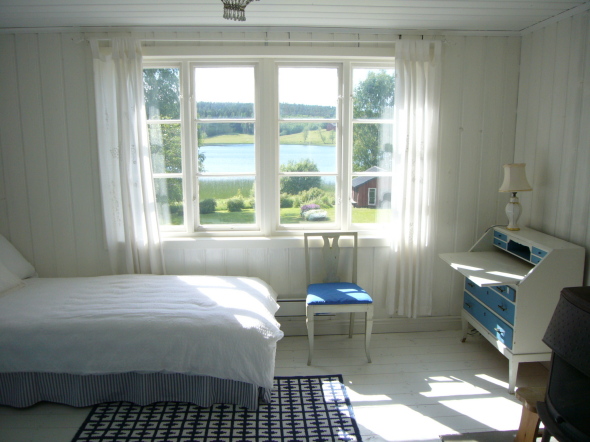 A view which was almost completely hidden. We also painted the floor, walls and ceiling white. Anything to let the light in to the formerly dark space. ( So wish I could find the before picture because it's insanely different. ) I'm surprised how many people actually ignore a view when designing a room. A view can be a room's greatest asset. Surprisingly I see it all the time.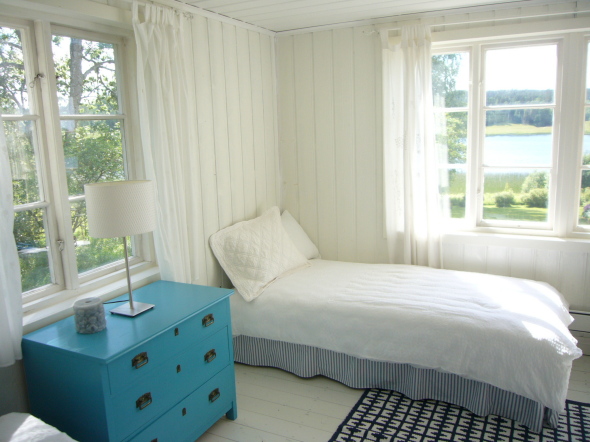 Sweden has great light during the summer time, some days up to 24 hours of sunlight. But as soon as the end of July arrives you can feel the hours of daylight rapidly starting to decrease. Dwindling down to only a couple of hours a day in December. So capturing as much sunlight as possible with the design feels very important.
After painting it, I added some items quickly, and it looked like this two years ago–
Striped Swedish rag rug, whatever curtains I had around,a green chest I found in a second hand store.  But on my next visit I wanted to give the room a PUNCH OF COLOR…. so I painted the chest of drawers …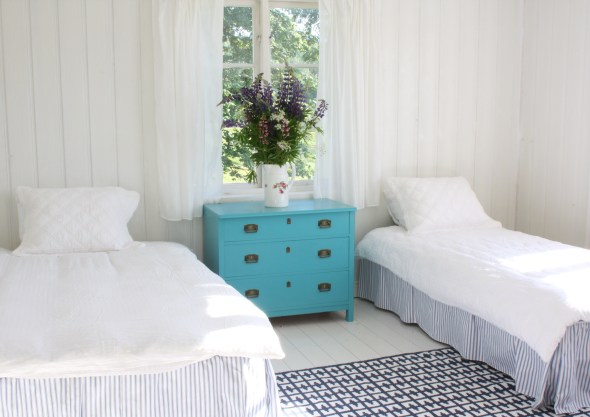 …a bold turquoise, and brought over (in my suit case) a navy and white carpet from Pottery Barn.  Now the space feels happier to me.
Photo:Jennifer Jaunsch
I also brought over great see through linen curtains with a shell border from West Elm. All my friends in Sweden want them—there's no West Elm there!  (Hello –West Elm maybe a new location?)  I also found some fun vintage finds for next to nothing.
With the bedroom looking cheerful the thoughts go to the other room which has been gutted from the sauna. Two old windows have been put in there as well, and wood paneling has gone up, it's been painted white,  I have more West Elm shell curtains…. But that's it.
DESIGN INSPIRATION FOR THE OTHER ROOM  is something like this.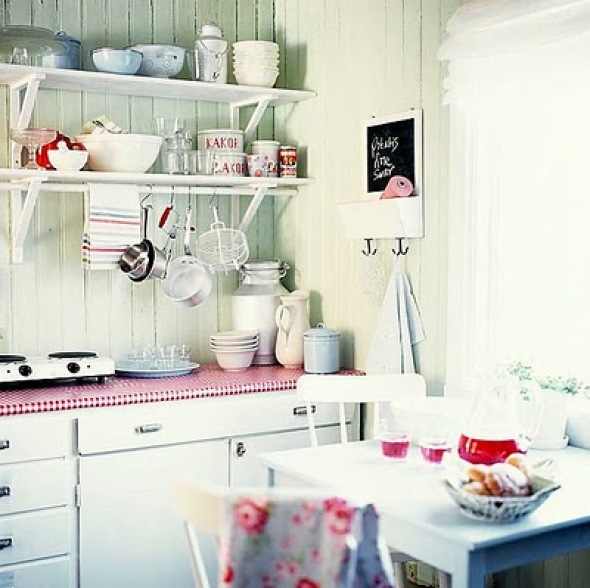 It needs to function as a light kitchen with eating area.  Maybe IKEA cabinets below (if I can survive going there…) and build some simple shelving above, like in this room.  Open shelving feels so relaxed and looks pretty, and forces you to be very organized and well edited. Two very good things!
I like the edging on these shelves on the left. And the organization on both of them!!!!!!
Perhaps on either side of the window?
I made the mistake with the floor a couple of years back. I selected tiles, but since I was not at home while installed I never double checked the color. ..they're okay but a bit boring.  So something inexpensive has to be done.  So I'm thinking…PORCH PAINT!
A nice turquoise floor would pick up the color of the sky on a great day. Looks great on the wood floor in this apartment in Stockholm.
..and in this kitchen Windsor Smith designed in Malibu.
It's so unusual to paint floors I think I have to do this.  It's a space most people don't include when they think of painting and adding color.  I think it looks great , but on the other hand…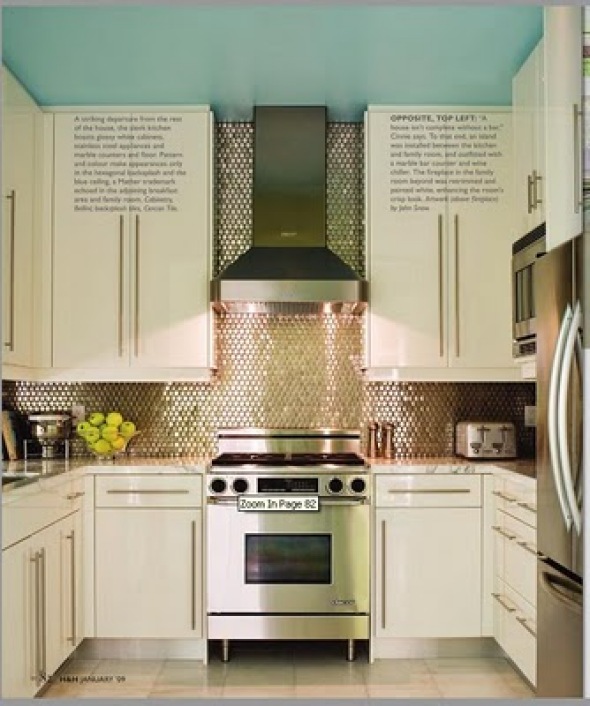 ….how about the ceiling??  Looks fantastic in this kitchen and is also unexpected!  The ceiling is a another space that doesn't have to stick by standard white.  Then again…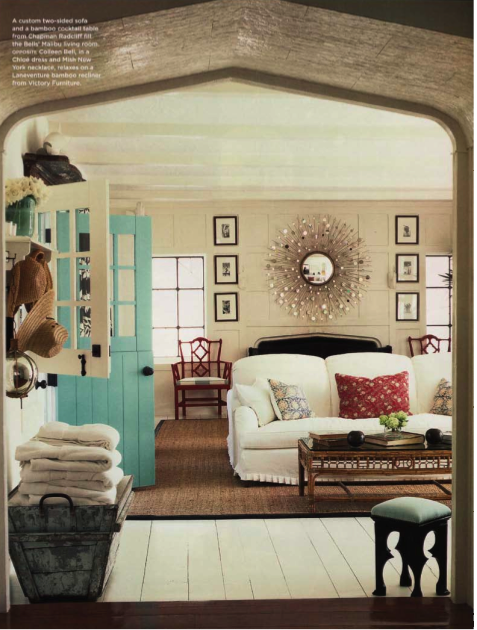 …it could very easily be just a turquoise door.  I love this door and room in Windsor Smith's house in Malibu.
What do you think?
I'm leaning towards the floor, to get rid of the color of the tiles… but…they could be painted white.  Guess I'll have to go home and take a closer look with these ideas in hand.  Would love to bring some California inspiration all the way to our little guest cottage in Sweden.