Hope you all had a good weekend!
We're back and there's lots of work to be done. To kick off the week in just the right way….here are some ways to Think Outside the Box!
1. WHO YOU ARE STARTS AT THE FRONT DOOR
Allow yourself some individuality when choosing a front door.
Create an entrance that makes you feel great before you even enter.
Don't worry about what the neighbors think. Your home is just that — YOUR home.
2. GET CREATIVE WITH YOUR ARTWORK
Frames don't have to be gold or silver.  Imagine them in any color you like.
Image Rue Magazine
Who decided you can't hang artwork in front of windows? Hang them where you please!
3. DRAW INSPIRATION FROM PIPPI LONGSTOCKING.
Regular rules don't apply. Your home is yours to use in any way you would like.
Try to imagine how Pippi would live as a grownup, without all your preconceived ideas about what a home should look like, and how it should be lived in. Perhaps you'll come up with a brilliant design idea.
4. RE-IMAGINE REGULAR FURNITURE ITEMS AS BEAUTIFUL ART
Art doesn't have to be limited to paintings. Artist Susan Brown creates her beautiful art on headboards.
5. LIVE IN TECHNICOLOR…
Interior design Ruthie Summers.
…AND SEE HOW IT AFFECTS YOU.  Glossy bold yellow ceiling anyone? Experiment with regular use of color.  There are no rules as to where they should go. White ceilings are overrated!
6. LET YOUR WALLPAPER CREATE A DIFFERENT ENVIRONMENT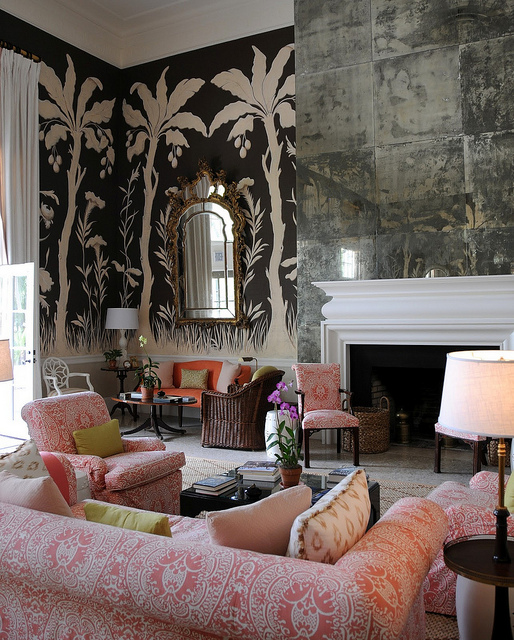 What could seem to be a crazy idea…
…might just be the most impossibly chic look!
7. CREATE A DINING SPACE THAT MOVES YOUR SENSES
Why eat all your meals at an uninspired kitchen table? Bring your best furniture outdoors for a refreshing dining experience.
Set a fantastic table anywhere that strikes your fancy. Perhaps out on the lawn to kick start spring!!
P.S. Stay tuned for a great spring Giveaway on Wednesday!!