Our house in Sweden has a little guest cottage on the land that the farm workers lived in back in the 1800's.  It was a charming little cottage right on the lake, but by the time we bought the house the guest cottage had become a sauna with a depressing bedroom with no windows.
My plan was to turn it in to a complete little guest retreat with mini kitchen, sleep hall upstairs, with plenty of space for friends and their families.
So this summer it got a "budget" makeover….  Besides a couple of items from my line,  every single thing was bought second hand or vintage.
(The Swedish Flag)
All images by Mehreen Qudosi.
This is what the cottage bedroom looked like when we bought it.
The first this we did a few years ago was to rip out plastic flooring, paint everything white and install old windows.
I kept it pretty old classic for a couple of years, but this summer I added some more color.
This is what it looks like now.
Monogram carpet-Lavender,  Kobalt Bang Bang duvet
Happy & Bright.
Here are some simple ideas I used for the cottage make over.
1. GET A VINTAGE DRESSER AND PAINT IT A BOLD COLOR.
2. HANG CURTAINS THAT WON'T HIDE THE VIEW.
I got see through West Elm drapes with sea shells for the entire cottage.  They are from a few years back and were never used.
When I say I don't want anything to spoil the view I mean it.
Here is my snapshot of the view!

3. PAINT FLOOR, CEILING AND WALLS WHITE
Again to let the view be the star and create an environment of peace I stayed away from a energizing color as a back drop. A white back drop is the eternal white canvas for when the decorating bug strikes again.
4. ADD COLORFUL THROW PILLOWS.
The quickest and easiest way to redo a room is always throw pillows!
Turquoise Embroidered Monogram Pillow, Zebra pillow, Lavender Velvet Regency Pillow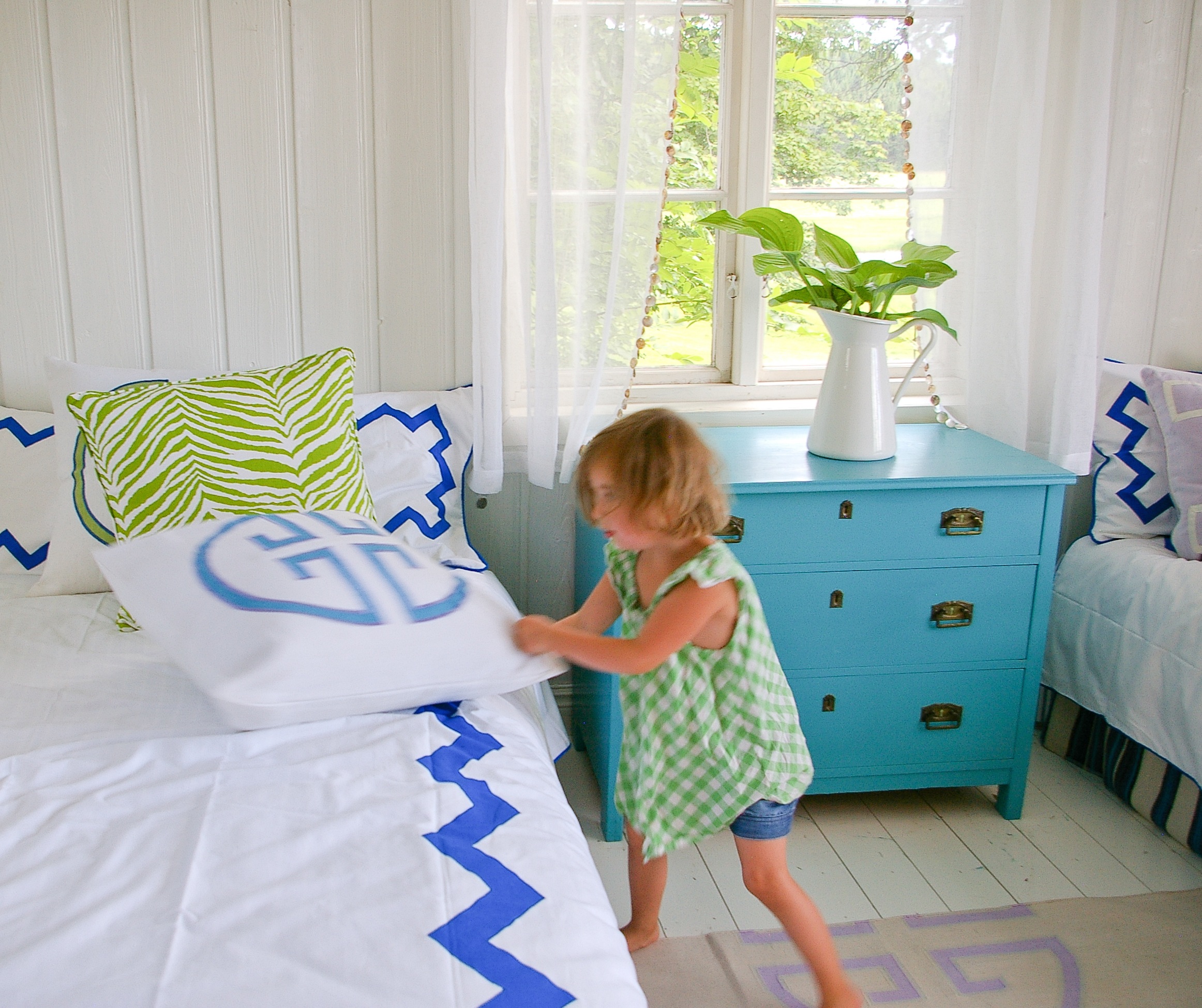 I highly recommend small busy body helpers…haha
My funny niece Zoe had her own ideas how the pillows should go.
5. ADD BEDDING THAT PACKS A PUNCH!
I didn't want the cottage to feel too country so I added our Bang Bang bedding that's bold and fun. Just like Zoe. I also want good quality and durability. Second hand is great for a ton of things, however I like my bedding spanking new!
6. DECORATE WITH LOCAL VINTAGE FURNITURE & ACCESSORIES

Exploring local vintage stores is one of my favorite things to do. Another mans trash can be your treasure!
7. CUT UP VINTAGE FABRICS AND USE AS BED SKIRTS AND CHAIR COVERS

I found a fabric I loved in a second hand store, cut it up and used it as bed skirts. I also used a vintage table cloth as chair seats that we stapled on.
The cottage THE KITCHEN AREA…which was a sauna ( I'm still trying to hunt down the horrid before picture!!)
It looks like this now.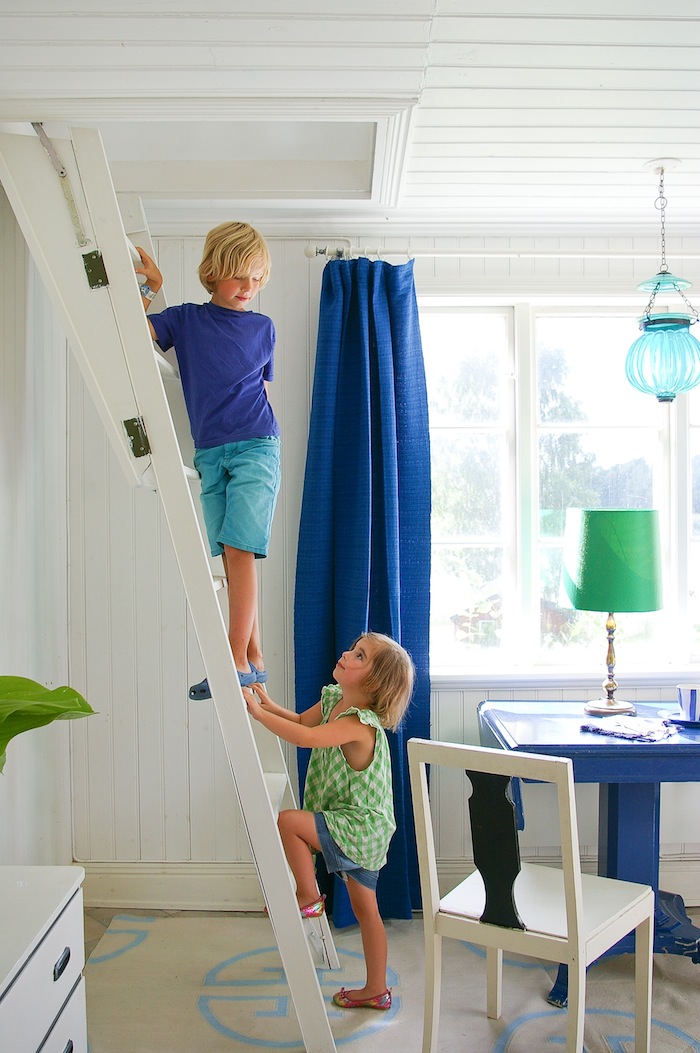 It has a latter you can climb up to sleeping hall.  Always a hit with kids.
My adorable nephew Viggo and  Zoe.
8. BUY TEXTURED VINTAGE DRAPERIES IN A STRONG COLOR
Most second hand stores have tons of discarded curtains that you can buy for a couple of dollars. Have a look – you can find amazing quality. So if the size and color works, why not?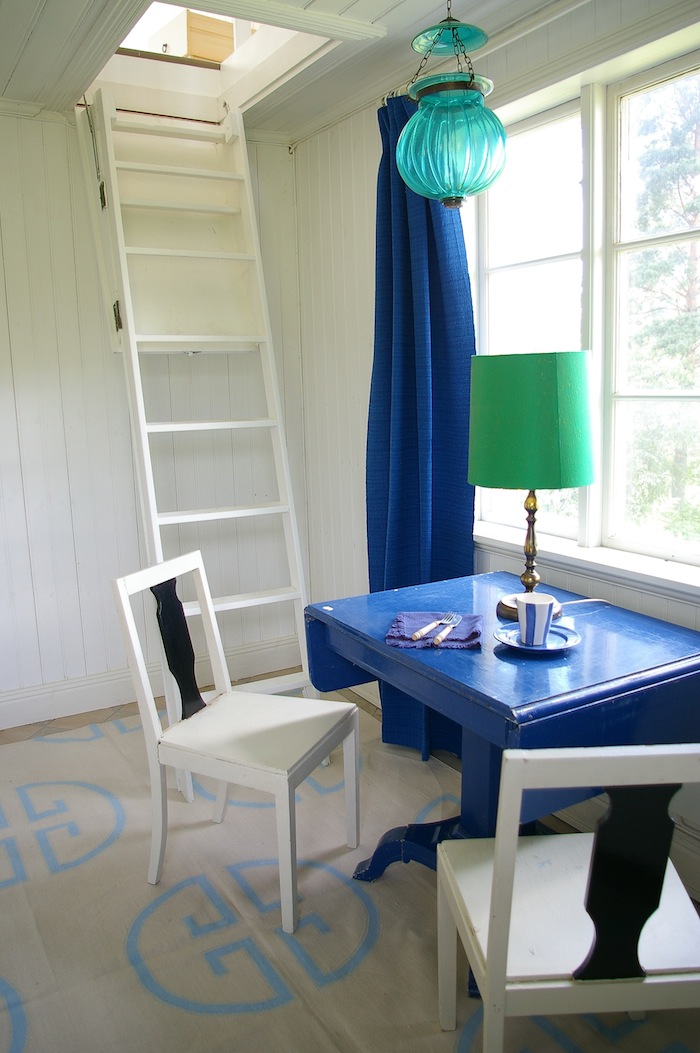 9.  ADD COLORFUL LIGHTING
When the background is all white I like color on the light sources.
10. FILL UP THE KITCHEN WITH FLEA MARKET FINDS
Stick to one or two colors so there is a unifying theme, and don't buy anything that is chipped.
Then they look like new!
11. INSTALL A $ 110 SMALL KITCHEN FROM IKEA
My dad installed this for me last summer.  Yes folks $ 110 dollars!
12. STICK TO A COLOR SCHEME OF JUST A FEW COLORS

I LOVE color and think you can never have enough color.  However when the view outside is so insanely pretty, then too many crazy colors indoors will take  away from the view and peacefulness. A good idea is to stick to a few colors, and bring in some of the hues right outside the window.
Hope you have  fantastic week and enjoy the last few days of summer!!