After dropping Luke at his first ever sleep away camp at Lake Arrowhead, Dan and I decided to drive Highway 1 up along the jagged California Coast. I'm not big on sharing nature scenery snap shots, but this time, I'm sorry, I can't help myself.
If you haven't been to this part of the world, schedule a trip NOW!
Here are some great spots, tips and places to visit on this magical mystery tour…
We worked our way from Lake Arrowhead in the San Bernandino mountains out to Santa Barbara.
Stunning place for an overnight stay or two.
Hiking clothes are highly recommended.
Miles and miles and miles of amazing territory to hike!
North of Santa Barbara close to San Simeon, stop to see the wild elephant seals.
We would have made it to the Hearst Castle had we not had a little hick up (see P.S)
As you get in to Los Padres National Forest the drive definitely gets scary.
Insanely rugged stunning beauty and miles without a fence. Just a steep cliff between you and the ocean…
At one  view stop, we met these super friendly squirrels. They jump on you the second you get out of your car and snag any food you have. They even take it out of your hands! Needless to say this Alvin and the chipmunks gang were major crowd pleasers.  These fearless squirrels are all over Monterrey county.
In Big Sur don't miss to visit Julia Pfeiffer state park. There you'll find the leftovers of an old home stead, originally built by a pioneer woman in the late 1800's. The land was purchased by an east coast heiress who built "The Waterfall House" right here with this view. All that is left now are the terraces. When she died she donated it to the state as park land, in the name of the original owner Julia Pfeiffer.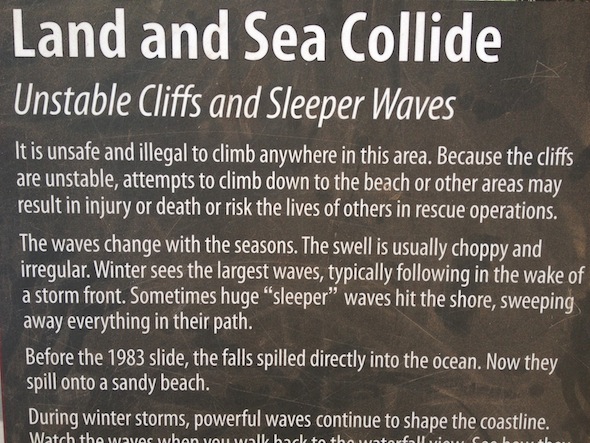 This sign basically sums up the entire coast.  Yep, you need to be a SAFE driver.
My shadow in the strong afternoon sun. Sun block is a must.
Hiking at Andrew Molera state park. Stepped over a rattle snake here without noticing it, luckily I didn't get bit. But a few minutes later a nasty yellow jacket got me!  I guess it was a bite from the better of the two.
Note to self: Bring snake and yellow jacket bite kits when hiking here.
Stay at Deetjen Inn. The hotel was started by a Norwegian man who housed wayward horse and wagon travelers in the 1800's. Rustic simple cabins, no internet, no phone, and no internet bookings still. You need a room, call.  We didn't stay there….next time.
The golden hills of Big Sur at sunset. Magical.
The golden hills of Big Sur…again, just because…
Post Ranch Inn definitely worth a visit, if not for dinner, then for drinks a sunset. It's all they say it is, and more.
You dine above the fog on the Pacific.
Sit quietly and watch the sunset. It doesn't get better than this.
Thanks for letting me share these pictures. I can't wait to go back there again.
P.S.
What not to do when you are on the remote Highway 1 on your way home…..
Do NOT grab the sunblock in the trunk, then lock it accidentally leaving the car keys inside it.

You generally have to wait 6 hours for AAA.
Thank You to Sunny of Sunny's Towing who drove 4 hours just to spend 15 minutes to get us back in to our rental car!!
And super thanks to all the kind people at Lucia's Lodge…
..who gave us unlimited credit in their restaurant and convenience store until we could get our stuff!
This place (minus the sunblock debacle) is a must. Best fish and chips in the country!