Second up in our style study is CLASSIC BEACH HOUSE.
Perhaps there's no more soothing American style than CLASSIC BEACH HOUSE.  It's one of the easiest looks to achieve, it works in any kind of home and is elegant, timeless and casual.  Remember these style guides are only meant for you to figure out what appeals to you so you can create a home that you love.
Here are a few of the  items that defines this look that you can incorporate in to your space.
NATURAL WICKER & RATTAN FURNITURE
Interior Mark D Sikes
WHITE PANELED WALLS  
Interior Mark D Sikes above and below

WOOD BEAMS
Interior Mark D Sikes
Interior Mark D Sikes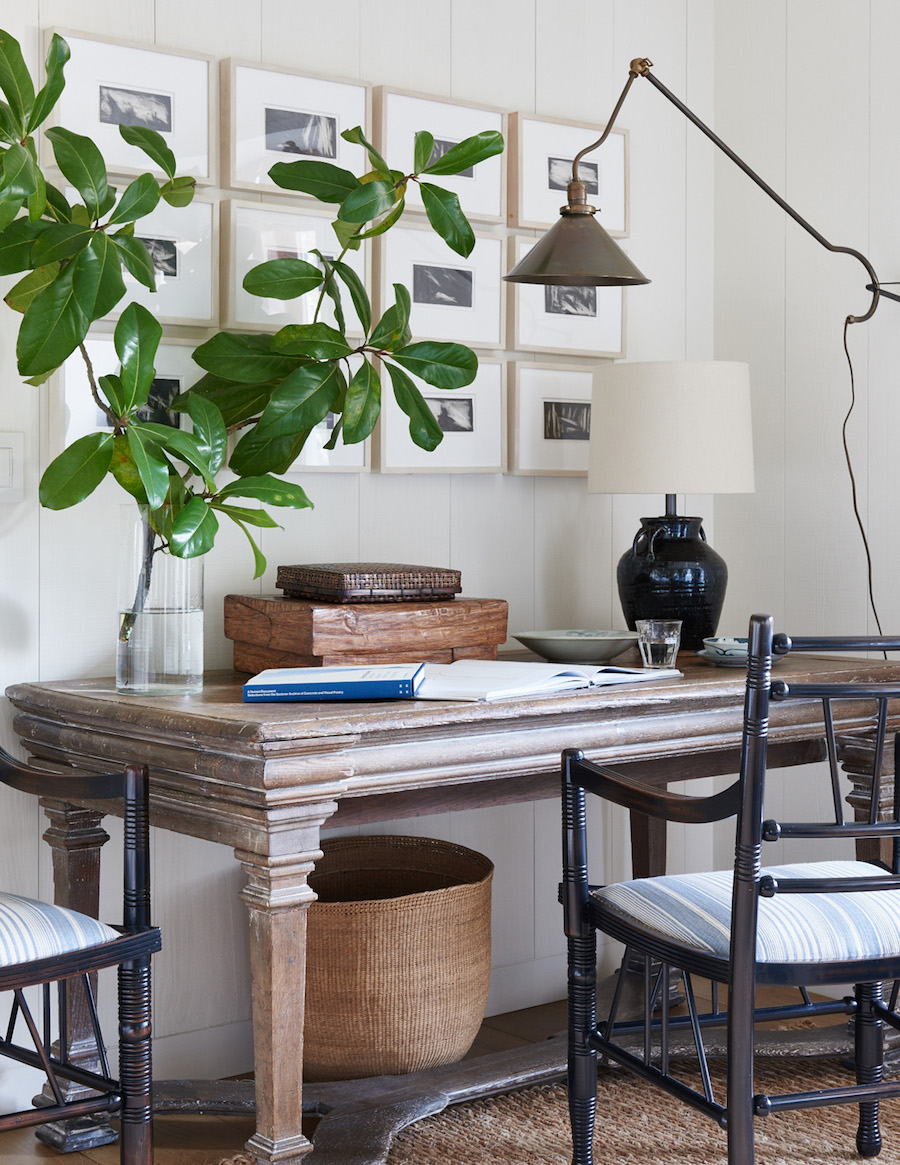 Interior Mark D Sikes
WHITE PAINTED FLOORS & WOOD CEILING
BLUE AND WHITE STRIPED WALLPAPER
Blue and white pin stripes or any kind of nautical blue stripes gives you this look. It's instantly classic and chic.

Interior Mark D Sikes
BLUE STRIPED RUGS
Casual rugs in blue and off white stripes is another relaxed decor items in this look.
Interior Mark D Sikes
Interior Mark D Sikes
BLUE BEDDING
Blue hotel bedding mixed with blue prints, cream bed covers all contributes to a fresh timeless look.
Interior design Mark D Sikes
Indigo Deco Bedding – Jill Sorensen Lifestyle
NAUTICAL VINTAGE PAINTINGS
Vintage nautical paintings of boats, oceans and captains hung in collages on the walls adds and old school and lived in feeling.
Interior design by Kevin Isbell
BLUE PAINTED CABINETRY
Interior design Mark D Sikes
WHITE FURNITURE
Interior Sara Bartolomew
Classic and timeless white dressers, console tables etc. look great in this coastal inspired home.
Powell Henley White console table
NATURAL FIBER RUGS
Image via Lily pad cottage
Lots of rugged natural rugs add coziness and texture.
Anji Mountaun Handwoven shasta rug
BLUE HUED THROW PILLOWS
Interiors Bunny Williams
Azure Mark Embroidered Throw pillow
Cloudy Blue Velvet Regency pillow
In case you missed last weeks  Style Study: SUMMER COTTAGE and/or  Get The Look & Paint colors : SUMMER COTTAGE.
Which one of these looks do you prefer? And what about these looks do you like?