Hope you're all back and rested up after the holiday. I'm up in New York for some client meetings, but home in a couple of more days…
I want to share a fun project with you. Lisa, a mom of two teenage girls called me a while back she needed some help with her most challenging design project to date. Her teen daughters bedroom redesigns. Although having done  a fantastic job designing her home, she found herself challenged with the new teen rooms. The girls wanted color and their own look and vibe.  I was happy to step in and help -teen rooms are really fun to design. Kids of all ages are naturally pretty fearless with ideas and color.
Can't wait to share the full before and after, but here's a little sneak peek!
Caroline's desired color scheme was pink, orange, brown, beige inspired by the NY Tory Burch store.
Hot pink PVC Louis chair with gold X desk.
Hot Pink Lucky bedding with custom HOT Pink Pagoda Headboard.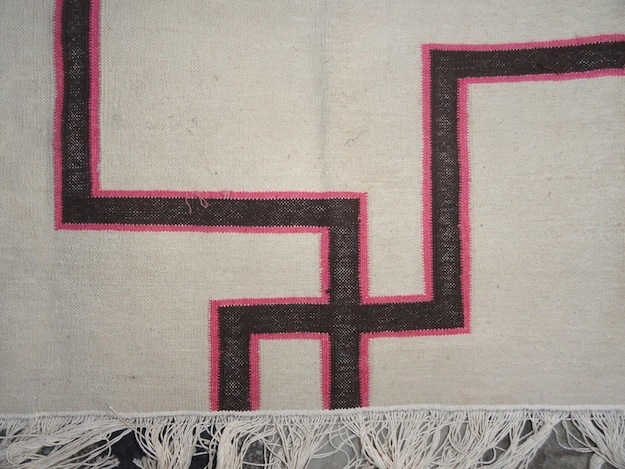 My new Jill Sorensen MAZE carpet in Cream, Hot Pink and Brown.
Coming soon!
The custom Pagoda Headboard with brass nail heads. Lucky Euro shams.
The pink is carried though in small doses in a a more salmon tone in Katie's bold turquoise room…
Great choice of lamp!
A two second sloppy mock up and sketch while going through ideas with Katie and Lisa.
Here is Lisa with the velvet for the headboard. Getting just the right shade of yellow is key.
Daphne lamp with brown shade. Love this lamp!
The Artichoke lamp on the Ming dresser with existing mirrors which will be hung up behind.
Full reveal coming soon.