The renovations are going at full speed and we have only three weeks left to the move in date.  I apologize for the intermittent blog posts, but sometimes things get overwhelming and I'm working late in to the night and the blog falls behind. (If you read Swedish follow my daily renovation blog for Swedish design magazine Skona Hem here.)
The time has come to go in to full design mode.
Here's an update of what has been going on…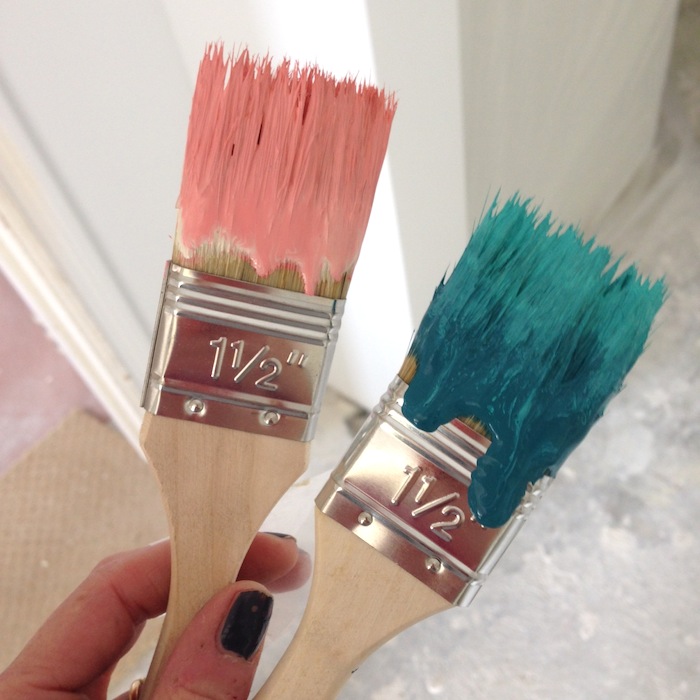 I'm picking a paint color scheme ahead of finalizing wallpaper selections which is a challenge. I had planned to do it after we move in, but we are now instead getting some areas painted before.
I'm forced to use restraint with the colors this time.
While there are a lot of vibrant hues I want to use, they have to be used the right way so I can create that California indoor/outdoor vibe.
IInstead Invite all the beauty of the California landscape in to the house.
The house is facing a pretty, sunny view from a mountain perch, but it has a hill behind it making the lighting perhaps the trickiest I've ever worked with.  A major color picking challenge that I will share more about later!
You might remember the kitchen looking like this…
It's now in the process of being installed.
It's a calm white backdrop, but here is my color inspiration for kitchen.
Image via instagram/kellywearstler
Yellow and graphite…used sparsely.
The living room used to look like this….
And here it was last week…
A new room has formed and a new fireplace has been built. Drywall is up and doors have plastic on them ready for a paint job.
I want a seventies fireplace in the middle with stacked quartz stone.
Kind of like this…
The living room looked like this from the other direction after taking down the walls.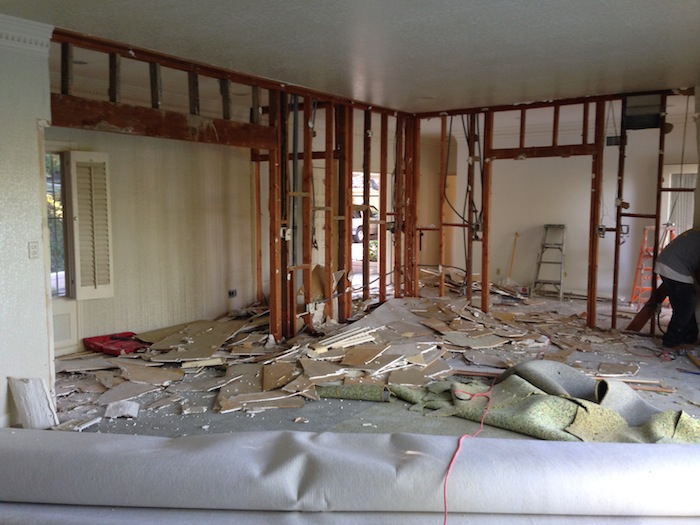 Yesterday it looked like this….
Still along way to go.
The brick veneer is going on the double sided fireplace so we can hang a TV on it.
And this is the new room in the living room, the den…
Built in bookcases are going in here.
The pool is right outside the taped up window so here is some color inspiration.
image via instagram@kellywearstler
There's a lot more to share which I will later in the week. I'm also getting ready to sell some furniture on Chairish so stay tuned!