In honor of my charity Knock Out Abuse Against Women's annual event tonight, I'm doing a RED post. 700 women are getting together at the Ritz Carlton Hotel in Washington DC tonight to help combat domestic violence, in just a few hours…and I'm blogging!!   It's always a blast to produce an event with 700 women looking to have a good time while supporting an important cause. Girl friends are flying in from all over the country to attend.
The theme for the night is RED (with a little MAD MEN inspiration). The room is designed by genius event designer Andre Wells.  I can't wait to see the retro red couches and the zebra walls and the 60 male models dressed like Jon Hamm who will be escorts  for the evening. (YES it's the ultimate girls night out!)   Promise I'll post pictures next week.
Rachel Wiesz on bold red steps!  Image via Vogue.
Interior design: Tobi Farley
Image via Lonny magazine.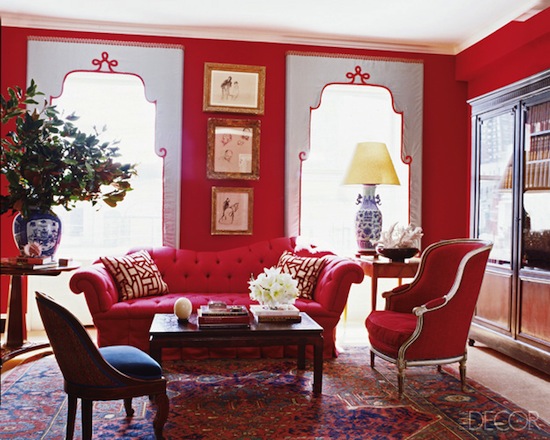 Interior design – genius Miles Redd.
Nancy Reagan in the RED room at the White House. Designed by Jackie kennedy once upon a time…
Red and tan…what a great combo.
A scene from the night club in Mad Men. How many have not obsessed over that zebra wall? Can't wait to see what it will look like tonight.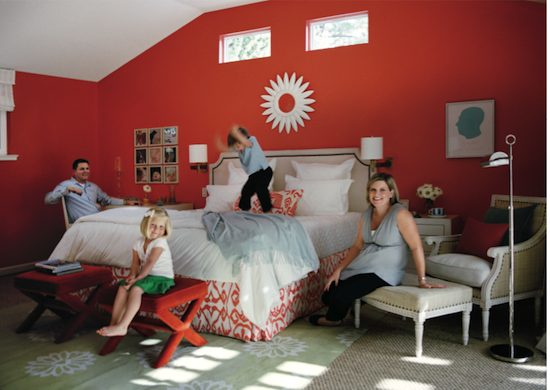 A happy, lively family in a red bedroom.
This is a great testament to red. Love the wallpaper.
Yes that's right…there are no colors that clash with red.
HAVE A FANTASTIC WEEKEND!