lT'S ON!
I'm excited to let you know I'm participating in the One Room Challenge!  The internet makeover craze is the brainchild of Linda from Calling it Home. She invites 20 bloggers/designers to makeover a room in just 6 WEEKS and to share the progress every Wednesday on their blogs.
Seeing some of these ladies makeover their spaces in the past, inspired me to roll my sleeves up and tackle a room in our home. It gets kind of contagious to follow along, you'll start looking around looking your own home and go hmm….
Here are the participants…
For those of you who are new to my blog today…
Hi! I'm Jill, a Swedish interior designer living in Los Angeles. I have a lifestyle line (bedding and carpets etc.)  called JILL SORENSEN LIFESTYLE  and a design firm.
I'm very passionate about one thing — inspiring people to create interiors that reflects their true selves, hence the title of the blog – Live Like You.  Your home and your interiors affect you deeply, they can even affect your future. Not kidding, that drab couch and unpainted egg shell walls might actually just kill you….from depression.
Therefore I'm glad I'm finally tackling this dour room in our home.:)
THE STORY
The room I'm making over for 6 weeks is the TV ROOM in our family house in Sweden. The house is situated in a tiny village that consists of only seven houses from the 18o0's on a hill above a lake.
It's where we spend summers with our extended family.
Perhaps my favorite place in the world.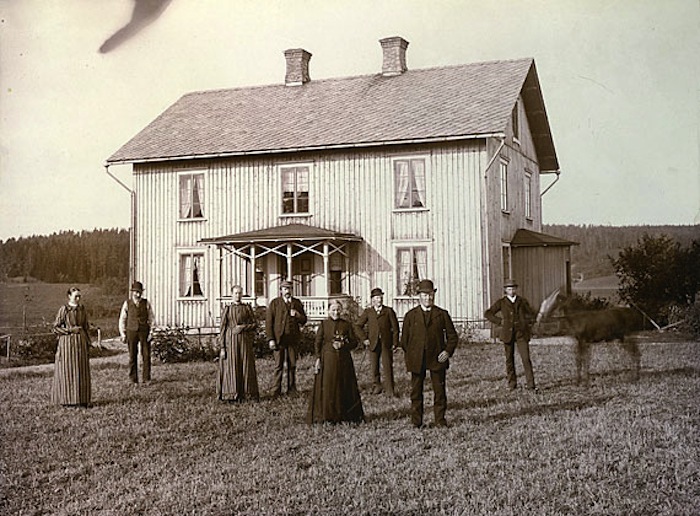 This is our house back in 1870. (The missing arm of the guy in front the previous owner found in the attic.) It's steeped in history.
This is the view from the house.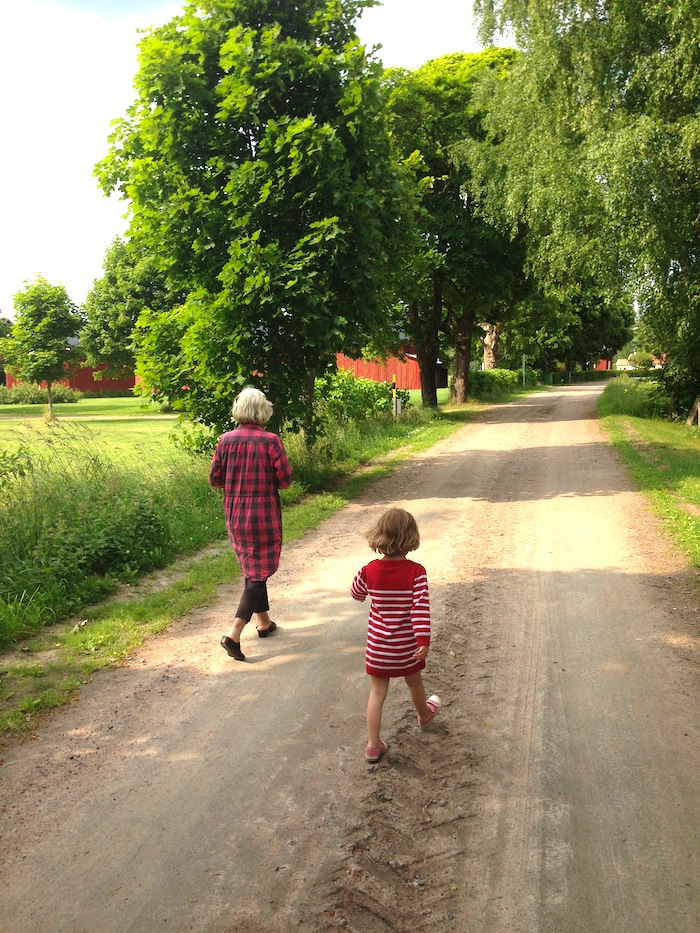 This is downtown.
I'm sharing this because Linda asked us to share our design plan/process.
The first step I take when I set out to design a space whether it's for myself or a client is always to ask "What's the story?"  What is the location, the history, the exterior, the view, the vibe. Who lives there, how and what do they want?
That plays a huge part in the design direction.
THE TV ROOM
The TV ROOM that I'm making over is ironically the room in the house we use the most, yet the ugliest and most un designed room in the home!  The 6 weeks we spent there this summer made the time deadline firm. At the end it would be photographed, so we had to get to work right away.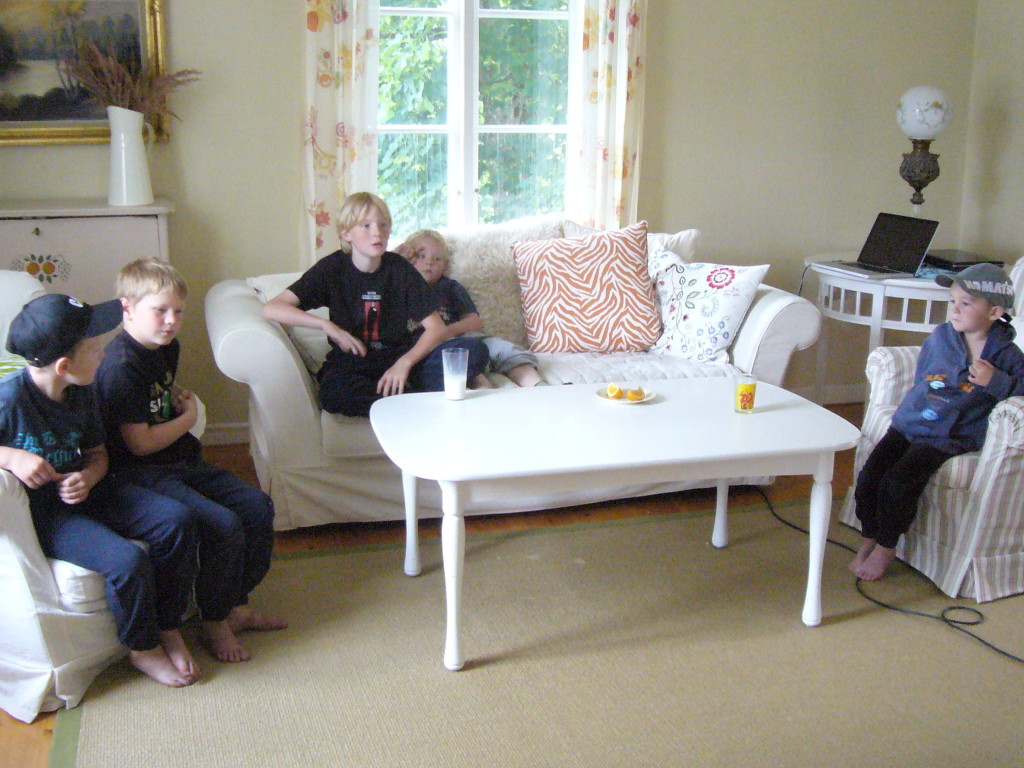 The room is generally filled with Luke and lots of boys from the village.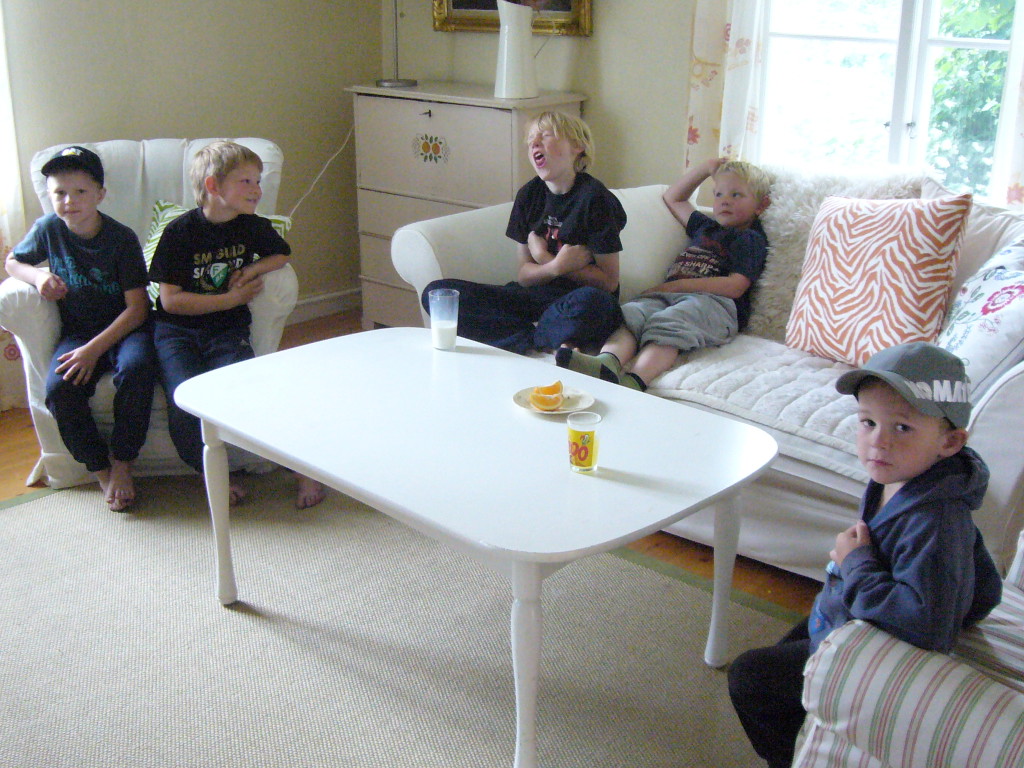 This is from a couple of years ago and this crew is a little older today. But boys will be boys.
The room is often over crowded with family members and happy cousins.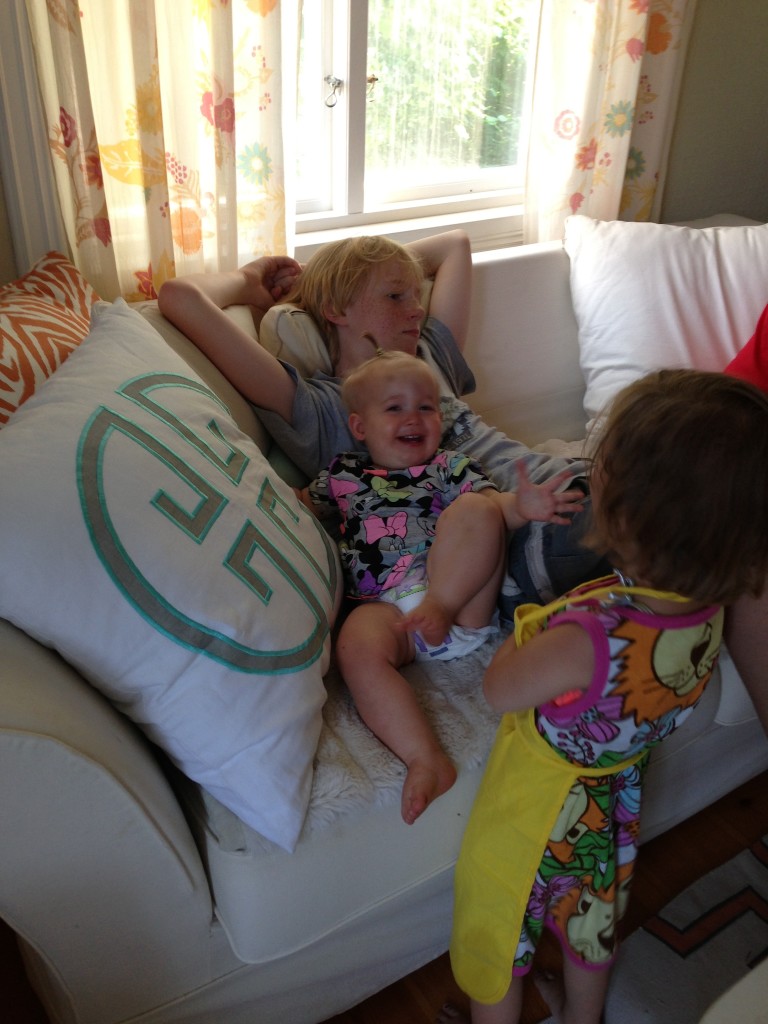 Clamoring for a space to sit as most nights we all watch movies here.
The room is a blank canvas with a pretty tile fireplace.
That depressing TV cabinet in this picture,  got a makeover a couple of years ago. (And we got a flat screen TV).
You can read the blog post here:  It takes a Village to Paint a Cabinet.
DESIGN PLAN & INSPIRATION
The cabinet looks like this now.  Since "it took a Village  to paint this cabinet" (literally!), the cabinet has to stay.and serve as color inspiration.
I always starts with color.
ALWAYS.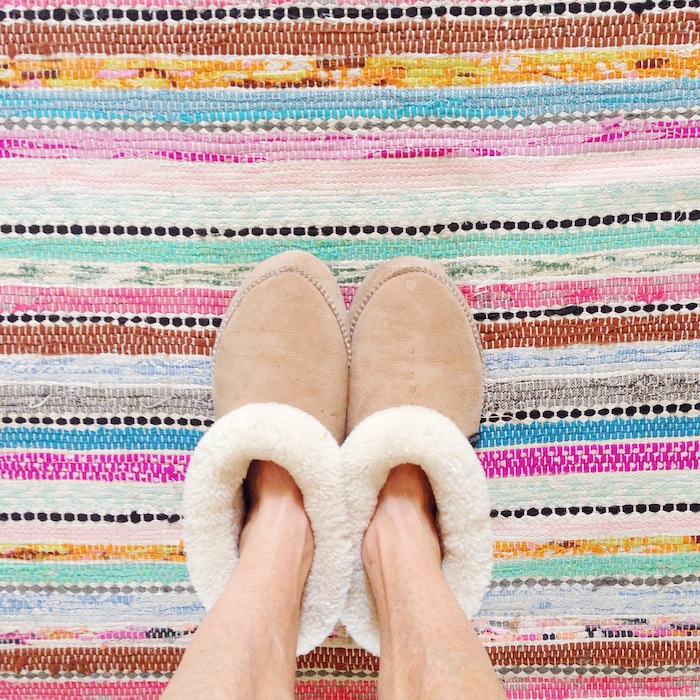 THE carpet in the foyer serves as color inspiration. It has all the colors also seen in the 70's Pippi Longstocking Swedish TV series.  Another design crush. Very Scandinavian retro colors.
The magical midnight sun right outside the door also serves as color inspiration for the room.
Sunshine, sunset, wheat fields.
Designer Windsor Smiths adorable pink room lingers in my mind too. To hell with any man who opposes pink, is what I say. Pink is calling me.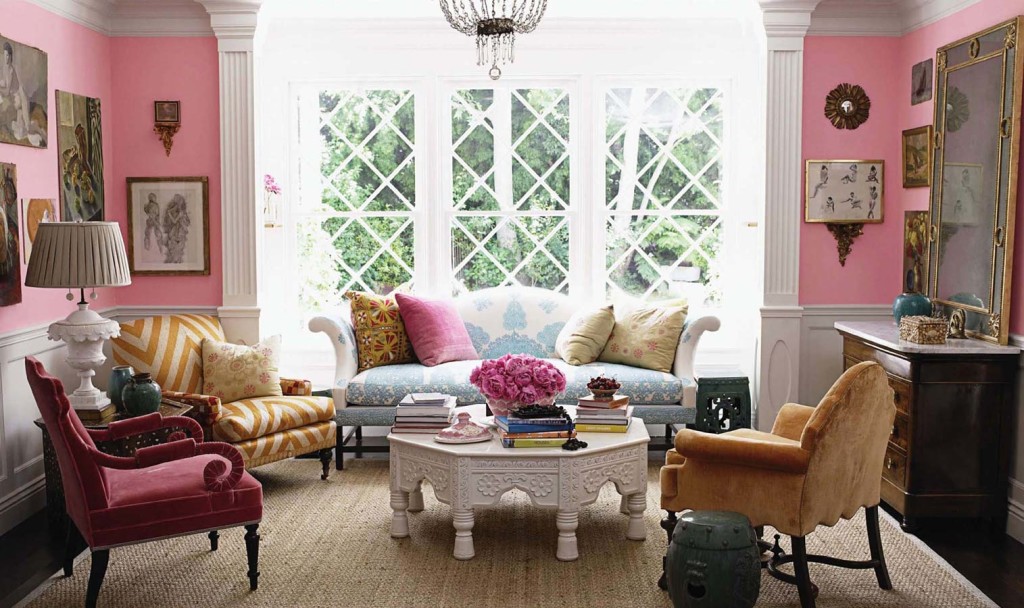 I know we need MORE SEATING, but have to work with what we have…
…we need to go VINTAGE SHOPPING for coffee table, art & accessories…
…we need FUR PILLOWS AND THROWS for chilly winter nights…
…we need a patterned NEW CARPET  and some MODERN CURTAINS.
And we need to steal the colorway from the midnight sun.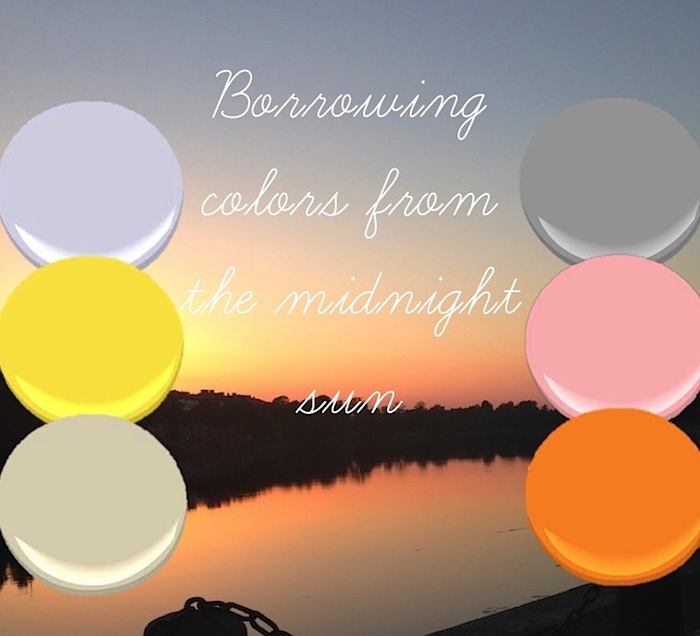 That's the direction so far.
IN a vacation home you need to go with your gut, a feeling, and not some rigid design plan.  This is where we're at WEEK #1.
Here you can check out what the others are doing.
Abby M. Interiors