As you read this blog post you'll realize I'm certifiably nuts.
I'm moving in to a new home in 15 days that we've been gut renovating for three months.  Or let me correct myself, we're moving in to the one bedroom we can sleep in. The home doesn't even have floors yet!
Yet I've decided to participate in the 6 week internet makeover obsession the ONE ROOM CHALLENGE.  I meant to makeover a powder room or something simple, but tonight I had a change of heart and decided to select one of the  biggest rooms in the house – OUR KITCHEN.  We've come a bit on the way, but it's FAR, FAR from being done. And because there is no client pushing me to finish, I want thank Linda for inviting me again so I'll be forced to complete it quickly!!!
Scroll down and you'll see why I'm certifiably nuts.
But first have a look at all the cool people participating this time.
For you new to my blog, hi and welcome!!  I'm an interior designer/blogger with a lifestyle label selling mostly bedding and carpets that will expand in the coming months (www.jillsorensenlifetyle.com)
In December we bought an old 60's house with a killer view up on Mulholland drive in Los Angeles that needed a gut renovation.   I finally realized my childhood dream of moving to California a year and a half ago when I packed up my family and business in Virginia and moved across the country. Renovating this home has been a heartwarming but challenging process.
I will get you up to speed where we're at with the kitchen renovation next week, but first I need to show you were we started.
KITCHEN BEFORE:
This little kitchen with low ceilings….
…and this dark dining room…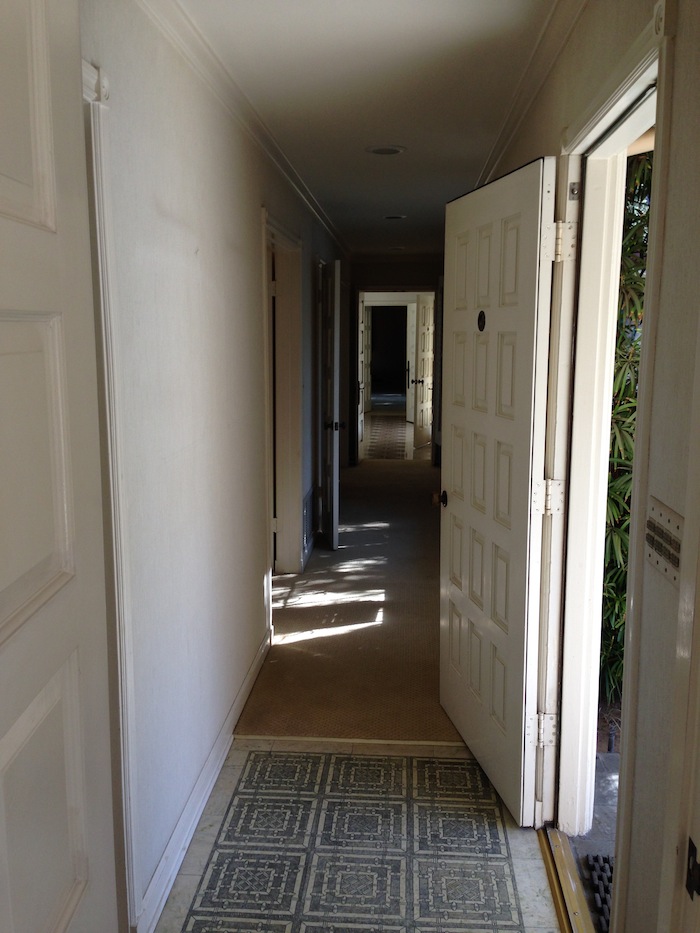 …and this entry way that blocked the pretty view, was about to become ONE BIG KITCHEN.
It was demolished.
Wall removed….
Three rooms became one.
This is what's to become our new kitchen.
(Looking the other way)  Our new big eat in kitchen and hangout space.
THE INSPIRATION:
Image via Novogratz
A big open kitchen that serves as the heart of the home.
(Image Unknown)
With a waterfall island.
Black details, I'm obsessed with black details.
Black accents and dark floors.
THE PLAN:
This plan is not finalized yet but I'm going for something along this vibe….( at least today)
A muted backdrop, with some tropical accents, brass, gold, natural wood, black, white, stone and yellow.
I love yellow in kitchens.
The whole feeling will be a bit "Frank Sinatraish."
Because just outside the kitchen window is this.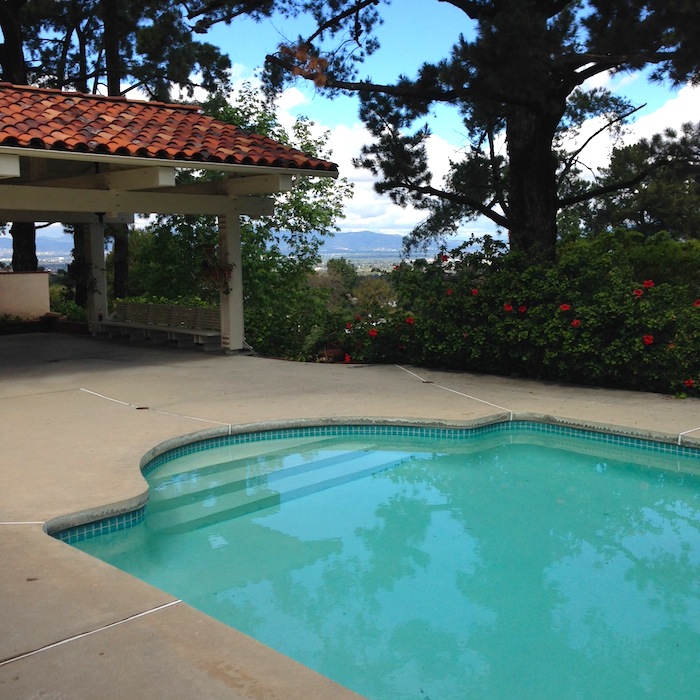 A pool and terrace with a 60's pergola.
It will inspire the kitchen design as your rooms extend outdoors in Cali.
I want a kitchen where friends can hang out, swim in the pool…
..and with martini in hand enjoy this view.
I'll get you up to speed next week where we're at and the INSANE amount of work that is left. But my contractor Javier Gonzalez promised me we can have it done in 6 weeks. I really hope he is right…(Javier I hope you're reading this)
You can also follow along on INSTAGRAM@JILLSORENSEN
Hop on over and see what the talented designers/bloggers area making over.