If you are here for the first time – Welcome!
It's time again for the One Room Challenge the fun six week makeover craze. Huge thank you to Linda of Calling it Home for inviting me again!
For those of you new to my blog, I'm Jill Sorensen a Swedish/American interior designer with a lifestyle brand of  bedding, rugs, and textiles. I love fun, colorful and somewhat fearless designs because I think life is too short for boring interiors.  My son and I moved to Los Angeles a couple of years ago. My goal was to buy an ugly house (we did!) and turn it in to our dream home (still working on it!)
This is my fourth time joining ORC, last year I made over the Master suite….
This is the bathroom.
The bedroom.
You can see the 2016 ORC reveal here
The year before that for the ORC 2015 I made over the kitchen.
When we started we didn't even have a floor!! My ORC makeovers tend to be filled with drama…
You can see the Kitchen ORC 2015 reveal here.
This year again I'll be tackling another room in our 60's ranch house in the mountains above LA.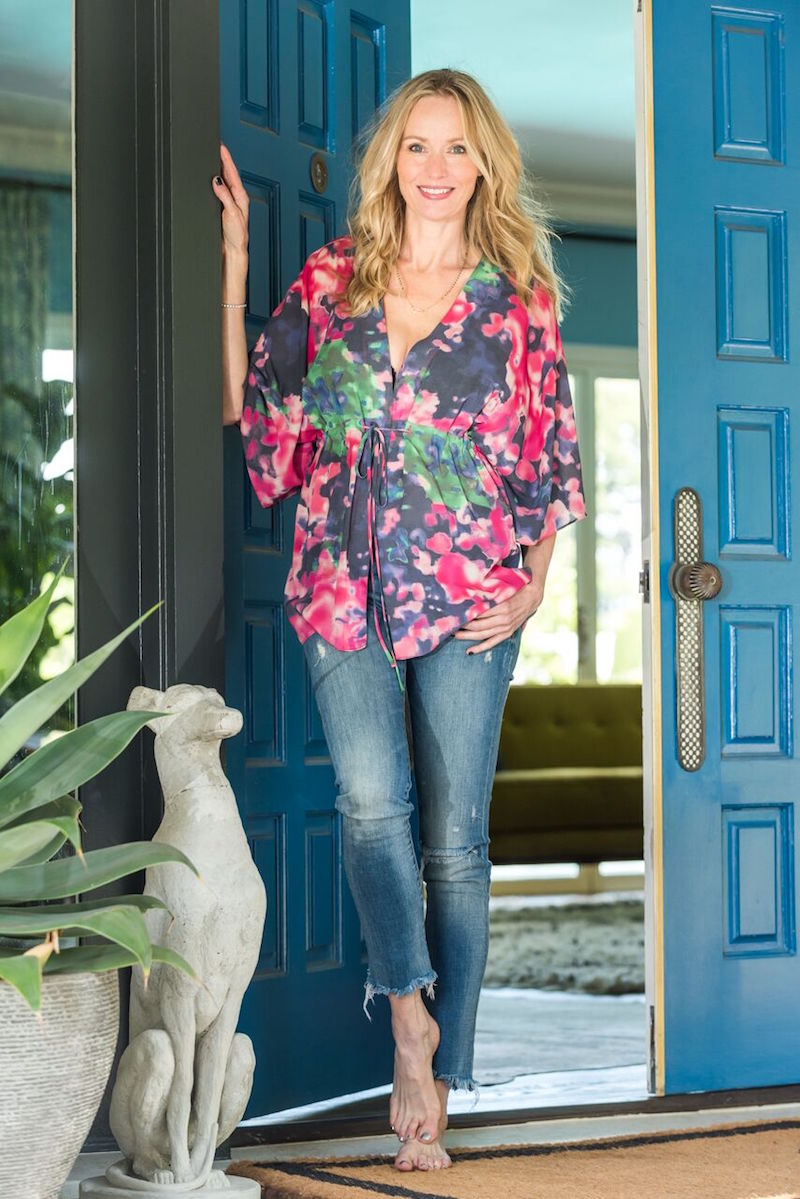 We are currently renovating the garage turning it in to a guest house with an office and a big teen space so things are a bit of a mess around here.  This year for ORC I'm tackling another room in desperate need to be designed.
THE ROOM – The new Library/Guest Bedroom
It didn't exist the day we bought the house….
The living room was very large and creating a room on the end allowed us to center the glass doors on the pool while giving us an extra room.
Since the guest house renovations got delayed due to permits the library never became a library/guest instead we temporarily have had to operate my office in there and it's been TOUGH!
Sury the JS Inc.office manager has hunkered in this unfinished depressing temporary space with sometimes 3-4 people, two dogs and all kinds of stored items.
I'm super excited about making it in to a colorful library/guest room and thrilled to move my company in to a big new space.
INSPIRATION FOR THE ROOM
Since this is one of the few rooms in this open style living house that completely closes off, I'm going to have some fun with it.
Here is some random inspiration…
1950's and Retro color combinations
This is an unopened restaurant in NYC by designed by Sasha Bikoff that I get such a kick out of.
Images via Elle Decor.
I've been obsessing over 50's color combinations and powder blue and red.
ANIMALS and Old School libraries
I won't have real animal heads on the walls but I want lots of animal presence.
(image source unknown)
Image via Architectural Digest.
SHRILL RED – used to hate it but now intrigued

Image from KINA SLOTTET in Sweden.
Design by Dorothy Draper (and team)

GREEN
I'm just so in love with this green hue which is my first dilemma. I have to decide what color to do as I can't have both.
Design by Muriel Brandolini
Here are the rest of the participants:
Boxwood Avenue | Coco & Jack | Design Manifest | Dwell with Dignity | The House That Lars Built | Little Green Notebook | The Makerista | Making it Lovely | Old Brand New | Old Home Love The Painted House | Megan Pflug Designs | Pink Pagoda | Erica Reitman | Sacramento Street Simply Grove | Jill Sorensen | Sugar & Cloth | Vintage Rug Shop | Waiting on Martha
Media Partner House Beautiful | TM by ORC
You can follow my design firm on [email protected]
You can also follow me on [email protected].
Check back next week and I'll share a design plan.
Thanks for stopping by!