Grasscloth wallpaper.  I'm on to you.
I was putting together some designs for my friend/client Patty's boys rooms last week. Having selected grasscloth wallpaper for the walls, she was a little taken aback recalling her family room in Florida growing up.  A very seventies and not so enticing recall.  I get it, grass cloth brings to mind my father's ham radio office filled with cigarette smoke.  Add to that bold orange curtains, screamy yellows and and browns and low slung furniture.
The fact is little did we know…. JUST HOW INSANELY COOL THEY WERE!!
It's funny how things from the past come back with a vengeance. New and improved.
Grass cloth now comes in all kinds of amazing colors and patterns…
Pink.
Silvery green.
Coral.
Blue.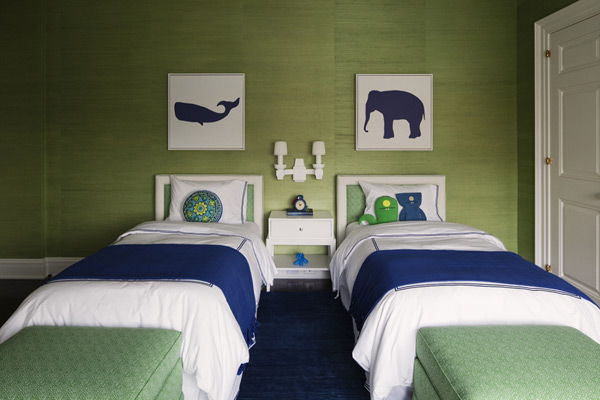 Green.
And they are showing up in super cool patterns.
This is my personal favorite by Phillip Jeffries. Chain link.
Comes in several colors.
No matter what color or pattern it engulfs a room, makes it feel warm and lived in, and adds a relaxed coolness factor.
Image via Urban Grace Interiors
It also adds an earthy eco vibe.

It feels organic to surround yourself with grass, hemp or whatever they are made of.
Patty's youngest son Kevin wished for lime green walls.
And he actually fell for grass cloth wallpaper. He said he liked it was not just one plain color.
Smart kid.
So there you go, the second thing on my obsession list.
Beni Ourains and grass cloth happily living together.