As life goes on, your style probably morphs. I used to like muted colors (true) and old fashioned interiors. I still love that, but as a person I want to evolve, explore and change, and I want my surroundings to do that with me.  Slowly but surely our home went from a French European country look in pale hues, to a more electrifying modern space. Nothing is right, nothing is wrong…I simply had a change of heart and wanted my home to come along.  And I promised myself most of it would happen by making over existing items. Simply taking what I already had and updating it.
This is what our living room used to look like. Creamy walls, natural tones and a touch of red.
It was a relaxing space, but I never felt excited about it. The couch and coffee table were taking up too much space.
I always draw to come up with inspiration.  I have to draw what's in my mind before I do anything. I have a million designs always swirling about my head and it's always really fun to see how a crazy thought looks on paper. You can always put together a mood board, but you can make them look pretty and it doesn't always transfer to a room. In a drawing you will see angels and colors play together even if it's a 30 second sketch. And a drawing will look worse than in real life. Kind of like trying on clothes in a fitting room with bad lighting and no makeup. But if it looks good there…you know it will look really good. (That's one of the reasons for drawings on LiveLikeYou.)
First I drew a quick 30-second sketch of a mint green living room like this…
Mint green walls, white curtains with red graphics, red garden stools, bold yellow chairs. Hmm…could have been nice…
I was on this path for quite a while….but decided against a white and red curtain, and drew another version, and another.. and another.
I finally felt drawn to the one below…
Aqua walls with chartreuse curtains and white and purple accents.
It started small with spray painting a couple of the lamps  to fit my drawing and earn a spot in the room….
This lamp became….
…this turquoise lamp from the corner of the sketch.
And you might remember reading about the old "Truman" couch as we call it, that would have been trash, but I didn't have the heart to throw it out because of my beloved dog. (You can read that story here)
It was in the bedroom and only being used by animals at this point. But it got made over with…
…with bold turquoise velvet like my drawing.
We started painting as you might remember….(read that story here)
I took this chair (this is a picture from the store I first had it done in an olive green in corner of first picture)…
….it needed a modern look.
I used some Kelly Wearstler fabric remnants I had.  But this time around I used the fabric inside out.
I started assembling fabrics that I liked together that resembled my drawing. They looked good with the green vintage bench I had just bought.
Loved the black and white wall paper, but I was still unsure where that would go.
So this drawing….
….would soon be a reality. A couple of months later it looked pretty close in this snapshot that I took….
I ended up using my existing zebra chairs from another room.
It evolved a bit more and now it looks like this….
Image Tanya Malott.
Still like the drawing just moved a few things around a little bit.
Image Tanya Malott.
My favorite part was seeing my drawn curtains come to life.
Then the crazy purple makeover…(read about it here)
Image Tanya Malott.
The piano bench got a purple lucite bench and the old Mexican gold mirror was painted purple lacquer to Dan and Luke's horror. They were both pretty mad after that one. Now they've come around.
The black and white wall paper ended up in the "Chanel hallway"…
The black and white can be seen from the room….you can see a glimpse of it in the image below.
The green door that closes off the kitchen sums up to colors.
Image Tanya Malott.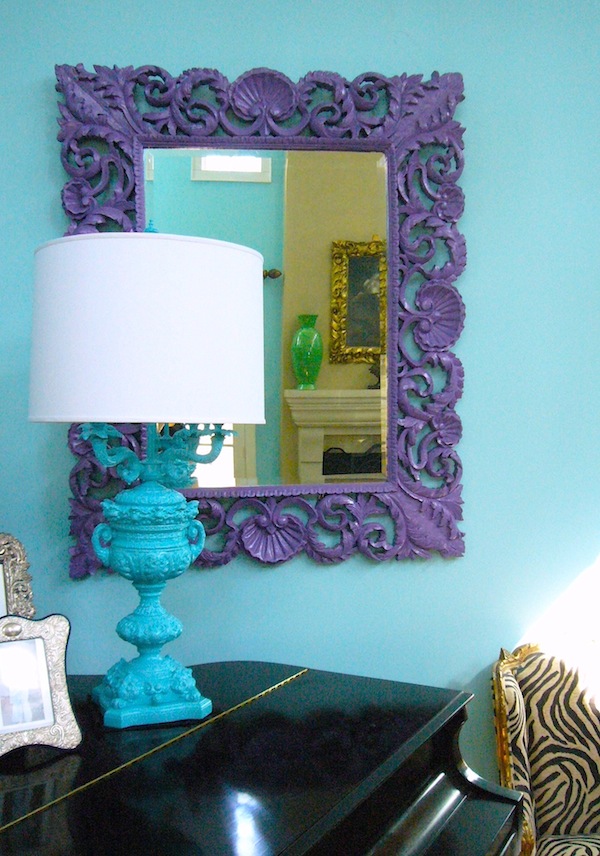 Can you guess what is missing from drawing??  Yes the garden stools.  So I'm ordering these today and I just got these pillows!
So this is our living room today….I have no idea what it will look like ten years from now!
Has your home morphed with you? Do you have before and afters? Please send them to me and I'll post them on the blog.