Happy Friday!
When you start on the journey of renovating and designing your new home,  you realize there's just so much that inspires you and so much you would like to cram into your space. However it all can't go in there.   So I thought I would use Fridays here on the blog to share some of my current design obsessions, items that I'm hoping will make their way in to our new house.  I hate to follow trends however once in a while you succumb to something and hopefully find a way to put your own twist to it.
Do you have any design obsessions? Please share them in the comment section below!
After having no interest in kitchens (yes I admit it) I'm now obsessed with kitchen designs. The relaxed California lifestyle or perhaps also the modern American lifestyle calls for open floor plans with kitchen, dining, TV room in one open area. The design and look of the kitchen now has more demands than ever to look good.
One obsession that will definitely makes its way in to our house, is the waterfall kitchen island.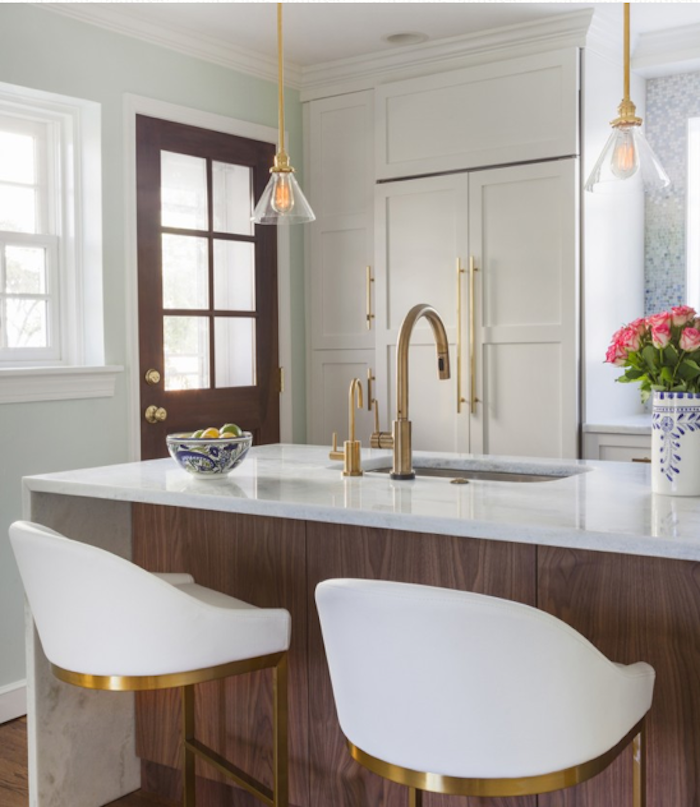 Via Design Manifest
It offers up a clean modern surface with space for seating, and you can hide mircowave ovens really anything beneath that clean surface.
Design by Christine Dovey
Open shelving is also a nice look, however one thing is for sure, that won't happen in our kitchen. That's pretty high maintenance and I'm not neat enough for it.
A lot of people are swooning over that white carrera marble look which is stunning.
Image via Houzz
Again I'm going to select a easier to maintain and more affordable counter material. More on that later.
Design by Amber Lewis
Design by Amber Lewis.
By Design Manifest
Image via Houzz.
What do you think of the waterfall island? Would you have it in your kitchen?