Do you ever feel like all you do is work, take care of everything and get no sleep? Welcome to the club. Therefore some time off is glorious!!  Luke is skiing with his dad, and I'm spending a few days in New York city. A few days with the ideal blend of business and fun.  I used to live here, so it's like coming home. Nothing like Manhattan to shake you up when you've been buried in your laptop!  I hope you don't mind coming along on a New York Sunday….
10.00am
How nice is it to sleep 8 hours?? Don't even need this… but it's the best European latte ever!! If you like coffee and you're in town, RUN don't walk to Bottega del Vino on 59th street.  Weekday mornings you can catch today show's performances across the street.
1.45pm
Brunch at The Standard – another New York favorite. Anything here is great.  Sorry Dan, you're going on the blog…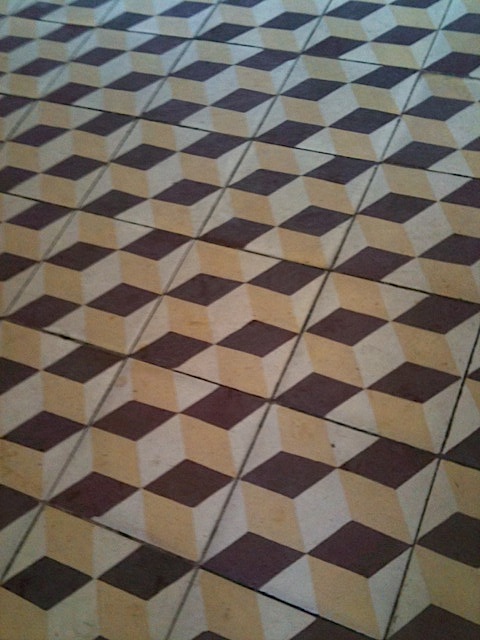 I always get distracted about everything around me design wise. The tile floor…LOVE…great effect. Wish I had a picture of the penny floor.
2.45pm
Love the orange Tory Burch door! Need to go in.
Olive green, purple, orange and brown. Great color combo. I never shop, but hallelujah I buy a blouse!!
3.15pm
A sunny walk along the high line passing the Standard Hotel. Have you ever done that? A great stroll if you're visiting New York.
4:00pm
We walked all the way uptown to the Architectural Digest Home Design show at Pier 92.
Love that Diane von Furstenburg is doing a home line.  She is an icon.
4.20pm
LOVED these carpets…just need 24G to  buy one. Hmm…think I'll furnish an entire apartment instead.
4.30pm
Smile. Like these colorful paintings over in the artist area. Sets with fake birds are created in a studio,then photographed and put in super colorful frames. Creative. Painter is John Murphy.
4.40pm
It's HOT and CROWDED and I'm feeling generally uninspired, kind of like reading Architectural Digest…(sorry only sometimes, not always). Ready to get out of here!!!! Then I see….
….THE MAN LAMPS!!

Finally the perfect man. One that can illuminate you!! I need one.
Checking to see how I can turn Dan in to a lamp design.  Wonder if they do custom orders…?
6.30pm
Walking down Central Park South. Sweet horse. I pray he is well taken care of. The horror stories I've read about these poor horses among all the NY traffic always haunt me. Will never take a ride, but have to pet them.
Noticing the colorful wagons. Fun…dark orange and pink.
Two blues.
7.00pm
Time to EXHALE. Get a massage. I feel incredibly spoiled.
I forgot I was allowed to relax!!
Hope you're enjoying your week, or perhaps you have spring break?
P.S. For daily inspiration and sources don't miss to follow LiveLikeYou on Facebook!