Do you ever go to the movies and realize that after a while you're watching the interiors as much as the story? Happens to me more often than I probably should admit.  After seeing "Coco Chanel & Igor Stravinsky" a few months ago, (my post about it) I was obsessed with the striking beauty of Coco Chanel's austere black and white country house.  I wanted to design my entire house like that.  Black graphics outlining every corner and doorway, just so unusual and mesmerizing! But thankfully(?) a cooler head prevailed…
Instead I found smaller ways to add my homage to Chanel. I started with a tiny hallway that connected three rooms…
The wall paper we just put up was inspired by this scene in the movie….
I couldn't even follow the love story because I was in awe of the cool tile pattern on the wall!
I had to have something like this somewhere…and what better space than a small overlooked hallway with hardly any natural light?  Instead of fighting the lack of light, I always think it's best to just allow it to be what it is.  Paint it a dark dramatic color or go with a strong pattern.
It's never a good idea to try to lighten a dark space with a pale color.
I had left the light color it was when we moved in. But why did I let it to be just a nondescript tiny hallway, when it was in the powerful position of combining three rooms, and could add a cool distant effect from three spaces?  And what better place to wallpaper when you only need 2 rolls?
I always thought adding some graphics at the end of the living room would be nice.
Enter…
…this wall paper by Lee Jofa, that I loved so much I had to create a blog background inspired by it.
It really reminded me of that tile.
Here is a quick snap shot as soon as we did it.  It looks great from far away, just a hint of pattern.
I'm still letting my antique Swedish guilt mirror hang there, but will figure out the rest.
I don't mind modern and old fashioned together.
The antique Swedish writing desk can maybe stay to, but the light fixture will probably be changed. I'll add some cool colorful accessory for the table.
Here is what the hallway looked like before, as seen from the master bedroom…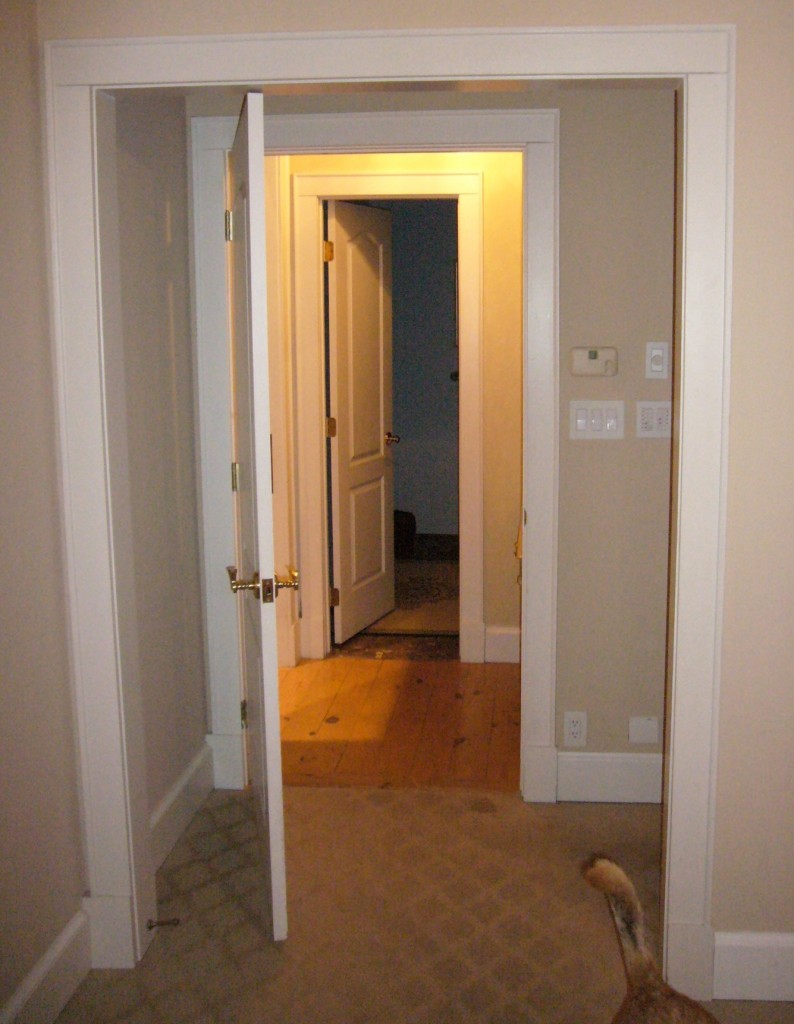 It was just there combining the bedroom, living room and powder room.
Often a tiny space is easy to overlook.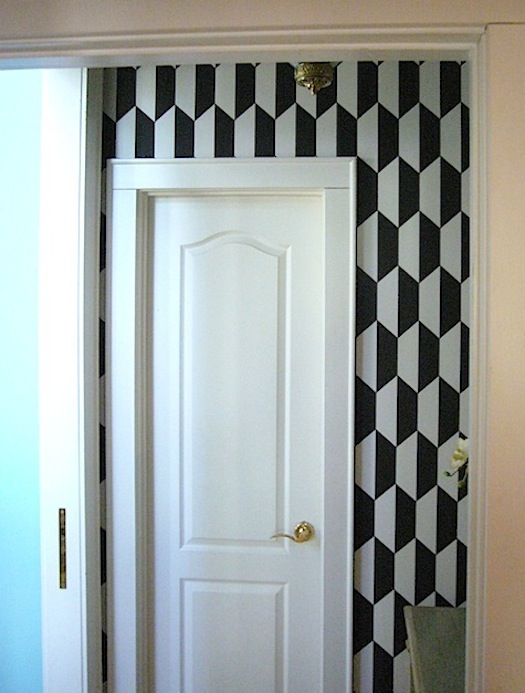 Now it has life!
My favorite thing is seeing it from far away and the end of a room, kind of like this….
Just as a crisp graphic element in the distance.
It's funny how often it's the smallest design decision that make me the happiest.
I've also designed a Chanel inspired curtain for the dining room (temporary office) that should add some additional crispness to this colorful house.
Have you ever wallpapered a small, dark space? Would love to see it.