Most of you have probably planned a fun weekend somewhere. However vacation might also be a good time to start doing some things around the house you've been putting off for a long time! I know it's so hard to get around to it. I've been here for two weeks already and I haven't completed even half the tasks that I wanted to do while here. Well, the dock has been completed. So excited to have a dock! My brother and his friend Jan finished it this week. I LOVE IT!
While they're busy working on the guesthouse, I have my own list of tasks. The TV/family room needs some serious help. I want to share a little bit of how insanely unfocused and sloppy my design makeovers have been while on vacation. Here's the depressing TV area.
The cabinet was bought two years ago and I planned to repaint it, but never got around to it. Something has to be done.
This is a corner in the room. Anthropologie curtains, vintage secretary, some zebra pillows, slipcovers and an Ikea carpet. Very country cottage…I want to add some color somewhere. Maybe I can take a color cue from the paintwork on the 1940's cabinet…
And maybe even go a step further. My mind is here…
..and my parents are horrified. My mother said she would never come up with an idea like that. My father is just shaking his head. They're NOT fans. But some color needs to come to the rescue! I need to think how to add color while keeping with the style of the house.
I rarely refinish or paint furniture by myself, since almost everything I do is for clients and I make sure they have a first class job. But while I'm here I have to do it by myself. I think I took my relaxed approach a bit too far this time.
WARNING:DO NOT TRY THIS AT HOME!
THIS IS TUESDAY: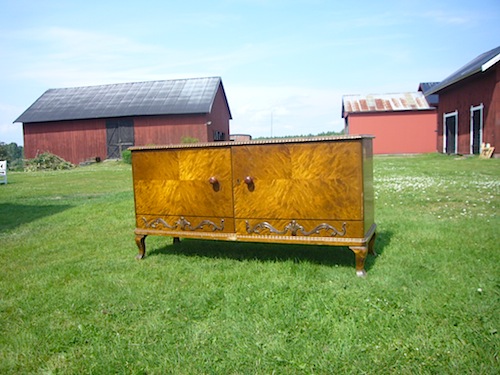 I asked my poor mom to help carry it out in the front yard. She's so strong! Outside the wood looks a lot nicer than in real life — it's actually full of scratches.
I started with some primer I found left over in the laundry room. I was quickly bored and needed some company.
My brother came over with his family. My sister-in-law Lisa, quickly got roped in to putting primer on it. Much more fun when you have someone to talk to.
My older brother Peter stopped by for a quick hello… or so he thought. He was soon stuck finishing the primer!!
I left the cabinet out to dry over night. We've had southern European sunny weather here all week so I didn't think of reading the weather report.
THIS IS WEDNESDAY:
I WOKE UP TO THIS!
POURING RAIN!!!
I'm so fired! The cabinet was outside all night. We brought it in and let it dry for a day inside, since the wood might have swelled up. Have to say I'm immensely impressed with the primer because it seemed to have saved the piece from soaking!
Couldn't paint so I went with my father to the local paint store and bought some orange paint.
THIS IS THURSDAY:
We carried the cabinet back outside to another part of the yard with some shade below a tree. My niece was over for a visit, and while her parents took her brother swimming I was watching Zoe. For a moment I thought if having her help me….
…since I haven't been particularly picky about the paint job. But I came to my senses. Instead Monica came over, (we were supposed to go for a run.) I asked her is she would mind helping me add some semi gloss white paint I also found in the laundry room.
She was happy to oblige. We put Zoe on a blanket under the tree and she was happy to just watch. (The driveway with all the grass is another project coming up next week)
I started adding high gloss orange inside the cabinet without waiting for the white paint to dry.
We left it outside to dry over night again.
THIS IS TODAY:
This time in the morning it looked like this.
Bird foot prints! A bird had walked on it and flies were stuck in the paint. So my mother cleaned it off.
I spent the morning finishing the cabinet while Luke watched a movie telling me the cabinet looked so ugly that I couldn't even sell it. The orange color ruined it! But when it was all done we were all actually a bit surprised. We all liked it!!
The orange lines were not perfect, but the orange details were fun.
I borrowed my nephew's tiny watercolor brush to paint the scrolled wood work in front.
When the cabinet is open you've got all the orange you want, yet when it's closed…
…it's not overwhelming for the room.
I haven't painted the scroll on the other side yet. Maybe someone else can do that tomorrow. Now I'm walking over to my neighbor to see if he has a drill to help me drill a whole for all the wires so we can put the DVD player and cable inside.
As I said…it takes a village to finish a cabinet.
Do you have a home project this weekend? Please share it! HAPPY FOURTH EVERYONE!!