You might have heard of this clever company My O'verlays already. I've mentioned their great products on the blog a few times and they've been written up in a ton of places. Overlay's are chic wood overlays in different patterns that you simply just glue on your furniture to give them an instant and dramatic makeover. They make a plain Ikea piece look like an expensive piece of designer furniture.  Danika and Cheryle are geniuses in coming up with ways to beautify just about any space in your home with them. In my case I decided my  Parson's West Elm dining table that I use as a desk in my office  needed a makeover. I don't like to have what everyone has so I needed to give it it's own spin. Here are some snap shots from makeover.
Next to the desk is my vintage leopard chair and a custom vintage cabinet I redid in orange a while back. It also has two gold lamps that are now white with black shades and my super budget find mirror.
My desk is the Parson's 5′ dining table that looks like this:
Clean, nice and basic.
I wanted to add a little more flair to it.  So when Danika came out with her new Greek key patterns, I of course  had to try it.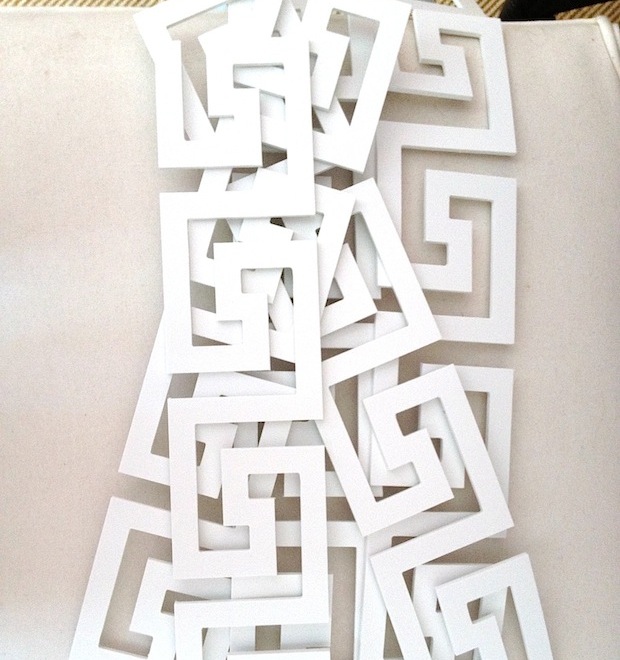 They kind of feel like candy when they arrive  —  you can hardly wait to put them on.
I had told Danika what table I was redoing so the pieces were cut to fit this desk. You can simply e-mail them and say what piece of furniture you have from Ikea or West Elm and they can custom cut it to fit for you. As I said they are genius.
We measured the pieces just to make sure how they should glue on.
I'd like to say I do these DIY's myself, but my go to guy Jose generally comes in to do them for me, since I'm running in a million directions and I'm always pressed for time. But this is super easy to do yourself. All you need is liquid nails glue.
This is the look I was after.
First we had to lay the table down.
You simply add liquid nail glue spots to the back of them like this….
…turn them over and glue them on. That's pretty much it. It's such a super easy and clever product!!
We added these beautiful corner, but we actually took them off later. Think they are great for a table but for a working desk they tale up to much space. But so chic!
Now the desk feels more at home in this little playful space. I'm adding a black and white cowhide in here, but for now there's a brown zebra printed cowhide.
All the items in this room have been made over, the white cabinet the black chairs, the yellow lamp all have a whole different before look that I will share in another post. The Regency curtain in here is from my label – it's a white linen curtain with black silk border and can be ordered online here.
My rule for this room was that every thing had to be given some kind of makeover.
I want to make sure my office feels really creative.