Anna's dining chairs and carpet have arrived, so I had to head over and check them out. They look awesome!   Anna and I are both thrilled, but agree they would look even more awesome with even lighter legs, and without the antiqued finish, which is the only finish in white Lee offered.   So we're going to have them painted in a brighter shinier white for a more modern look.  The room is not done yet, but here's a quick snapshot of a dining chair.
I LOVE the Madeline Weinrib carpet with the velvet chair.  How can you not love every single Madeline Weinrib carpet?  I'm definitely a Weinrib addict I think.  For you who didn't read the earlier post, the chairs and carpet looked like this—
We've placed a bunch of orders for the living room.  I want to colorize everything, but sometimes muted tones are just the best.  Anna says she is the oldest in the family, Type A personality, used to taking care of things— so living in streamlined, peaceful and organized interiors is how she feels the best.  I think all these pieces are sleek and elegant, yet add just enough personality.
This mirror from Global Views already came in and makes the entire living room. I think it can be used in so many different styles. Just great simple design.
Two identical sized brown bordered wool sisals were ordered.  This one has a nice dark brown border and was without a yellow tone in the sisal.
Anna is still thinking of this grass cloth covered coffee table from Bungalow 5. It has a lacquered finish on top for easy cleaning.
We ordered two of these modern sofas from Lee.  They are only 71″ wide and will face each other in front of the fireplace.  The rooms is very long but not very wide so we had to find some that would fit they space right.
They are being covered in a gray velvet. I couldn't get a picture of it — it's a bit lighter than this fabric sample.
Anna found these two lamps for a good deal from Lamps Plus. To go on top of this–
…Parsons console fromWest Elm. Great style for a great price.
We've been thinking of inexpensive things to go behind these lamps, and I really like what Danielle did in her house. She bought small mirrors from Ikea for $ 2/each and spray painted them silver. Looks pretty  neat I think.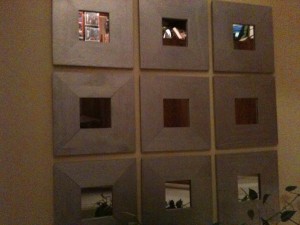 Then I saw this on a Matters of Style blog last week,  and think  these IKEA mirrors might be even better.  Looks really nice I think.
Spray painted silver for Anna's would probably be the right finish.
And no room is complete without something old. So we're keeping Anna's grand father's chair. Having it done in black lacquer.
A cheap cane fabric will work to cover.
I love these garden stools.  Garden stools in general are fun and useful.  Anna was unsure at first as she has never used garden stools,  but somehow they stuck in her mind and is on the list for the near future.
Four the kids corner in the living room some serious budget purchases had to come in.  For the game table Anna purchased the "Karlstad" chair(named after my home town in Sweden!) from IKEA in natural linen $ 229/each.  Not big on this much IKEA but the shape is nice and clean and the legs have been painted  espresso brown. That made them look way more expensive.
We love this table but the price tag is too much.   Do you have any ideas on where to find a similar "budget" version of this?  No more than 36″diameter?