A few years back when Luke was about 3 years old, he thought I was ignoring him when he needed a snack, and he yelled at me in his angriest voice "GET IN TO THE KITCHEN!!!!" Now if any other man ever yells that at you RUN…(away from him)!  But obviously this incident had my in fits of laughter.  It's funny how as a mother you always end up in the kitchen.  Fixing snacks, cooking dinner, cleaning(!), and of course it's the perfect gathering place for friends.  I love eating good food, and I'm fascinated by friends who can whip up a good meal since I've never been able to master the art of cooking.
But I do believe creating a kitchen that has a friendly, happy and inviting atmosphere is important. In our kitchen I choose a yellow and green scheme.  This is our window seat, which is always the favorite spot for any young dinner guest,  or tired friend.
Although it's  a French country style kitchen I infused it with a little bit of the 70's. I recovered Gustavian chairs in green zebra print. I grew up with a yellow kitchen (to beat the dark Swedish winter weather) so I always feel the need for yellow in kitchen.
The colors of our kitchen was the inspiration for the HAPPY HOME KITCHEN on LiveLikeYou.
I think starting out the day in  space that inspires you is important. When I found talented artist Erica Eriksdotter on line, a fellow Swede who just happened to live a few minutes from my house, I was thrilled when I could carry her paintings on he site.  Her bright and beautiful acrylic original flower paintings are like a jolt of happiness in any room.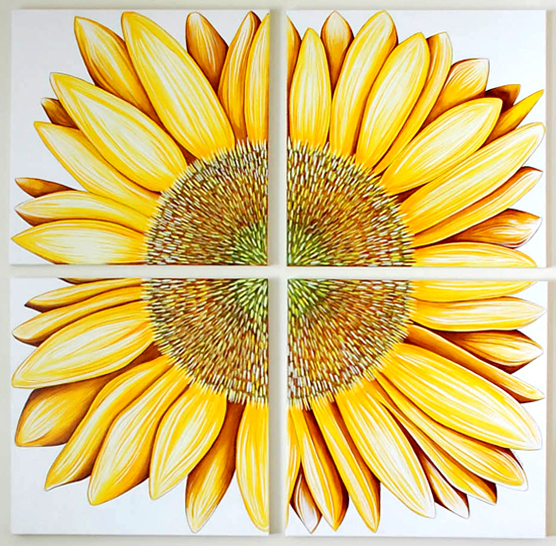 Her LION SUN original acrylic painting, is actually four paintings as one. Hello sunshine!
Some bright LIME GREEN CHAIRS with cane seat. I like mixing bold colors with earthy elements.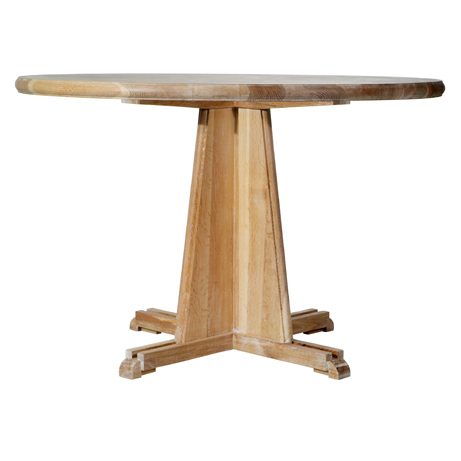 A LIMED OAK TABLE to gives it a warmer "family" feel.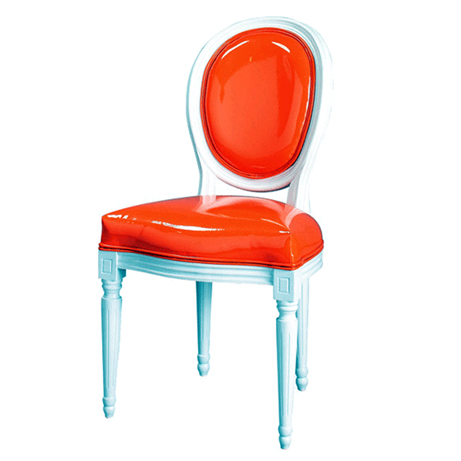 A LOUIS DINING CHAIR with shiny orange vinyl would give that the perfect contrast. For each item in a room you can pick from a few different things.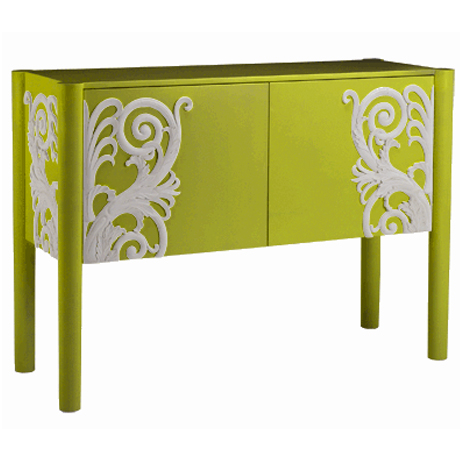 I think unusual pieces, in not so usual colors are fun like this MARBELLA BUFFET .
This is another on of Erica's painting – YELLOW REVERSED CLOSED TULIP. They look great alone or in a pair.
The last part of the mix I like is adding some kind of shiny metal finish. Love this FACETED PENDANT in chrome and mirror. So basically there is the mix for the happy home kitchen…orange,yellow, lime green, wood, shiny metal, and perhaps something vintage…
Like the HAPPY DRESSER, the vintage redo I did. It would work great in a happy kitchen as well. Perhaps there is something you can go home and paint for Mother's Day?
Our kitchen is a gathering place of all sorts. With all the time we spend in a kitchen shouldn't we make it a fun place to be?
HAPPY MOTHER'S DAY EVERYONE!