Just as much as I love the serene snow inspired Christmas back home – I love the colorful ways people are celebrating the holidays around the world.  After all I'm a COLOR ADDICT!!
Who says a Christmas tree can't be pink?
One of the most fun and unusual trees I've seen this year is designer Toby Fairley's home. Her daughter is one lucky girl to have this pink wonder in her room. This tree makes me smile.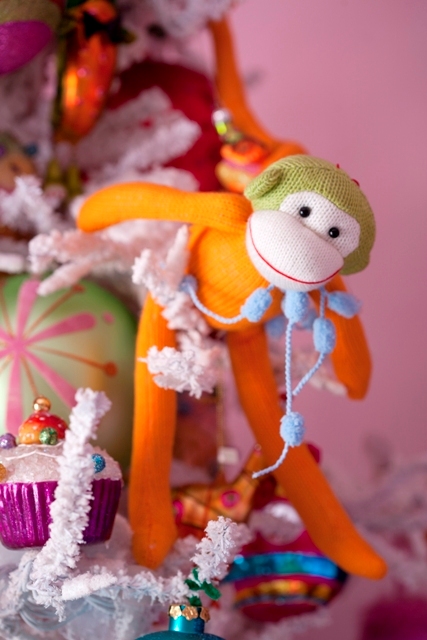 A tree filled with little monkeys!!
Fake snow and bold pink.
I'm intrigued with all the summery Christmas decorations in Australia.  I always wondered what it would be like to go to the beach on Christmas day.
The Black & Spiro store goes pink all the way. What a cheerful holiday.
A fabric Christmas tree fit for summer time…
A reindeer dressed in pink?
Ahh, beach pillows….Sit in your sunny room, then head down to the beach and surf!!
I found this beautiful Christmas wreath done with flowers on an Australian blog (forgot which one). It says it all!
A solid pink tree via Swiss Miss blog.
And my friend Nadine's magical pink tree in Montreal.
What are your favorite colors for Christmas? Is your tree an unusual color?