So I'm sitting here at a friend's house posting as the internet has been down in my home/office for 4 days!  It's incredibly annoying yet at the same time weirdly nice as suddenly there's so much else that gets done.  Are we (or I) perhaps addicted to the internet? Hmm…
I was in NY this weekend doing a design consultation and seeing friends. Been doing a bunch of design consults lately in a few cities (if I travel there I set it up). It's been fantastic to add SKYPE consultations of late because it's incredibly fun to be able to help readers all over the country, really anywhere in the world. And it's surprisingly effective as long as you have a lap top! In two hours we can go through an entire home, make a long to do list, and go through a the million design questions.
I always follow up with a to-do list and product suggestions from our over one hundred manufacturers on LLY and with a client discount. So it's been really popular and FUN! I love it when people are passionate about their home.  Most of the time the transformations can be drastic by just moving furniture around and changing colors. Space planning and colors are key.
Anyway the design consult in NY was with my friend Dawn Gallagher, and this particular one I had donated to St Jude's Children's Hospital.
Dawn is an ex-model friend of mine and natural beauty expert. You can visit her site DAWN GALLAGHER to check out the surprising beauty products you can create with items from your own cabinets. Dawn has great style and a Bali inspired apartment. She wanted me to take a look at her nursery which was added and designed quickly…and figure out how it could be turned in to a toddler bedroom that will go with the rest of the apartment.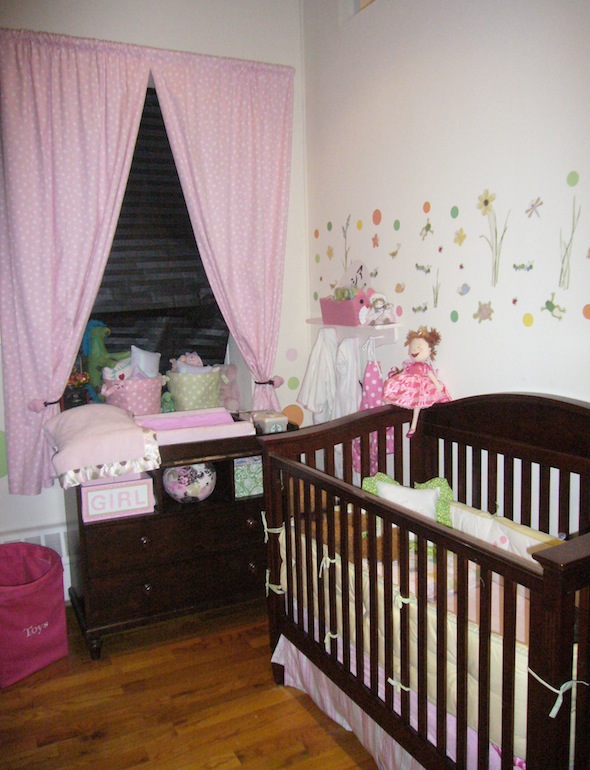 The nursery was created by adding an extra wall in the master bedroom so it's been used for sleeping only. Can't wait to get Dawn her list and see how cute it will turn out. The power of paint and space planning is eternally amazing…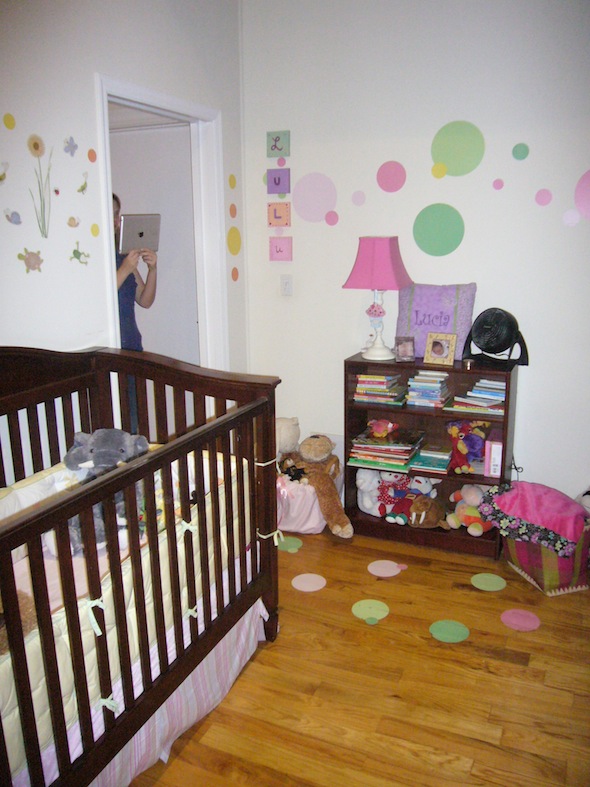 No matter how small an apartment/ space is it can be your kingdom and should be! I will share more details on this later.
I also headed over to see two people who are like family to me. My old NY roomies….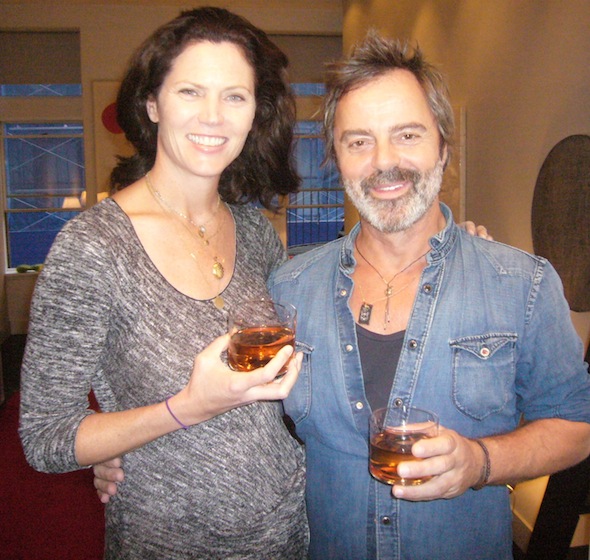 jenny and Herve (no they're not married…) You might remember Herve's hysterical video on the blog about his disastrous kitchen shopping at IKEA. The result is fab, but the experience a TRUE IKEA NIGHTMARE. If a kitchen IKEA purchase is in your near future I highly suggest checking it out here…
SURVIVAL GUIDE TO BUYING A KITCHEN AT IKEA!
Now he is selling the place and it looks smashing.
A hip village studio aka Austin Powers pad…The art work above the couch Herve did himself with cotton balls. Perfect for a well known stylist/hair and makeup guru – and looks amazing!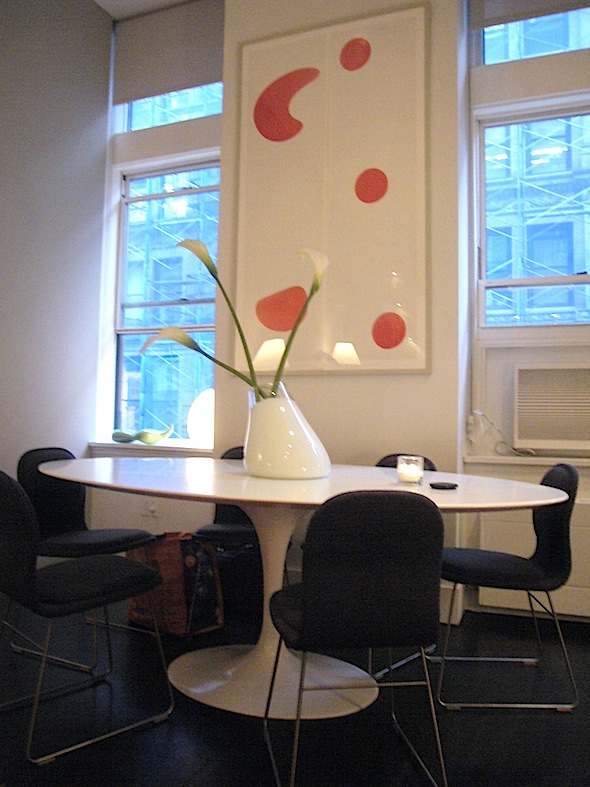 Small spaces is always the dilemma in Manhattan and people have to be clever. Here Herve "poses"(haha) in front of his neatly arranged closet which is behind a drapery in the entry.
You would never know it was there with drapery in front!
The evening was spent with even more ex roomies!  Karen to my left from PNK Designs and HoHum Cards.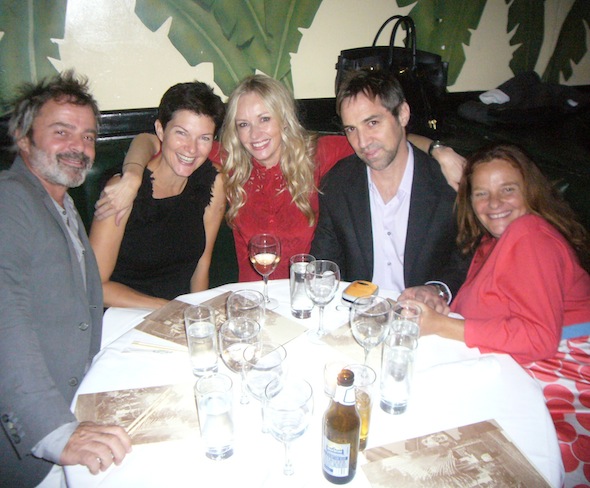 And to the right…the best acting coach in the world(seriously)  Shelia Gray. (with Herve and Dan) Love these people!  At my favorite old haunt Indochine in the village.  Same fantastic menu as years ago and so happy to know they haven't redecorated. That iconic Beverly Hills hotel palm tree wallpaper is still so retro and cool.