Our LA house is in a Swedish magazine and I thought I would share it with you.
Journalist and photographer Stephanie Bjelkstam came to LA a while back to take pictures and to write a story about the makeover.  She had read my Swedish blog for Sköna Hem and followed the story on my home purchase and the pending challenging makeover.  The truth was I bought a house that was so depressing I thought I made a horrible mistake.  Fast forward three years and it's definitely a "California Dreaming" kind of place. I'm excited to share some of her pictures from the article here, and will definitely share all of them soon here on the blog.
(For those of you who read Swedish you can read about the makeover that took place. )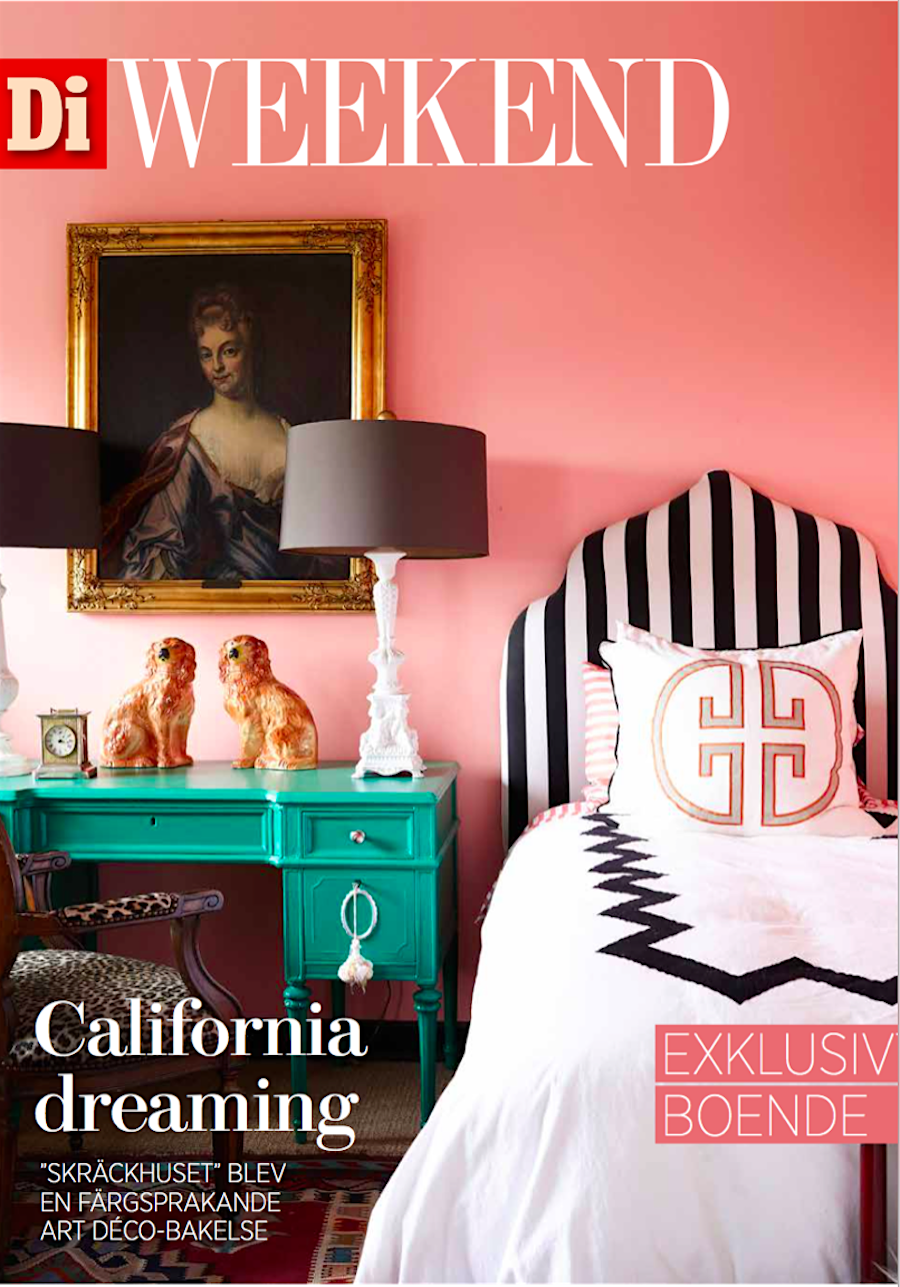 This is the coral guest bedroom with vintage finds and some items from my line – Black Bang Bang duvet and Papaya Embroidered Monogram Pillow
All photos Stephanie Bjelkstam
The outdoor space by the pool. The house was coral before, now it's a more streamlined boutique hotel style.
The red library that you might have seen in the One Room Challenge makeover. It functions as a little in house office as well as a guest bedroom with the bed sofa.
Our kitchen with the quartzite waterfall counter top and Milo Baughman style stools.
The master bathroom with vintage carpet and one of my favorites from Jill Sorensen Lifestyle Black Greek Key wallpaper
The outdoor kitchen and dining area. We live out here! Above is Luke's bedroom with Emerald Lucky bedding.
I will share that complete makeover in another post!
Our beloved terrace space!
Thank You to DI for sharing and thank you to Stephanie for beautiful pictures!