The first step I take when creating LikeLikeYou personalities, is to look at tons of images and I imagine who would live there and why. Where do they work? What do they like? Single..married? How do they feel when they wake up in the morning? I ask myself endless questions. I love people, they're so interesting, and how do we translate that individuality to an interior? When looking at these images it's hard not to imagine a true artist living there. Someone outside of the corporate world perhaps? Or someone in the corporate world, but an artist on the inside?
You've perhaps seen Julian Schnabel's bedroom in their "palazzo" in New York already. You can get lost in the color ways in his paintings…and clearly he translates that color genius to interiors. ( If you haven't go have a drink at Gramercy Park Hotel in NY, and I'm sure you'll agree with me.) That eye for beauty also translates to his movies. "The Diving bell and the Butterfly" is not only a masterpiece because of the story, every frame is a beautiful, interesting painting.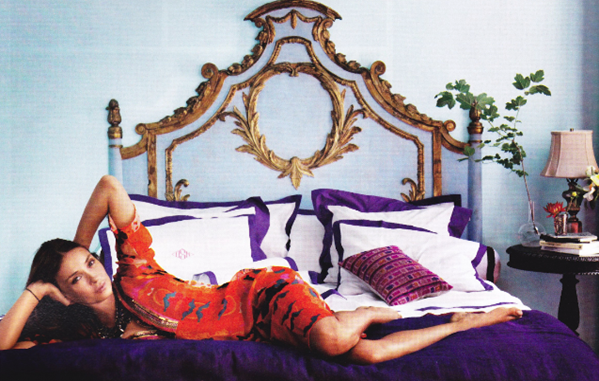 Olatz Schnabel has an equally beautiful line of bedding. There are no colors that clash clearly…
This must be an image of the bedroom before it was redecorated. Still a piece of art.
I found the ultimate elegant bohemian chic images on the awesome site and blog Balustrades and Bitters.
This LA designer's bedroom feels like an artist's residence to me. ( I'm forgetting her name…please tell me if you know it so I can add…) Fur bed covers, kilim carpets and an endless mix of strong colors.
This room feels like a beautiful painting. Will you be reaching for your guitar and a glass of red wine? A movie script? Or your company's annual financial report?
This green room inspired the green in my dining room a couple of years ago.
Crystal chandelier, tufted velvet, worn furniture and fur…who lives here?
5 images above via Balustrades and Bitters.
You'll probably think I'm nuts to call a Dorothy Draper interior Bohemian chic. Perhaps it's not exactly that, but the purple damask wallpaper with reds and turquoise are pretty unconventional to me.
Designer Marjorie Skouras interiors certainly get your imagination going.
Interiors really do express who we are—if we dare to let them….
Who do you see living in these interiors?