It's been a CRAZY BUSY week. Knock Out Abuse finally wrapped. Last Thursday was another sold out event at The Ritz Carlton in DC. 750 women came, as always in great spirits, to support women and children who are victims of domestic violence. Every year I dread the work that goes in to it, yet every year we have a blast, and I'm so happy we pull it off and are able to raise close to half a million dollars in one night.  I'm not posting all the party pictures…instead I want to share some images of the style of the event, which had a retro vibe RED/Mad Men vibe this year. Andre Wells our genius event designer, is always in charge of creating the dreamy atmosphere.
Phil Dixon at Aspect Media and his team designed all the Knock Out video graphics inspired by Mad Men. I love this one!
The evening's honore was Agnes Nixon founder of All my children. She is truly an inspiration to women anywhere. The key note speaker was Leslie Morgan Steiner author of "Crazy Love". If you haven't read her book about her marriage gone bad-pick it up. Read it, and you'll want to give it to your girl friends and your daughters.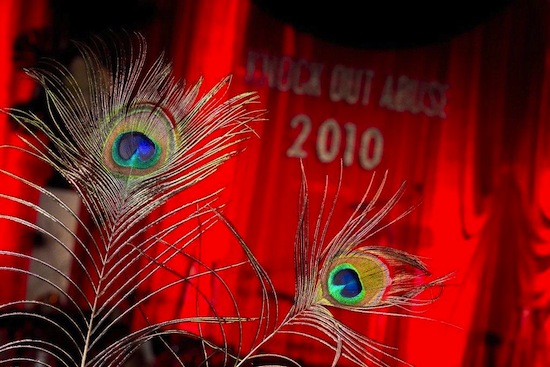 Andre draped the whole room in red with peacock feathers in some center pieces.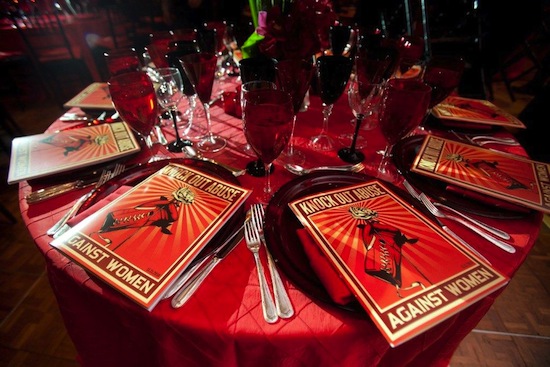 The tables were red, the glasses were red…everything was red or zebra. Our new Knock Out Abuse logo that went on the cover of our programs, was designed by famous (Obama) artist Shepard Fairey which our great event chairwoman Sarah Guinan Nixon got him to do for us.
Part of the ball room before the women arrived.
The screens for the video were zebra print, unfortunately you can't see that on this image.
There were zebra sofas and cocktail tables for the after party.
Beautiful peacock feather arrangements framed the stage.
All the images above are by photographer Davide De Pas.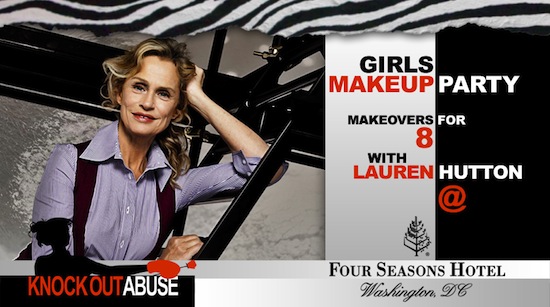 At the end of the night there is a great Live Auction where you can bid on one of a kind experiences and items for women. Lauren Hutton came and auctioned off makeovers for 8 women. You could also get a tour by Susan Lucci on All my children and a have character named after you, a dream trip to Ireland, be a reporter on Comcast all day….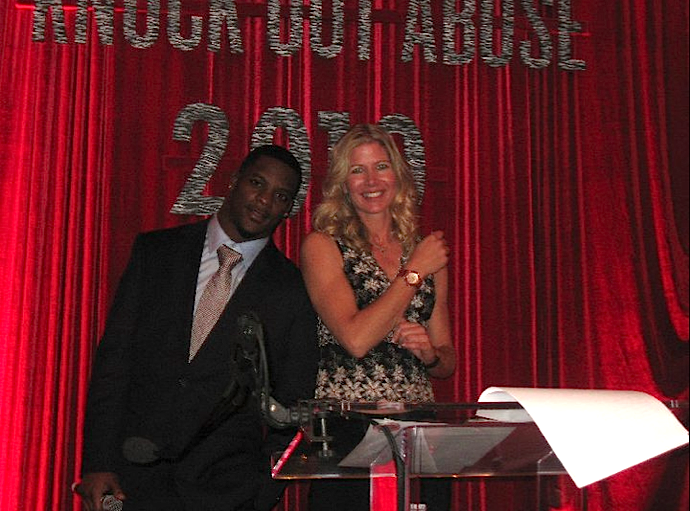 This image and next: Jodie Fisher
A popular item was bidding to have dinner with Redskin Player Clinton Portis. You could also bid on the fancy watch my dear friend Barb "modeled" for the night.
I KNOW THIS BLOG IS ABOUT DESIGN SO FORGIVE ME…..but I can't resist to share this….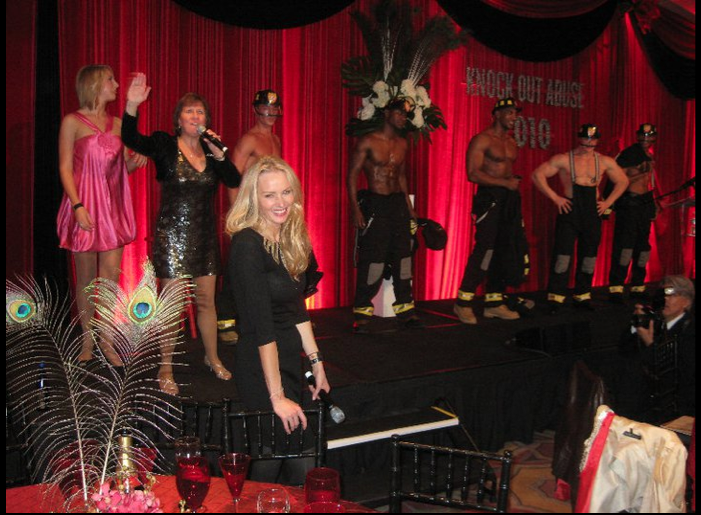 The last item you could bid on was to have a catered dinner at a DC firehouse with all the firemen!!  This item was a crowd pleaser…Particularly as they started taking their shirts off to get the women to raise their bids!  It always cracks me up to see hundreds of women laughing and howling!!
Hey it's for a good cause right??

P.S.
Thank You So much Holly Thomas for the article on Marmalade Interiors in the Washington Post! I was very happy to share some do-at-home design tips. You can read it online here.